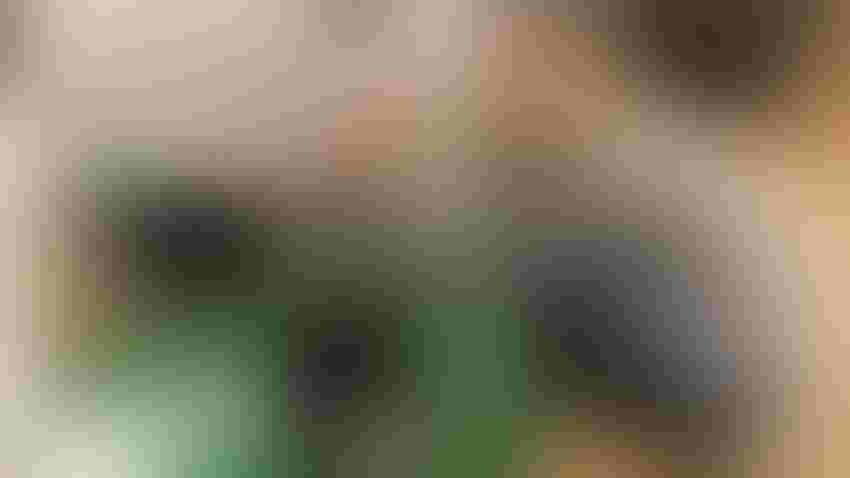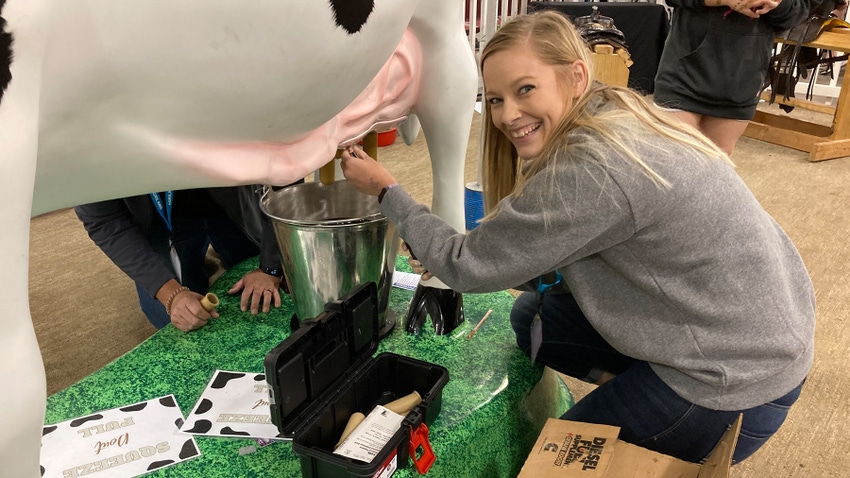 AGRILAND: Briana Jacobus, communications and marketing director for Kansas Foundation for Agriculture in the Classroom, helps fix the model dairy cow in the Kansas Agriland exhibit at the Kansas State Fair. Agricultural and food education at the fair relies heavily on the staffs of our state farm organizations, but also their member-volunteers. Make the commitment to volunteer your time to this year's fair.
Jennifer M. Latzke
The Kansas State Fair has been bringing Kansans together for 110 years.
Some come for the midway rides and to try the latest fried fair food on a stick. Many come for the 4-H and FFA contests and spend some time catching up with friends from around the state they only see over show boxes in the barn once a year. Still, for many more, it's the miles of farm equipment and household goods on display in the commercial buildings, with salespeople hawking their gadgets in air-conditioned comfort.
It's a whirling kaleidoscope of entertainment, competition and education — truly a celebration of Kansas.
And it's that way because Kansans put their time and effort not only into the 10 days of the fair, but all year-round.
Volunteers
Like so many of our agricultural and rural events and community groups, the fair relies heavily on volunteers to supplement paid employees with various duties around the grounds. But more importantly, our state agricultural groups rely on members volunteering their time at their booths and events during the fair.
Now, I know it's difficult to volunteer your time to leave the farm or the ranch, drive to Hutchinson at your own expense, and spend a day or so staffing a booth in the Pride of Kansas Building, or helping to organize a youth competition in the livestock barns or the 4-H Centennial Building. Believe me, I know.
But friends, that's the working model of how our groups manage the education part of the fair.
Everyone — me included — often thinks "Oh, just have someone at a booth hand out a flyer" and voilà, mission accomplished. Check "public education" off the to-do list for the organization for the year.
That's not how this works. It takes a little more work to strike up conversations with the public, to answer their questions and to direct them to resources that can help them further understand farming and food production.
The reality is all of our rural and farm groups need member-volunteers to put their support behind our education, marketing and promotion efforts — at the fair and every other day of the year. If you have a job that depends on agriculture, whether you're a farmer or someone who works for the farm sector, you have a stake in each and every one of those ag education efforts at the fair.
So this year, I'm asking each of you to take a moment and call the farm or rural organization of your choice and volunteer your help with their fair efforts.
Where to start
Make the call and ask if your farm or rural organization needs help staffing a booth or handing out promotional items. Maybe they need helpers in the contest they sponsor, or someone to set up or tear down displays. You don't have to do it all — but if everyone did something, we could make the fair so much more useful for agricultural education.
And if you do end up manning a booth, here are some quick tips.
Do some pre-event learning about your organization's work, your educational efforts and your lobbying stances on some major issues. Prepare for questions from the public.

Show up a little early for your shift if you can. Ask the booth leader what your duties will be, what they want you to talk about more, or even how some of the props in the booth work. Be sure to get their cell phone number so that if they need to leave for a moment, you can reach them just in case.

Set yourself a goal of interactions you want to have during your shift at the booth. This especially helps introverts. It can be as simple as striking up a conversation with a passerby: "Hi there, want to learn more about our Kansas wheat farms?" Then, keep track of these, and let your booth supervisor know for their records, so they can report to the organization afterwards.

Don't be discouraged if people keep walking by. Not everyone will stop to chat. And that's OK. Keep smiling and trying.

Keep the booth clean and tidy as you can. If you're bringing children along to volunteer with you, make sure they know their responsibilities. And pick up after yourself before you leave.
We know from public polling that people consistently rate farmers as one of the most credible groups for information. Fairgoers have just spent the day surrounded by food and agricultural exhibits, and they're likely going to have questions. Families who are four generations removed from farming the land are bringing the fifth generation to the fair.
Together, we can help them all learn a little more about Kansas agriculture — if we step up and volunteer.   
Subscribe to receive top agriculture news
Be informed daily with these free e-newsletters
You May Also Like
---