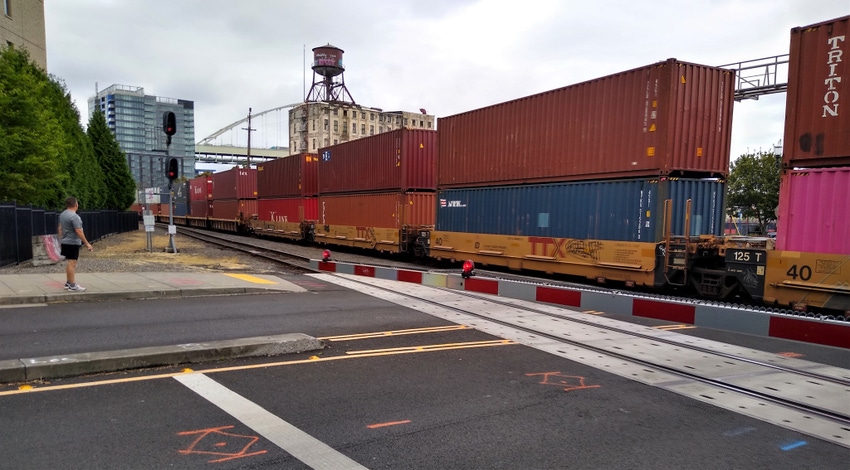 A train passes through downtown Portland, Ore.
Tim Hearden
If this year's California almond forecast holds at 2.6 billion pounds, the industry's unsold crop moved forward from the previous marketing year will add 32% more nuts to be sold in the marketing year that runs from August through July.
Add to that the headwinds of global inflation that will curb customer buying power, unresolved port issues, and now the possibility of a railroad strike, and all does not bode well for an industry reveling in success just a few years ago. In all fairness, it won't be just almonds that struggle to get to domestic and international markets.
Rail companies and unions reached a tentative deal to avoid a strike early Thursday morning, Sept. 15, and the deal was awaiting approval by union members. Workers agreed not to strike while the vote was being tallied.
Related: Tentative labor agreement avoids rail strike
A rail strike would cripple a supply chain already marred with struggles. The trucking industry has long been accused of being understaffed to meet domestic shipping needs. Add rail to the mix as we move into the holiday season, with its need to move consumer goods, heating oil and food products across the country, and the empty store shelves we saw at the outset of the pandemic would return.
California almond farmers continue to suffer through sub-par grower returns, and now they would be asked to store even more nuts as harvest continues, rather than move them to shipping containers for export. While almond exports hit record levels in April, May, and June, and were up nearly 16% in August from last year, the industry will need to move many more shipping containers before it can breathe a sigh of relief.
Again, it's not just the almond industry, though they're easy to single out because of their size and the fact that most of the U.S. crop is exported. Other tree nuts and many other agricultural products would go unshipped while the labor negotiations with the railroad workers were hammered out. As an aside, this speaks to the necessity of oil pipelines that could efficiently move product from fields to refineries, but I digress.
Related: Ag groups welcome agreement to avoid rail strike
Fox Business reports that of the 10 top categories of goods shipped by rail, nine of those are agricultural products. Whether it's raw materials or finished goods destined for livestock feed bunks, much of our agricultural production in this country is shipped by rail.
There is no "good" time for a rail strike, but surely the one threatened could not come at a worse time in a nation beset with rampant inflation, rising interest rates and the likelihood of job losses in the coming months as businesses scale back.
About the Author(s)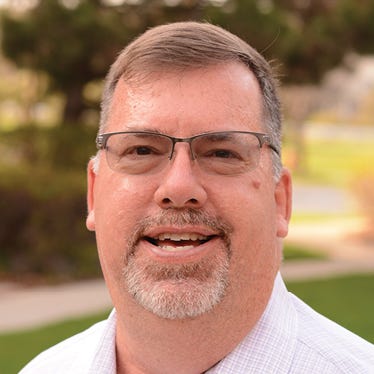 Associate Editor, Western Farm Press
Todd Fitchette, associate editor with Western Farm Press, spent much of his journalism career covering agriculture in California and the western United States. Aside from reporting about issues related to farm production, environmental regulations and legislative matters, he has extensive experience covering the dairy industry, western water issues and politics. His journalistic experience includes local daily and weekly newspapers, where he was recognized early in his career as an award-winning news photographer.
Fitchette is US Army veteran and a graduate of California State University, Chico. 
Subscribe to receive top agriculture news
Be informed daily with these free e-newsletters
You May Also Like
---