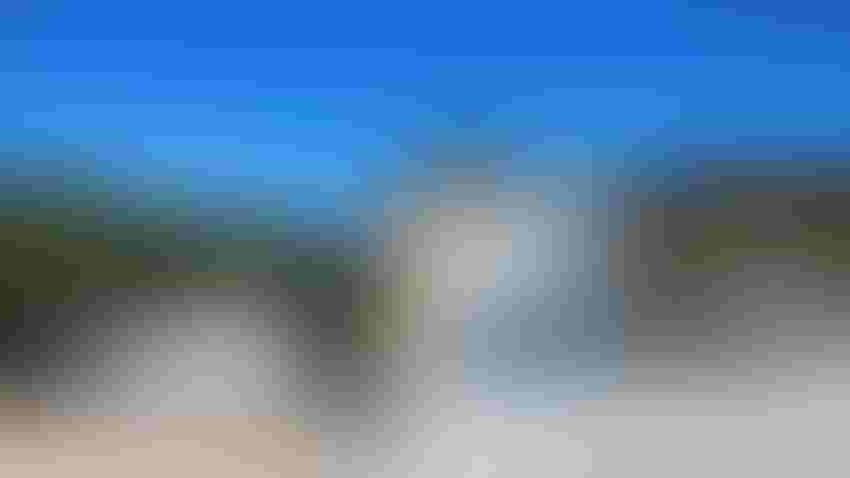 FORM AND FUNCTION: When you're designing a farm shop, don't just account for equipment space, but also consider how that space will work for your family and work needs. You might also consider environmentally friendly details, like this rainwater collection setup.
galinast/Getty Images
We call them farm shops, machine sheds and workshops. But today they're really more than places for equipment repairs and tool storage. On some farms, they're a second living space.
It's a trend that's been growing over the past 30 years or so.
I remember in 1988, when my dad was designing his dream shop on our family farm. He'd spent a lifetime repairing equipment in a Quonset hut with half a dirt floor, and that was his chance to build something with all the bells and whistles he'd wanted for years. So, in addition to the storage and larger equipment access, my dad also demanded a full bathroom in the shop.
At the time I remember some in the community tittering over the addition. But boy howdy, was that shop bathroom handy for warming up calves and mixing milk replacer without bringing that mess into Mom's kitchen. It was a place for our farm dog to have her puppies. And on those particularly muddy days, Dad could at least leave that mess out there, and not in Mom's clean house.
Back then, Dad's farm shop design was a little revolutionary because it wasn't utilitarian. He made the space work for him and the family.
Shop trends
Today's farmers are continuing that trend.
Sure, a farm shop should prioritize efficiency for equipment repair and storage. But farmers also realize that these spaces can include more functionality for their farm operations and their family.
We often see offices and bathrooms included in shop plans. And now some designs are even including small living quarters for visitors or employees. There are even shops with kitchenettes, so the space has become a dual-purpose family gathering zone for holidays and celebrations.
While dual-purpose family and farm buildings are great, we should probably consider a few specific points in the design process.
Safety always paramount
If we're making a space that's going to host family gatherings and be used for equipment maintenance and chemical storage, we need to make safety a priority. Design areas where tools can be safely stored and locked away from curious hands. Store farm chemicals properly and away from common areas. Our families may be very familiar with farm safety rules, but what about visiting friends and family? Make safety your first design choice.
Future expansion
A lot of people will tell you that you don't build a shop for the equipment you have today. You build it for the equipment you may have tomorrow.
The same is true for the non-equipment side of a farm shop. Children often lead to grandchildren, after all — and families grow. Give yourself room for graduation parties and harvest meals. Even space for the Lions Club to meet.
And remember — make that space accessible now, while you're pouring concrete and framing. Farmers age and farm accidents happen to the most mindful of us. It's not only planning for wheelchair accessibility, but also storage spaces, upper lofts and more.
Environmental emphasis
Farmers are the leaders on the environmental conservation front. Making the most out of our natural resources is what they do every day.
Being environmentally conscious isn't just about saving the planet, it can save you dollars and cents, too. So, think about ways you can reduce your energy consumption in the shop through efficient heating and cooling systems. Maybe there's ways you can reclaim water and recycle it — whether by installing rain barrels to capture rainwater for yard use, or even creating other water diversion tactics to keep it from puddling in your driveway. Local Extension agents and NRCS (Natural Resources Conservation Service) personnel may be able to help you.
We've sure come a long way from my dad's dream shop back in 1988. But form and function will always be in style.
Subscribe to receive top agriculture news
Be informed daily with these free e-newsletters
You May Also Like
---