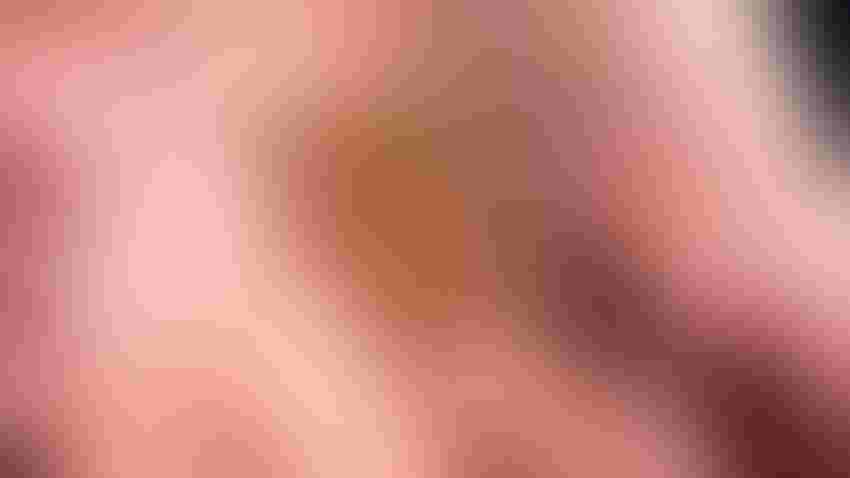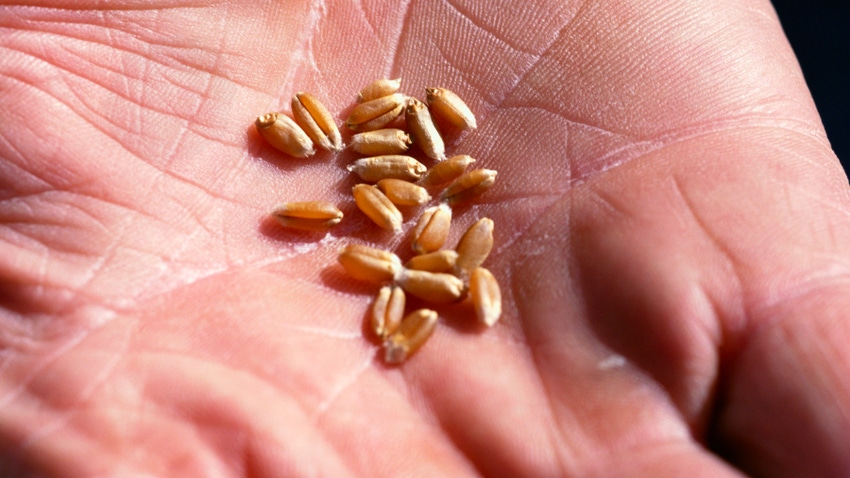 BETTER TOGETHER: A wheat kernel by itself can't really do much. But when it's combined with others, it can be turned into bread for hungry people. People are like wheat kernels. If they combine their energy and gifts, they can find answers to any problem. Even food insecurity.
James Leynse/Getty images
A wheat farmer I know once held a single kernel of wheat between his thumb and his forefinger. "This came from a bin, from a field I harvested," he told me. "By itself, it's not much. But when you see it with a bushel of its friends, and you mill it into flour, you can feed a lot of people and do a lot of good."
That kernel, he continued, from his Kansas wheat field, may be turned into bread for the grocery store downtown. It may be exported to feed someone half a world away. It might even wind up feeding a hungry steer at a local feedlot.
The point he was trying to make is that that wheat kernel's job wasn't finished when it was threshed by the combine. It was destined for bigger things than the grain bin.
But only when combined with a group of its fellow kernels.
Hunger
I think about that farmer's words when I read headlines about hunger in America. Last year, NPR reported that USDA estimates that more than 33 million people, including 5 million children, were food-insecure. In those numbers, rural areas, families with children and communities of color were disproportionately affected. And with the economic situation we see today, there's a wave of food insecurity on its way that's more than food pantries and ministries can address on their own.
So what can we do?
First, we need to listen to the people in our community food pantries when they tell us what works and what doesn't work for the people they serve. You and I might see convenience foods like single serve macaroni and cheese cups as a luxury. But a child can safely fix themselves a meal without using a pot on a stove. For someone who may not have access to electricity or gas in their household because they can't pay the bill, jars of shelf-stable peanut butter and jelly combined with a loaf of bread can fill a belly.
Once we listen to those folks on the front lines helping our neighbors, let's work together for solutions. Maybe that solution is more federal funding and rethinking the hurdles to sign up for benefits. Maybe it's in creating more tax incentives for food manufacturers to donate to food pantries. Maybe it's cutting taxes on food without judging whether that food is purchased at a convenience store or a grocery chain.
The solution may come from reworking the regulations surrounding the food service industry to expand donations and reduce food waste in our landfills. Maybe there's ways to encourage community gardens to teach farming skills and feed communities.
From our 4-H and FFA youth, to our Farm Bureau and Farmers Union groups, to our churches, to our elected officials, we have an army of smart, capable, energetic people who can make things happen.
If we just put our kernels together.
Farmers lead
You may be asking, why is this the farmer's problem? What's fixing this going to do for me?
If we work toward commonsense, practical solutions on this one problem, it has monumental ripple effects through the community.
Kids who aren't fighting hunger do better in school, leading to higher grades, higher graduation rates, and less a chance of getting into trouble at school. Those graduates are our future employee pool.
When adults can meet their family's needs, they are better employees. It's tough to go to work when you're hungry because you made sure your kids ate before you did. And food-insecure people are more likely to have health problems that snowball into health crises.
But above all, it's a matter of dignity of our neighbors. Until you've used these services, you can't really fathom how it eats at your self-worth. We saw that during the pandemic, with stories of people who just months before were volunteering at food banks — only to be sitting in line waiting for donations because they were thrust out of work.
Consider the words of former U.S. Secretary of Agriculture Sonny Perdue: "Do right. And feed everyone."
We can make great strides toward reducing — maybe even some day eliminating — hunger in America.
It's going to take all of us, putting our kernels together.
Subscribe to receive top agriculture news
Be informed daily with these free e-newsletters
You May Also Like
---