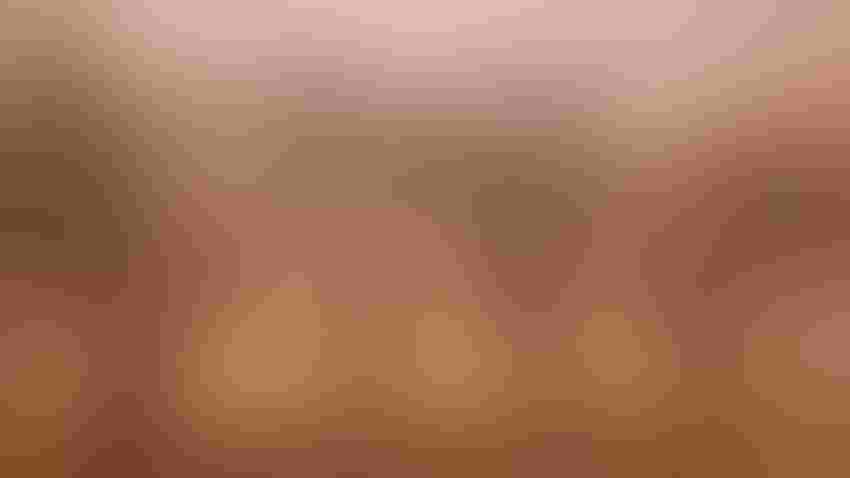 This dust storm turned the sky dark. My farmer and son were on the farm when it hit and had to pull over due to lack of visibility.
Shelley E. Huguley
April. It's spring. It's Easter. It's the transition from death to life from my Savior to the green leaves on the age-old trees in my yard to announcement of spring by the bright yellow tulip blooms along the walkway to my front porch.
It's also time to prepare for another planting season. It seems to come around faster every year. Used to, my farmer was home during the winter months busy with honey dos but with winter wheat and earlier planning and applications, it seems that down time is becoming less.
Typically, we're excited, anticipating with some angst the beginning of a new season. But I have to be honest, entering another year plagued by drought and over-extended sprinklers and wells, I feel a bit overwhelmed and discouraged.
I pay the bills, so I know what this drought has cost us. As a farmer's wife, I also witness the toll it takes, is taking, on my farmer. As a writer, I hear firsthand accounts of the impact it's had/having on Southwest farmers. Some areas have received relief. We have not.
It seemed the blustery winds of February and March and the brown skies that hovered were an emphatic reminder, we're still in a drought. A thick layer of dust has covered most of my furniture over the last several weeks, despite my repeated efforts to wipe them clean. I've made countless mad dashes to the front door to rescue my porch cushions attempting to take flight. And then there are the thousands of tumbleweeds plastered along miles of fencing standing along sand-filled bar ditches that remind us, we're in desperate need of rain.
The good news? These haboobs or dust storms are also proof that the conservation tillage and cover crops our farmers are planting or implementing are working. Conditions would have been much worse had our farmers not begun to change and transition their tillage and production practices.
This drought has also elevated the value of seed research and technology, the necessity of drought-tolerant varieties. They make a difference.
But I'm ready for rain. I'm ready for relief. I'm ready for my farmer to turn the pumps off for a while. The truth is it's going to take more than one or two good rains. We have a major moisture deficit in addition to what is needed to produce another crop.
Commodity prices are down for some and better for others. My farmer, as are many, is still trying to decide what will pencil the best. Sorghum silage worked well last year and responded immediately when we finally received August rains. The verdict is still out on what we'll plant in 2023.
Farming always seems to bring me back to faith. I'm not sure how this is going to be resolved or when, but I know God is faithful. We wait. We pray. We make the best decisions we can. We plant the seed. The rest is up to Him.
Subscribe to receive top agriculture news
Be informed daily with these free e-newsletters
You May Also Like
---