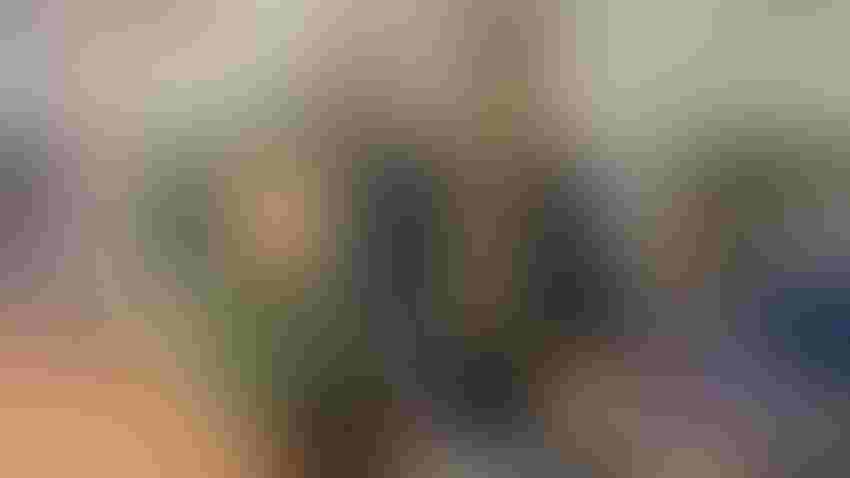 CONVERTED TO THE COUNTRY: Beth Gormong (left) and Susan Hayhurst take time out from a signing event for their new book. Today, they are as at home on the farm as in this upscale setting.
Courtesy of Susan Hayhurst
Some past columns and my new devotional book with co-author Beth Gormong note I was a city girl who married a farm boy. I'm turning the tables. My husband, Terry, and Beth's husband, Jeff, share what it was like to be farm boys who married city girls.
The men are cousins who grew up on their nearby family farms. They didn't find the idea of marrying city girls daunting. Why? Because they knew their now-respective spouses were who the Lord intended them to marry. Terry adds, "It's easier to train someone than to retrain them coming from another operation."
So, Beth and I were unsuspecting trainees?
Jeff and Beth were married for three years before moving to the farm. I was immediately a farm wife. Beth and I had no idea what true farm life was all about.
She is from Frankfort, Ind. I am from West Lafayette, Ind. Her parents came from Depression-era hobby farm families who raised a few head of livestock and grew gardens. According to Jeff, Beth's "romantic" view of farming came from helping her grandparents during visits. My idyllic farming ideas came from visiting my uncle and aunt who retired to a picturesque dairy farm in northeastern Wisconsin to raise thoroughbreds. Being allergic to everything "farm" made accepting farm life more difficult.
Culture shock
Our husbands knew we both suffered from culture shock. Beth and I were used to set dinner times and fathers with established schedules. Living away from conveniences like grocery shopping took adjusting. Beth says she "had to grow into her new lifestyle." I fought the transition for years.
Jeff shares that Beth looked forward to screened-in porches and pleasant breezes. Living across the road from a hog farm nixed such pastoral thoughts.
Terry remembers it was tough for me to live where he worked. "Going from city to farm life is a culture shock, but living at your business is like life on steroids," he says. "There's no downtime. You make it work."
Jeff saw Beth adapt by organizing their home life as much as possible. Terry watched my faith grow because I developed a stronger interdependency on the Lord amid stresses, and being away from friends, family and my home church.
"Farm life fortifies and hones you to weather the struggles," Terry says.
Jeff sums up our transitions well, citing 1 Corinthians 3:6: "I planted the seed, Apollos watered it, but God made it grow."
Hayhurst writes from Terre Haute, Ind.
Subscribe to receive top agriculture news
Be informed daily with these free e-newsletters
You May Also Like
---