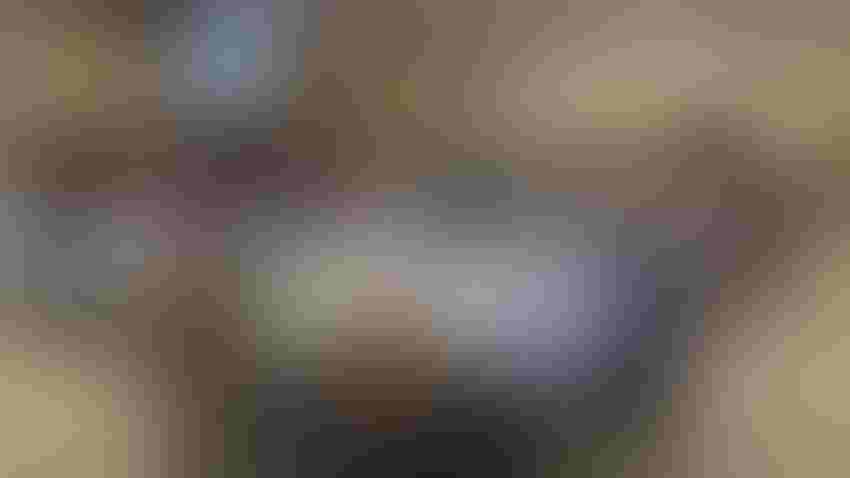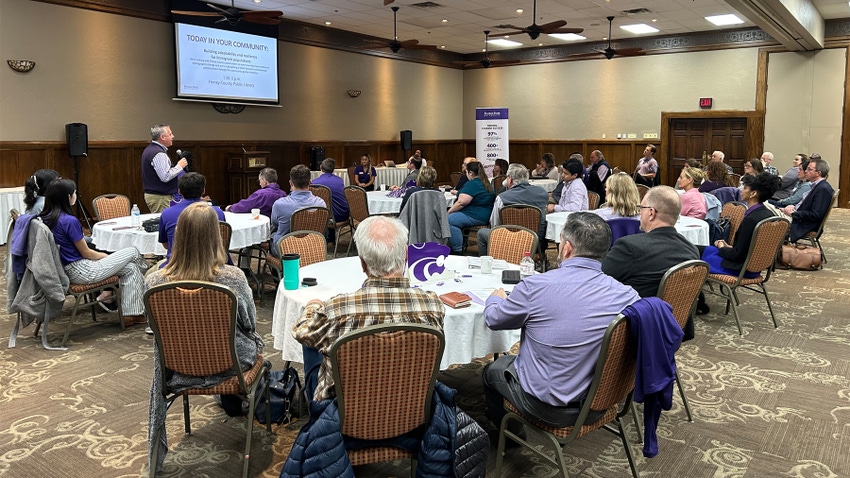 LISTENING AROUND THE STATE: Kansas State University President Richard Linton questions the audience during a community visit to Garden City, Kan., April 25. Linton and K-State leadership, along with Research and Extension personnel, use these visits to connect to Kansans and discover ways the university can better adhere to its land-grant university mission.
Jennifer M. Latzke
It rained in southwest Kansas this week while Kansas State University President Richard Linton visited Garden City.
Now, I'm not superstitious — but I am, as the kids say, a little "-stitious." So, if all that was required to bring nearly 2 inches of slow, steady, soaking rain to our D4 drought zone was for Linton to visit, I think we could free up some public dollars to pay for his monthly trips here.
Making it rain is surely in the job description of the president of our state's land-grant university, after all.
Oh, I joke, but I'm very encouraged to see Linton and his team making the effort to reach out to all 105 counties of this state to reconnect the people to K-State Research and Extension serves. It's been a long time coming.
I'm a staunch advocate for our Extension service and our personnel. Like so many of you, I grew up with K-State Research and Extension a part of my life. My grandparents learned how to implement electricity in their homes and farmsteads, improving their family's quality of life and their economic prospects. We were a 4-H family. My dad used Extension research publications to raise better crops. My mom used Extension training materials to teach my sister and me to sew and to preserve her garden produce. Neighbors used Extension to learn more about technology in their fields, computers in their homes and how to raise healthy families.
Extension education shaped America's middle class and is how we've advanced as a society over the past century.
Subtle decline
But in the past 20 years, there has been a subtle decline in Extension's efforts in our state. A combination of diminished university leadership emphasis, drastic cuts in financial support from short-sighted legislators in Topeka, and hiring freezes and staffing turnovers have led to Extension personnel and K-State researchers making hard decisions in programing efforts over the years. They did what they could to keep the lights on and the programming going on a shoestring and a prayer at times. I do not fault them one bit for the choices they've had to make because of circumstances outside of their control.
But — as I learned from an Extension pamphlet long ago — you can only trim a tree so much before it starts to die.
That's why I'm heartened by Linton's community visits, and you should be too.
Frank and honest
The conversations at these visits are frank, but they're needed. Farmers, community leaders, business leaders and just regular Kansans are invited to be honest about what Extension could do to make their lives better.
It's not a session where K-State comes to town and tells Kansans what they think they need. Instead, K-State comes to town and asks, What do you need to improve your family and your business?
On this one visit were frank conversations about the need for more funding for practical research out of the Garden City station tailored to the region. There was an eye-opening discussion about how Extension programming is helping communities like Garden City welcome and educate new immigrant populations. The group saw the need for a horticulture agent in southwest Kansas who can teach immigrants how they can grow vegetables in spaces and community gardens available to them — and do so with translators bridging the language gap of the 35 languages spoken in the region.
Group members heard from local community leaders about how they'd love to send students to Manhattan (Kan.) to get their degrees, but they're frankly tired of those students being recruited to jobs in Kansas City or Wichita after they graduate. They also heard about how K-State is working with first-generation college students and their immigrant families to navigate the unfamiliar admissions process.
And that's just one community visit out of eight so far.
Change coming
There's already change coming on the horizon at K-State that's going to facilitate more productive research for our state's agricultural and rural businesses and families. New building projects are kicking off that will encourage researchers to collaborate across specialties by putting them in a more functional space. Investments are being made in personnel and tools. And you can see already this leadership is very determined to return K-State to its land-grant roots.
So, I know it's hard to be patient when we think we're being overlooked. But I get the feeling that there are good things on the horizon from our land-grant institution that are going to make the lives of all Kansans better.
Subscribe to receive top agriculture news
Be informed daily with these free e-newsletters
You May Also Like
---