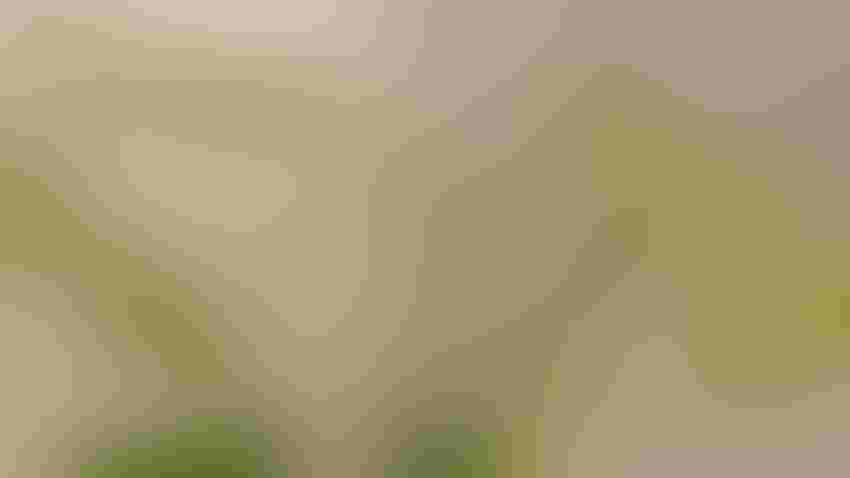 The Asian citrus psyllid, seen here in a quarantine lab operated by the California Department of Food and Agriculture, likely arrived in the United States through the illegal import of fruit or plant materials. U.S. farmers likely spend billions of dollars annually trying to fight the effects of invasive pests and the diseases they bring.
Todd Fitchette
I'm not an entomologist, nor do I play one on television.
I do know a handful of entomologists. Those I know have been helpful in educating me for stories you've seen here. I also know that the more I learn about insects, the more I realize I'll likely never understand.
Over time I've been encouraged to learn more about specific pests causing problems for farmers in the West. Fruit flies seem lately to top the list of things people tell me: "You should look into this."
I learned recently of the Queensland fruit fly (QFF), an insect native to Australia that was found again in California, this time in Thousand Oaks. The University of California Cooperative Extension office in Ventura County has an article on the pest, which is now responsible for a quarantine in the area.
Like any good reporter, I reached out to a farmer I know in the region. He told me that there's no commercial crops in the immediate vicinity of the find and quarantine zone, but he knows these bugs can fly, and it's troublesome to him given his relative proximity to the latest finds.
California officials recently announced the discovery of the Tau fruit fly in neighboring Los Angeles County, not far from the Ventura County QFF find. Though unrelated, the Tau fruit fly is the first ever discovery of this insect in the U.S., and the first-ever quarantine for this insect in the Northern Hemisphere. That's not a first-off issue to be proud of.
So where are these bugs coming from and how are they making it here from other parts of the globe?
They're hitchhiking in luggage and packages carried and shipped from overseas. Folks who continue to ignore laws unwittingly or openly regarding the unregulated import of plants, fruits, and vegetables into the United States are causing invasive insects to be introduced here.
We recently reported from the latest Fresno County Department of Agriculture about the canine team that officials there use to sniff out invasive pests. There's a reason why these dog teams exist: people like to import items that can spread agricultural pests and disease into the United States. It's how the Asian citrus psyllid got to California, Florida, and Texas, and it's how other invasive pests arrive.
Carrying fruit home from other parts of the world in your luggage is never a good idea. Neither is bringing those citrus clippings home with you from Asia, then grafting them to your back yard tree. California now has a deadly citrus disease sweeping across southern California because someone (perhaps several people) very likely did just that. The examples of the unregulated import of plants and produce are legion and are why U.S. farmers annually spend untold dollars and hours of time each year fighting agricultural pests and disease.
The need for chemical controls of pests and disease in our fruits and vegetables is directly correlated with the import of invasive pests and plant diseases that migrate here through global transportation. While I'm not suggesting we forever ban global travel, let's consider how this introduces invasive pests and diseases into our food supply, and learn how to mitigate this through simple practices to avoid the next plant disease that could decimate U.S. crops.
Subscribe to receive top agriculture news
Be informed daily with these free e-newsletters
You May Also Like
---