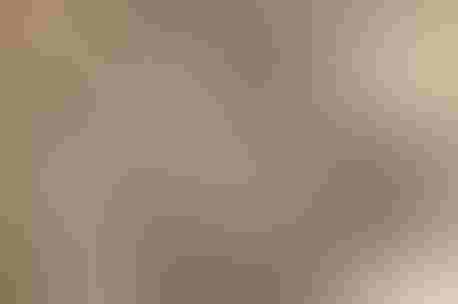 Farming is a family affair on the Ethan Cox farm. From left, daughter Addie Jane, wife Penney and Ethan holding daughters Lydia and Maria Lynne. (Photo ran with permission of Alden Telegraph)
That was the headline from a story that ran about our family in a 1987 farm supplement of the Alton Telegraph. I loved living on the farm. I enjoyed playing in the mud and wearing bib overalls. I was three years old. My parents weren't having so much fun; they were paying 12.5% for real estate loans and 18% for operating money. Dad said you could open a plat book and the federal land bank owned many farms across the county. My parents owed more on the land than it was worth, but were able to make the payments. Cattle and hogs sustained them. Dad thought we could make ends meet if he made $20 a head for a fat hog. Most of the farms they rented were 50/50, and they survived by living modestly and running older equipment.
Photo ran with permission of Alton Telegraph.
High Interest Rates
What could they do about these high interest rates? Mom and Dad had three daughters; Addie was six and my twin sister and I were three. Mom had retired from her job in 1981 to stay at home with the children.
Their lender said they were in the wrong "tier" which meant they could not refinance. Mom had $20,000 saved from her job, which was a lot of money at that time. They went to the lender and asked if they could apply this $20,000 to the principal to lower the interest rate. The answer was a quick "no." They looked elsewhere for financing and ended up with 10% for real estate. That was the best news of the year.
Compared to today
What is different about farming in 1987 versus 2016? We farm more acres than in 1987, but most of the acres are cash rent. Cash rent works well for us when we have bin busting yields and record prices. Share cropping is great too; we share our good years with our landowners. Share cropping also works better when margins are slim or negative since our cost per acre is lower when we share crop. 
Interest rates are lower in 2016. Land can be financed around 4%. Our operating money can cost even less than that if we supply land as collateral.
As I told our landowners during a meeting this week, we are in a crunch. Prices are depressed while the major input costs have not decreased accordingly. We are planning for an unprofitable year, but we are in it for the long haul. We have seen unprofitable years before, and we will see them again.
To quote my dad from 1987: "The farm's a great place to raise a family. It's still, in my opinion, the greatest place to live."
The opinions of the author are not necessarily those of Farm Futures or Penton Agriculture.
Subscribe to receive top agriculture news
Be informed daily with these free e-newsletters
You May Also Like
---