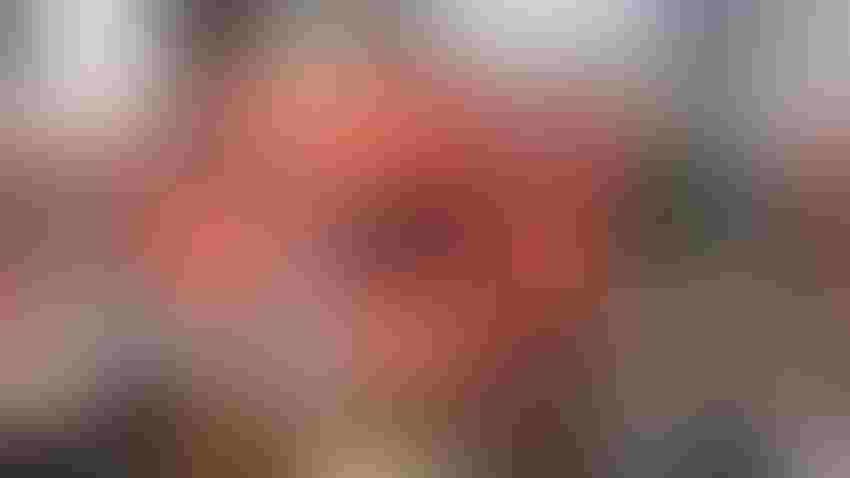 PROMOTING PORK: I visited with members of the Wisconsin FFA who worked in the pork booth at the Wisconsin State Fair in August.
PHOTO COURTESY OF WISCONSIN DATCP
by Ashley Hagenow
Growing up, pork made its way onto my family's dinner plates in many traditional and time-honored ways, including as savory roasts, crispy bacon, juicy tenderloins and delicious baked holiday hams. In my first few months as Alice in Dairyland, I have learned many ways to incorporate Wisconsin products into my meals, and pork is no exception.
Pork is an excellent source of protein and provides several important vitamins and minerals. Did you know that pork is the most widely consumed and versatile protein in the world? A 3-ounce serving of pork is a great source of thiamin, selenium, protein, niacin, vitamin B-6 and phosphorus, and a good source of zinc, riboflavin and potassium. Pork is also considered to be heart-healthy, as it is naturally low in sodium and can help regulate blood pressure.
As of the end of 2021, there were 365,000 hogs and pigs on Wisconsin farms. Every day, Wisconsin farmers work hard to care for their animals and produce high-quality products for consumers around the world. Through changes in feeding and breeding techniques, pork producers have responded to consumer demands for leaner pork. According to the Wisconsin Pork Producers Association, today's pork has about 16% less fat and 27% less saturated fat compared to pork produced 30 years ago. Many cuts of pork are now as lean as a skinless chicken breast.
The versatility of pork is one of my favorite attributes. It is often available in a wide range of cuts, and many cuts can be used in multiple ways. From pork chops on the grill to pulled-pork sandwiches to charcuterie meats on cheese boards, pork can be eaten as a quick snack or a complete meal any time of year.
I recently found a recipe from Dairy Farmers of Wisconsin that combines four fantastic Wisconsin commodities. Apple-Cheddar Pork Chops start with pork chops cooked to a perfect 145 degrees F in a cast iron skillet. After moving the chops to a plate, apples are cooked in butter and then mixed together with apple cider, maple syrup and Dijon mustard. After the sauce has reduced, the pork chops are tossed in it and then topped with cheddar cheese. The whole pan is covered for a few minutes to let the cheese melt — and then dinner is served! The sweet sauce coats the chops, and the savory cheddar balances out the flavors perfectly.
I highly recommend this recipe as a way to celebrate Wisconsin's apples, dairy products, maple syrup and, of course, pork.
As you grocery shop, I encourage you to seek out new pork options and try new recipes. Whether you are interested in making ground pork tacos, oven-cooked baby back ribs or a pork roast in the slow cooker, pork is easy to prepare and is the perfect protein to fuel busy families. Buying local products keeps dollars in our state and supports our farmers, processors, communities and local economies.
You can find a variety of pork recipes and information about different cuts of pork at pork.org. National Pork Month is coming in October, and that makes it the perfect time to experiment with new recipes.
Hagenow is the 76th Alice in Dairyland.
Subscribe to receive top agriculture news
Be informed daily with these free e-newsletters
You May Also Like
---