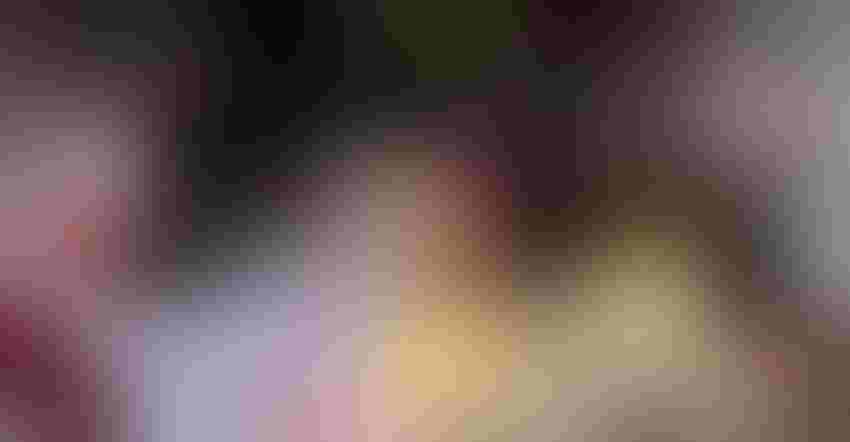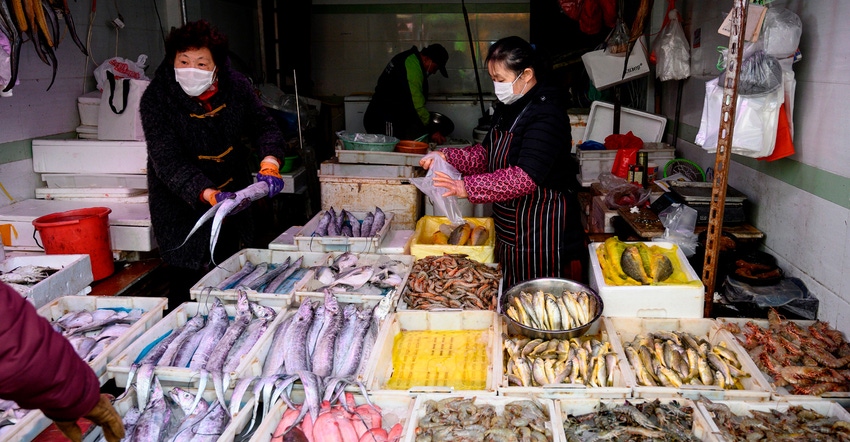 AG TO BLAME?: A seafood vendor (right) speaks with a customer at a wet market in Shanghai on Feb. 13. While wet markets have been identified as a possible breeding ground for the coronavirus, critics have also pointed to industrial farming operations as another potential breeding ground for the virus.
NOEL CELIS/Getty Images
I thought COVID-19 would have silenced agriculture's critics. After all, who cares if sows live in individual or group pens when there is no pork on grocery stores shelves?
Who cares whether hamburger comes from grass- or grain-fed steers when there isn't either type of beef in the butcher shop? Who cares if milk contains rBST growth hormone when there is no milk of any kind to be had?
Related: Complete coronavirus coverage
 
I thought no one would. I thought we would no longer have to fight for consumer support. I thought we wouldn't have to constantly counter "we-are-farming-wrong" arguments from people selling books or raising money for their non-profits.
But I was wrong. Because now they are saying that agriculture — industrial agriculture, the way we farm — is to blame for COVID-19.
Where it comes from
The theory seems to have come from Rob Wallace, an evolutionary biologist and author of the 2016 book, "Big Farms Make Big Flu."
In an interview with Grain, an EU-based non-profit that advocates for small farms, Wallace blames industrial agriculture for not only COVID-19, but also Ebola, SARS and the swine flu. The cause, in his opinion, is the clearing of forests and the concentration of livestock on farms.
"Many of those new pathogens previously held in check by long-evolved forest ecologies are being sprung free, threatening the whole world," he said.
The Sierra Club recently picked up on Wallace's ideas and wrote, "The technical term for what happened with COVID-19 and the horseshoe bat [which some think is the source of the virus' is 'zoonotic spillover' — when another vertebrate transfers a pathogen to humans.
"Other examples of zoonotic spillover include HIV and the Bubonic Plague. Zoonotic spillover is more likely to occur in landscapes where humans are pushing into wildlife habitat in order to log timber, clear farmland or raise livestock. This disturbs animal habitats and increases stress levels among wildlife that remains in the area, making those animals more vulnerable to disease as a result."
Gene Baur, president and co-founder of Farm Sanctuary, a national farm animal rescue and advocacy organization, took it a step further. He wrote in The Hill that wet markets in China, where horseshoe bat are sold as food, aren't the only potential breeding ground for the virus.
"We also need to curtail factory farming, whose practice of cramming together tens of thousands of animals in unsanitary conditions is credited with causing the H1N1 swine flu outbreak of 2009," Baur says. "It killed hundreds of thousands of people around the globe, including over ten thousand in the U.S.
"Agriculture needs a major overhaul. We can feed more people with less land and fewer resources by replacing animal farming with a plant-based food system. This would allow millions of acres to rest and recover, since animal production currently occupies ten times more land than plant-based agriculture in the U.S.
Post-pandemic
When the pandemic ends, I had hoped that getting back to normal would mean not having to defend farming practices.
Instead, I thought we would be able to focus on refilling grocery shelves. I thought we could concentrate all our energies on making our farms, ranches and the whole food industry stronger and more resistant to disruption — because there surely will be more disruptions, and maybe far worse and far more sinister than COVID-19 in the future.
Clearly, I was wrong. The need to advocate for agriculture will always be with us.
About the Author(s)
Subscribe to receive top agriculture news
Be informed daily with these free e-newsletters
You May Also Like
---