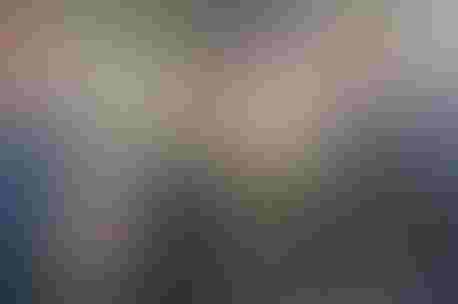 Green is the new color of fall in the Dakotas.
Well, a smattering of green anyway — as in green cover crops.
I went on a cover crop tour in Minnehaha County in southeast South Dakota just before Thanksgiving and saw a lot of green fields.
South Dakota State University researchers and Extension specialists were experimenting with interseeding winter rye into corn and soybeans on Al Miron's farm near Crooks.
They had flown on winter rye seed in late August when the corn was in the dent stage. The 70-pound seeding rate looked better than the 35-pound seeding rate, but the jury was still out on what's the best seeding rate. The winter rye will get thicker in the spring.
"Winter rye is pretty much bulletproof if you want to be assured of getting a stand," said Peter Sexton, SDSU professor and Extension sustainable cropping systems specialist.
But you have to be careful about letting rye go too long in the spring before you spray it out, he said.
If you let it live past mid to late May and there's a drought, it could cost you some yield due to the moisture it used. If killed early, though, winter rye doesn't affect soybean yields, he said.
Tyler Klein, Crooks, drilled winter rye into a cornfield after it had been chopped for silage. The cover crop was much thicker than the aerial-seeded rye, but that was done on purpose. Klein was grazing beef cows on it and plans to chop it for forage in the spring before planting a cash crop.
Lynn Boadwine, a dairyman near Baltic, planted a cover crop on half of a cornfield after he chopped it for silage. The difference in the split field was stark. Where there wasn't a cover crop, the ground was brown, bare and hard. In the cover crop half, the soil was soft and moist.
Boadwine's cover crop was a mix of oats, radishes and turnips. The radish and turnip residue will break down quickly, leaving just the oat stubble to plant corn through.
"It will be a good seedbed for corn," Sexton said.
Sara Berg showed us her "failure" field. Berg is a SDSU Extension agronomy field specialist and farms with her sister, Virginia, at Baltic. Her "failure" was a prevent-plant field. It had been too wet to plant corn or soybeans last spring. Rather than doing nothing with the field, they had a cover crop seeded on it in August. The mix included oats, turnips, radishes and rape (canola). A neighbor turned his beef cows out on the cover crop Nov. 1.
"It might have been a cash crop failure, but it wasn't a total failure for the year from a soil health standpoint," Sara said. The cows added their manure to the soil, which should reduce the amount of commercial fertilizer they'll need next year, and the cover crop roots fed the soil organisms and kept them working long into the fall.
Anthony Bly, SDSU Extension soil health field specialist, showed participants one of the fields on his farm near Garretson that he planted to an eight-way cover crop mix in August after harvesting triticale seed. The cool-season species in the mix included radishes, turnips, rape (canola), crimson clover, winter wheat, annual rye, barley and flax. The mix costs $15.60 per acre, he said.
"This field has been no-tilled for 24 years," Bly said. "Cover crops are taking its soil health to the next level."
The tour was hosted by the SDSU Extension Service.
Subscribe to receive top agriculture news
Be informed daily with these free e-newsletters
You May Also Like
---