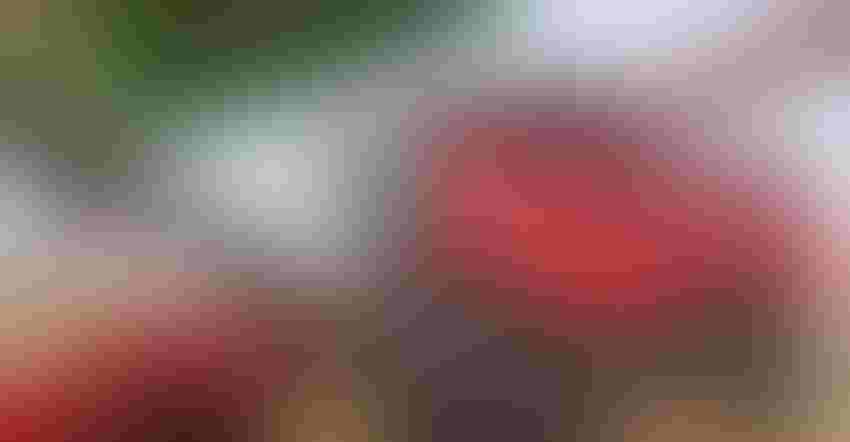 We made haste leaving the shop Thursday morning. Rain pending, It was finally dry enough (now a relative term) to head to the field with the combine we've been having trouble with this fall. We wanted to make sure it was going to run after the most recent repair was made.
The machine has been out of commission for 10 or 11 harvest days this fall. Many of those days were spent waiting for the next item the manufacturer wanted to check out. It seemed like we went down many rabbit holes. Tuesday, the manufacturer finally let the tech throw the book at it, changing two engine harnesses, a valve, a sensor, and installing another fuel pump. We had previously changed all the fuel filters, drained and flushed the fuel tank, and tested fuel lines.
In the end, they determined the remanufactured fuel pump installed just a few weeks ago was bad. It caused a fuel valve and sensor to also go bad. The harnesses had to be changed to eliminate them as a possible issue before changing the valve and sensor, and ultimately installing a new fuel pump. What a cluster! The good thing is that since the fuel pump was under warranty, most of the bill will be covered.
Lost productivity
We definitely lost several days of cutting soybeans with two combines. In fact we probably would have had beans wrapped up, except for the second crop. If we did not have a second combine, we would have been pulling our hair out. When it rained we were able to switch that machine over to corn and keep on harvesting. The steering and header height sensors do not work when paired to the second machine, so there was added stress in some adverse conditions. We probably didn't do as good of a job as we would have liked, but we kept going forward when it wasn't raining.
I'll comment that a machine with less than 1,000 hours should not have a fuel pump go out. However, it is a common occurrence on this model. Fortunately, they had the pump. It's my understanding that another manufacturer has a similar issue with a computer module, and they are out of stock. Wouldn't that be frustrating? It's bad enough that these types of issues are nothing that routine maintenance can prevent. They are no fault of the operator. It seems to go back to quality of the original manufacturing of the component.
I'm getting tired of these rain impeded work weeks. I'd much rather just plow through harvest and call it done! Rain has been a fixture again this week in Indiana. As the rain moved in Thursday, I took shelter under the back of the grain cart while waiting for the truck to be loaded and ready for me to tarp.
As of Sunday, we were about half done. Not much progress has been made this week. We picked most of the day Monday and about half a day Thursday. We will see what happens Friday and Saturday.
The opinions of the author are not necessarily those of Farm Futures or Farm Progress. 
Subscribe to receive top agriculture news
Be informed daily with these free e-newsletters
You May Also Like
---