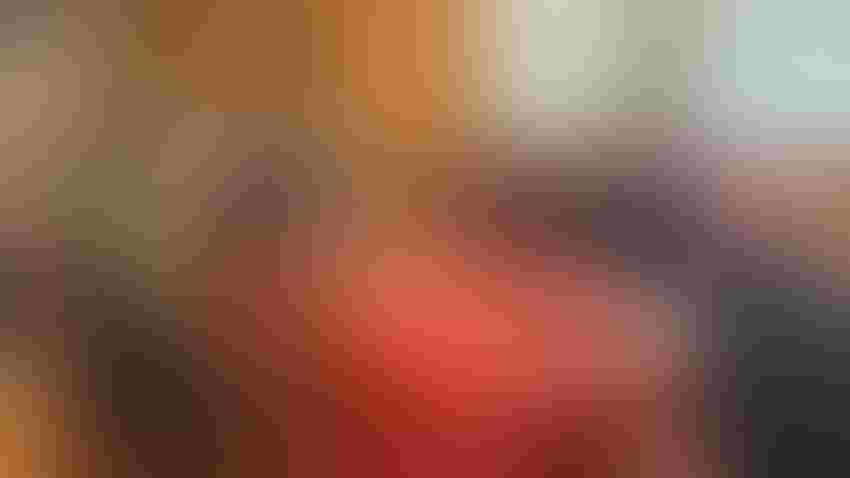 HOME COOKING: In true holiday fashion, tables were set up to seat all 14 of us at Brantly Hoover's grandmother's house in Texas, where we were excited to dig into a home-cooked meal during our judging trip. Pictured here are Hunter Johnson (from left), Donnie Holupka, Paige Trumble, Dominic Gittlein and coach Blaine French.
Elizabeth Hodges
It's no secret that all livestock judging teams make a lot of memories on the road. If you competed on a team, I am sure we could sit down all day and swap stories.
In the month of March, I spent more time in Texas than home in Nebraska while competing on both the University of Nebraska livestock judging team and the meat animal evaluation team.
We wrapped up the spring livestock judging season in Houston with a second-place finish. As for the meat animal evaluation contest, we all learned a lot about the livestock industry and were able to get sixth place as a team.
Experiencing Southern hospitality
A few days after our successful Houston trip, we headed to Canyon, Texas, where the livestock judging kids turned into meat judging kids. Last year, I was a member of the 2022 meat judging team and was excited to get back into the coolers.
One of our first stops was at a feedlot in Hereford, Texas, where we practiced our live calls, estimating how large the rib-eye area was and how much back fat thickness the livestock had, all in preparation for the meat animal evaluation contest.
Once we were all good and smelly from the yard, we headed over to Brantly Hoover's grandmother's house. Brantly is on the livestock judging team, but originally is from Texas.
Little did we know that we would be greeted with an amazing home-cooked lunch of brisket and Grandma's famous rolls. Personally, the homemade sweet tea was my favorite. Being welcomed like family to this Texas home made it clear to me that being on a judging team really is like joining one big family.
Time to get technical
The meat animal evaluation contest is a three-day event that covers different aspects of the meat animal industry and really keeps things in an industry mindset. The first day of the contest is when we make live evaluation on hogs, sheep and cattle.
In addition, we calculate pricing, place performance classes and have questions at the end. Going into this part of the contest. we memorized different formulas that would help us get closer to actual yield grades with different benchmarks for the rib-eye and loin-eye areas.
The second day of MAEC consists of two parts, including a communications contest and a breeding contest. For the communications contest, you are given a topic to give a presentation about and have an hour to prepare — without any internet access. Our topic this year was antibiotic resistance and how we combat it moving forward. Our team of 10 worked together to develop a skit that represented the producer, the packer and consumer insights.
After the presentation, we were back into our element where we were able to place breeding classes of gilts, ewes, rams, bulls and heifers. There were even two keep/cull classes that gave us an insight into the importance of making management decisions on the farm.
The last day of the contest is when I was able to put on my hard hat one last time with the scarlet "N" on the side. We were able to see the livestock that we judged live on the first day, now hanging on the rail. This contest had pricing, placing and, of course, questions.
This was my favorite part of the contest, not only because I got to be in the cooler one more time, but also because it was interesting to see the actual loin-eye or rib-eye areas that I had estimated live.
We may have not had a finish like Houston, but I think we all can say that we can look at market animals with a more industry-focused lens. And, of course, the great food and Southern hospitality made for a memorable experience.
Subscribe to receive top agriculture news
Be informed daily with these free e-newsletters
You May Also Like
---