My Johnny Birdsong alter ego has this June wedding month tale to tell. His daughter, Jonie, came in all aflutter after neighborly advice from Barn Bette. Seems as Bette told her to go slow on getting caged by a "keeper". Yes, that has a double meaning.
If you're not familiar with her, Barn Bette is a no-nonsense farm gal who invaded the fictional Good Ol' Boys' Club at Coffee Clutcher Cafe. She's been around the marriage roundabout more than once and has a strong sense of what works and what stinks. We're not talking dirty socks here.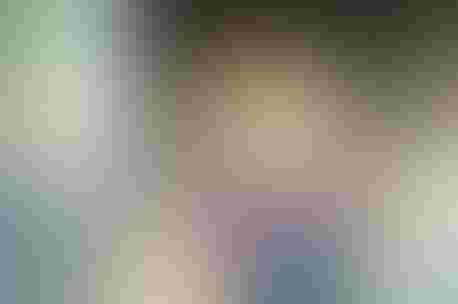 'DEAR ABBY' NOT: "Tis far better to be forearmed than forlorned," sez Barn Bette.
So she offers these pointers for young (18 to 40 years of age . . . okay, 45) farm women. Now on the high side of 45, Bette advises putting every prospective marital candidate through a scrutinizing squeeze chute "long before you let 'em through the friendly farm gate," she warns. "You want only the best; you can't afford the misery of the rest."
She's been around that barn more than once – making her an expert. So here goes . . .
1. Do you feel you have to have your "best face" on before you meet? That's not a good sign. Lasting love is no a skin-deep deal. It has to stand up to wear and tear.
2. Is that person good with kids and animals? If not, don't expect him to be good with you once the freshness of a relationship wears off.
3. Today, unfortunately, you have to check his police record. Prospective husbands must know the difference between hay bale and jail bail, and not ever have paid the latter. More than one well-to-do farm woman has lost more than her shirt to a sweet-talking scumbag.
4. Is there ample evidence of assets? No, nice pickups, boats, even tractors don't count – although the right-colored tractor might an indicator of taste. But I'm talking about income-earning, not income-burning assets.
5. Long before considering any once-in-a-lifetime deals, run a credit check and make certain his "stuff" is paid for.
6. Then go the next level and make sure the candidate knows how to fix the "stuff" he already has – and maybe yours as a test. Nothing's more costly and useless around a farm than a person without a full toolbox, baling wire and duct tape. In fact, practical common sense can be indexed by what's in that toolbox.
7. One more thing: Any candidate for being dearly beloved must know what "sweat work" is – on the farm, not in a gym.
You're right. This stuff has nothing to do with romance and wonderful wedded bliss. That's Barn Bette's whole point of these pointers, "cuz romance wears down and out when you're doing all the work to make it work."
One more thing: Please share this with all who can read, and read it to those who won't.
Subscribe to receive top agriculture news
Be informed daily with these free e-newsletters
You May Also Like
---