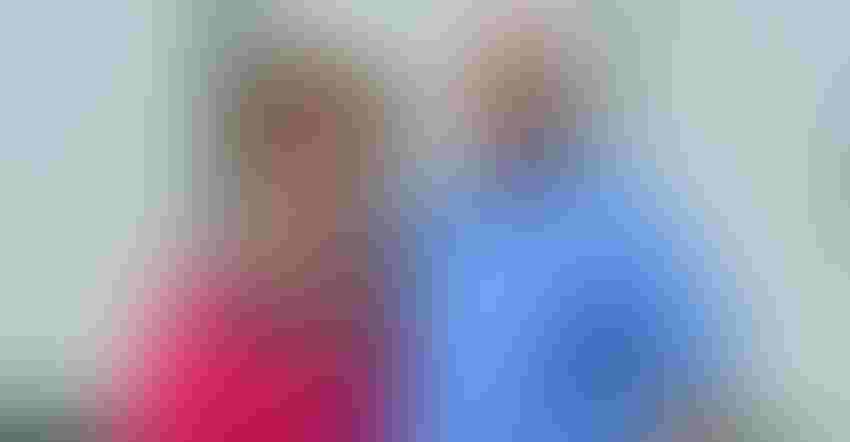 NO GUCCIS HERE! You're more likely to find Susan and Terry Hayhurst in casual farm clothes and cowboy boots than fancy duds.
Rifling through old files always nets a good memory. My late boss and editor of "The Purdue Alumnus" magazine with the Purdue Alumni Association, Gay Totten, wrote this ditty, "A Song for Sues," when I left the magazine to marry my husband, Terry.
Here it is, just as she wrote it:
Let me tell you a story 'bout a gal named Susie
On one glad and fateful day
Packed her Guccis and her Claibornes
Kissed her Mom and Daddy
Came aboard the PAA
Chorus: Did she ever return, oh did she ever return
Oh, her fate is still unlearned
She will ride forever on the Boilermaker Special
The girl who never returned
Now our gal Susie made a lot of money
Selling ads to any and all
And woe to deadbeats who owed us moola
For they would hear her call
(Chorus)
One fine spring day, came this handsome cowboy
From down old Terre Haute way
Turned those big blue eyes on our own Susie
And she said, just name the day
(Chorus)
So, Susie set out to learn that farmin'
Even took a short course in ag
Our own super seller was bound and determined
That ag-wise, she'd be no drag
(Chorus)
The date is set, the dresses ordered
And it's time to say good bye
Our Susie's off to spread the Boiler gospel
With handsome Terry at her side
Oh, will she every return, will she ever return
Oh, her fate is still unlearned
She may trade the Special for a John Deere tractor
But Hail Purdue will still be heard
Boilermakers are forever!
Let me add a disclaimer. I never had Guccis, and we're diehard New Holland fans today when it comes to farm equipment. But without a doubt, "Hail Purdue" often resounds around our home and farm!
Hayhurst writes from Terre Haute, Ind.
About the Author(s)
Subscribe to receive top agriculture news
Be informed daily with these free e-newsletters
You May Also Like
---