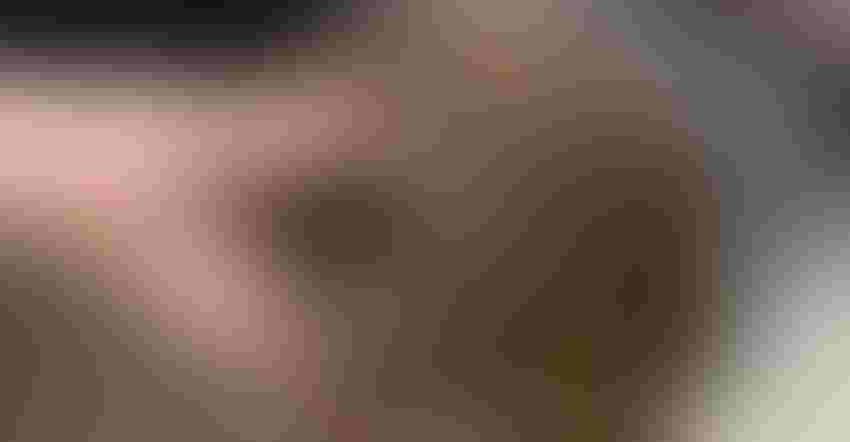 HAY MOISTURE MATTERS: Purdue safety specialist Bill Field holds a hay sample that was green just a few days earlier. Fortunately, the farmer baled this "sample" bale and stopped. Discoloration is due to heating.
Bill Field is always thinking about safety. That's because he has spent his entire career, spanning well over 40 years, working with farmers, the equipment industry, and health and safety professionals to improve operating conditions on the farm. So, when a threat presents itself to a person, equipment or facilities, Field will not only likely notice it, he also will tell others about it to help them avoid a similar situation.
"A neighbor had alfalfa hay down in early September, and the weatherman changed the forecast," Field says. "It looked like it might rain that night after all, so he was pushing to get the hay baled. It just wasn't quite dry enough. Moisture content was likely around 25%."
Hay for baling without preservative needs to be no higher than 20%, and preferably under 20%, Field notes. After making a few sample bales, the farmer stopped baling.
"He gave them to my daughter for her cows," Field says. "Fortunately, I was here and told her to put them outside instead of in the barn with her other hay."
Rest of the story
Field continues, "A couple of days later, I was working out there and smelled something. Sure enough, it was the hay. I grabbed my thermometer and checked. Temperature inside one bale was over 180 degrees F. That's high enough for combustion and a fire."
Field realized then that it was a teachable moment, and he needed to remind other people that if hay is baled too wet, it can lead to spontaneous combustion and a fire. "I've mentioned it at any meetings I've attended since then," he says.
In fact, at one meeting, Field brought a sample from the bale. Although it had only been a few days, the hay was brown. Even if the hay hadn't ignited, if left in a bale, it likely would have molded, he says. It would not have been palatable for cattle.
"People often think baling too wet is mainly a problem early in the year, but it can be a problem anytime," Field says. "No one likes to get rain on hay, but baling hay that is too wet simply isn't a good alternative. Fire is a real threat, and even if it doesn't cause a fire, it likely won't be good feed."
Comments? Email [email protected].
Subscribe to receive top agriculture news
Be informed daily with these free e-newsletters
You May Also Like
---