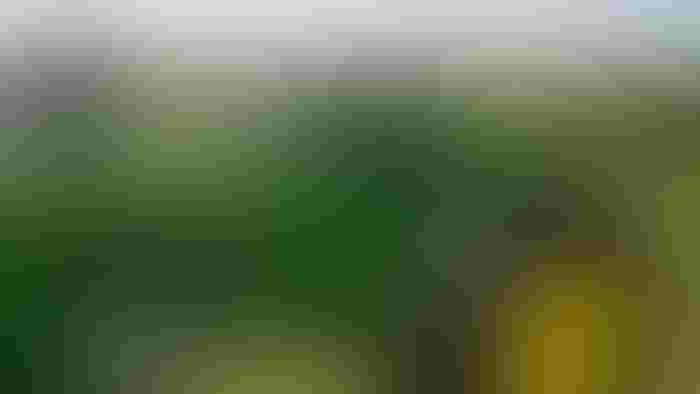 The July Indiana Prairie Farmer featured "The saga of a beloved Farmall H" in honor of Farmall's 100th anniversary celebration. Dan Arnholt, Columbus, Ind., told the story. Here it is online. His son Cory and relatives restored a Farmall H in 2010. The tractor started on Dan's dad's farm and returned to his dad's farm years later.
It turns out that red tractors aren't the only color the Arnholt family collects and restores. At a Dekalb-Asgrow field day held on their farm earlier this summer, they displayed four John Deere tractors in an open area near the plots and the main field day tent.
"We're not just about red tractors," joked Clint, who operates Sudan Farms today. He added that his dad, Dan, was responsible for finding several of the John Deere tractors. His brother Cory did most of the mechanical restoration.
Tractor by tractor
Here's a quick history lesson on each model. Information is gleaned from tractordata.com.
John Deere 1010. It debuted with the New Generation lineup in 1960 and was produced through 1965. The 1010 produced 30 hp at the drawbar and 36 hp with the PTO. It listed for $3,500 in 1965. The special row crop utility model listed for $300 less, and originally came with a pan seat and 540-rpm PTO.
John Deere 2010. This big brother to the 1010 also debuted in 1960 and was produced until 1965, when it sold for a list price of $4,600. It was followed by the 2020, like the 1010 gave way to the 1020. It tested at just over 39 hp at the drawbar and over 47 hp on the PTO. Independent PTO was optional. Available in gas, diesel or LP, it featured an eight-speed transmission.
John Deere 3010. Debuting in 1961, some 44,000 of these were made before Deere transitioned to the 3020 in 1963. The list price in 1963 was $4,700. The 3010 was made in both Waterloo, Iowa, and Mexico. It produced nearly 53 hp at the drawbar and nearly 60 hp off the independent PTO. It was also available in gas, diesel and LP, and came with an eight-speed, partially synchronized transmission.
John Deere 4010. Made from 1960 through 1963 in both Iowa and Mexico, it listed at $5,500 in 1963. The big brother in the New Generation line, it produced about 72 hp at the drawbar and 84 hp on the PTO. It also featured the eight-speed partially synchronized transmission. The 4010 replaced the 730 two-cylinder tractor and was followed by the iconic 4020, made from 1963 through 1972.
Farmall H. The Farmall H was produced by International Harvester in Rock Island, Ill., from 1939 through 1953, listing at $2,000 in 1953. Over 390,000 Farmall H tractors were built and sold — more tractor units than the John Deere 1010, 2010, 3010 and 4010 combined. This small workhorse chugged out 19 hp on the drawbar and 24 hp on the belt. It was obviously a different tractor for a different time, extremely popular in its day.
Subscribe to receive top agriculture news
Be informed daily with these free e-newsletters
You May Also Like
---