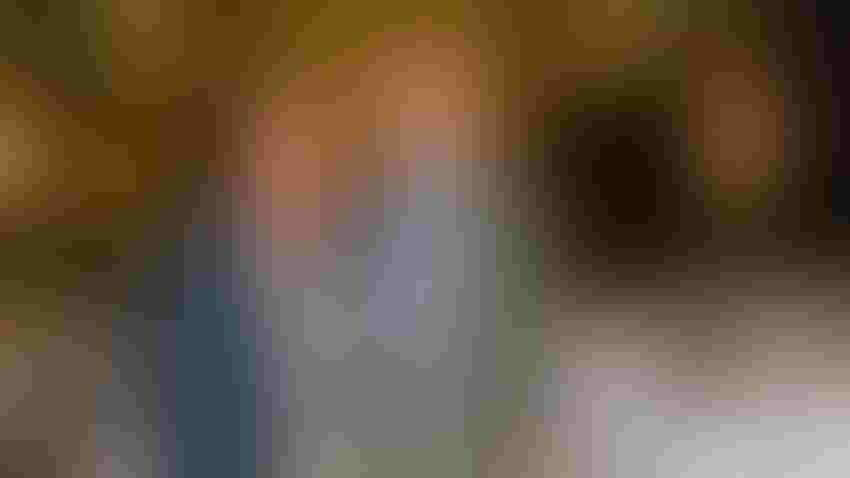 Marshall Lamb with the National Peanut Research Laboratory and Foy Mills with JLA International discuss the challenges U.S. peanuts face in the European Union market during the annual meeting of the American Peanut Research and Education Society (APRES) at the DeSoto Hotel in Savannah July 13
John Hart
The European Union makes it difficult to sell U.S. peanuts to this important market. You have to wonder if all the hurdles are worth the trouble? The U.S. peanut industry thinks so and is committed to further expand U.S. peanut exports to the EU.
The EU has very stringent aflatoxin restrictions which makes selling peanuts to the EU almost impossible when the U.S. has a tough aflatoxin year. In a panel discussion on expanding U.S. peanut exports held at the American Peanut Research and Education Society (APRES) annual meeting July 13 in Savannah, Ga., Darlene Cowart, vice president of food safety and quality with Birdsong Peanuts, highlighted the challenges U.S. peanut industry faces in selling to the EU, particularly when it comes to aflatoxin.
Cowart notes that the EU will pull a container at the port a certain percentage of the time to check for aflatoxin. Currently the EU pulls one of every five containers to test for aflatoxin. If the sample doesn't meet their strict aflatoxin standards, they can deny the shipment. If the peanut shipment makes it past the port, the EU can still deny shipment if pesticide protocols aren't met.
At the APRES meeting, the sense was that the EU is often too strict and not using sound science when it comes to buying peanuts from the U.S. Richard Owen, president and CEO of the American Peanut Council, said a challenges with the European Union is they have their own bodies doing research, such as IFSA (International Farming Assistance Association).
Owen notes that some of the data from IFSA may be counter to some of the risk assessments done by the Codex Alimentarius Commission that develops and adopts food standards that serve as a reference for international food trade. This leads to a debate on whose risk assessment is correct.
"We always make the case that you go back to those risk assessments that are designated by Codex," Owen said.
One option is to bring disputes to the World Trade Organization (WTO). "The WTO, being a legislative body, is an international court. If a country does feel like trade is being impeded, they can take it to the WTO for dispute resolution, but that's a long process," notes Foy Mills, vice president of Ag Systems for JLA International.
Buying decisions should be based on sound science. Importantly, the EU needs to understand that the U.S. peanut industry will not pursue the EU market when aflatoxin arises. That's a commitment the EU can count on.
The EU needs to appreciate that the U.S. peanut industry is committed to providing a safe and nutritious product that European consumers want to buy. The U.S. peanut industry will certainly deliver and the powers that be in the EU must give U.S. peanuts that opportunity.
Subscribe to receive top agriculture news
Be informed daily with these free e-newsletters
You May Also Like
---