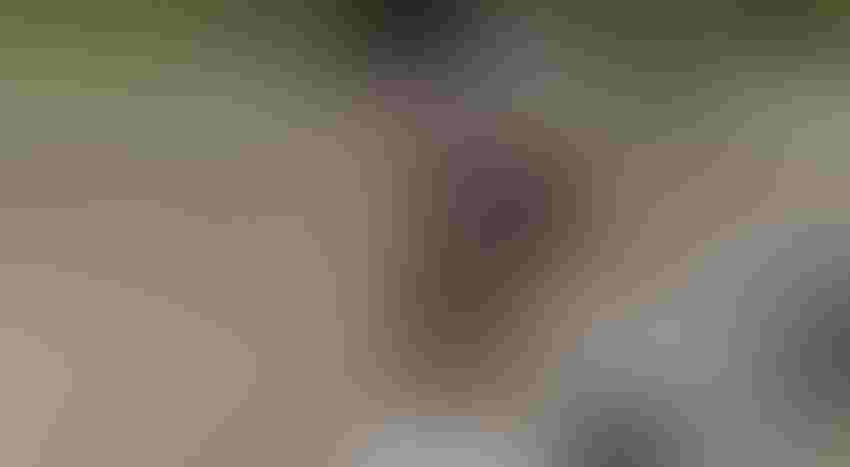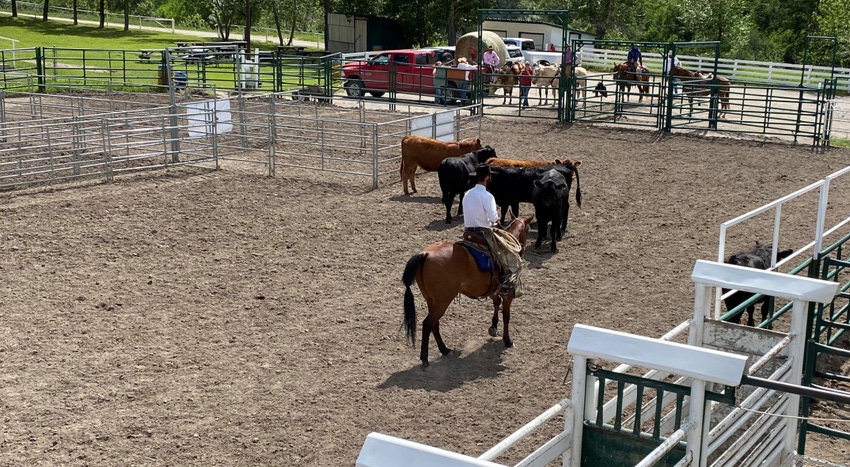 A contestant proceeds through the course at the Ultimate Stockmanship Challenge in Alberta, Canada in July.
Dawn Hnatow
Low-stress stockmanship is catching on with ranchers but there are still folks who don't understand how it works.  The first Ultimate Stockmanship Challenge, held recently at the Pincher Creek Rodeo Grounds in Alberta, Canada, was hosted by Malcolm and Jenny MacLean to try to attract more interest in these ideas. 
The competition followed a low-stress stockmanshhip school taught by Dawn Hnatow of Texas and Montana's Whit Hibbard.  Dawn, Whit and Paul Kernaleguen were judges for the contest.
The school was an introduction to cattle-handling methods developed by renowned trainer Bud Williams—the benefits of low-stress methods compared with traditional/conventional cattle handling, and the basics involved: a person's mindset and attitude, how to "read" an animal, how to prepare/handle cattle.  Practical applications included driving cattle, corral work and facilities, crowd pens, chute work, scale loading and loading cattle.  The intent of the clinic and 2-day competition was to give participants enough understanding and experience to successfully apply these techniques on their own ranches or cattle-handling jobs.  The contest included working cattle on foot, and on horseback.
Hnatow grew up in Alberta on a cattle/grain farm and was working at Vee Tee Feeders in Lloydminster when Williams came to teach the crew.  "I spent about 10 years working with Bud, learning his way of handling livestock," she said.
When Williams and his family moved back to the U.S., Hnatow continued working for Vee Tee Feeders but later moved to Texas and became livestock manager on the ranch where they lived. Williams died in 2012.
"I spent 10 years at that ranch, then moved to Sulfur Springs to manage a ranch.  I am currently leasing that ranch and another one southwest of Fort Worth," she explains.  Hnatow puts on stockmanship clinics.
'Blessed' to learn
"I feel I should share what I was blessed to be able to learn.  Not many people had the access to Bud that we did, at Vee Tee and after.  Now that he's gone, Whit, Paul and I are committed to preserving his legacy and his knowledge to the best of our ability and recollection.  It's an important message for anyone who handles livestock," Dawn said.
"Whit has been traveling all over the world teaching these methods.  Paul and I are still running our own businesses so we travel less, but I intend to do more," she said.
At the pre-competition workshop July 8 in Alberta, she and Hibbard explained the basic concepts and techniques that Williams developed and why it is important to handle cattle this way. "It's a big paradigm shift when you switch from making animals do things to letting them do something (working with them instead of against them).  This revolution came first in the horse industry with Tom Dorrance and Ray Hunt."
Those horsemen broke trail for this entire movement.  "There's a lot of similarity between that way of thinking and the way Bud taught. With cattle you are dealing with multiple animals rather than training a horse, but the concept is the same," Hnatow said.  "All of us, as ranchers, if we have horses, we train them first, before we expect to do a job with them, and the same with a stock dog.  But not many people consider working with their livestock to prepare them for what we need them to do," she said.
This was the missing piece, and makes sense, but no one had really done it, prior to Williams.  Most people handled cattle with "cowboy" mentality, pitting themselves against the animal, rather than realizing that the cow is an individual (like a horse) with personality and can be influenced by how you handle her.
Cowboys learn patience
"This is something Whit and I have talked about because he comes from a 5th generation ranching family—and his family is still ranching and doing a good job of it.  We've talked how some people think low stress stockmanship threatens ranching and cowboy culture and history.  Some people may feel that way, but good cowboys want a good job done," Hnatow said.  Older cowboys with a lot of experience have often learned patience and how to handle cattle in ways that work better, whereas many of the younger ones still want to whoop and holler and show off their rodeo skills.
"That's not a good way to handle cattle, however, if you are shipping them!  You don't want all that shrink, running them around.  When you can show people on paper what that costs, and think about quality of life for the animals and the people who care for them, it's exponentially better doing it the low-stress way."
This is a quiet revolution that needs to happen.  The cattle industry is under pressure from animal rights groups, environmentalists, and people who want to do away with cattle on public lands or animal agriculture altogether.  "Anything we can do to mitigate the negative image those folks are trying to portray, is a good thing.  Sadly, we do have some things to answer for in the cattle industry but if we can step up and try to correct those problems ourselves, we'll have a better image.  I don't relish the idea of celebrities directing policy on how livestock should be handled!  They have the voice and the money, power, and influence but are not the people who know how to fix it," she explains.
Stockmanship events like the recent one in Alberta can help expose more people to a better way of handling cattle.  "Overall, I think this clinic was very successful.  We had a good group of people and most of them entered the competition afterward--which was the first of its kind, to my knowledge," Dawn said.
The contest consisted of taking cattle through a specified course, sorting some off, etc.  "The first day was harder than people expected, so we had a debriefing afterward and the judges—Whit and Paul and I—explained what we felt had been done well and what hadn't.  The next day the contestants had a better idea what they were doing."
Williams an inspiration
Born on a Southern Oregon farm in 1932, Williams traveled with his wife, Eunice, and taught his stockmanship methods, which were recognized as one of the most significant industry innovations, according to their website.
"There are some good stock handlers doing great things with their animals, and this opens our eyes when we see this for themselves.  I came from a very conventional background but I got to see Bud handle cattle every day and it didn't take long to figure out that this guy was doing remarkable things.  He had a very different way of thinking and different way of doing things, which should be the benchmark for how things are done with livestock," Hnatow said.
"Anyone who knew Bud will tell you he was a contrarian thinker.  He was extremely observant and had a photographic memory.  He could recount, in great detail, everything he ever saw.  He was also very persistent.  He was totally focused and constantly challenging the status quo.  If you told Bud that something couldn't be done, he would find a way to do it.  That was just his nature.  We are lucky to have people like him come along.  I am sure the animals are grateful!"
About the Author(s)
Subscribe to receive top agriculture news
Be informed daily with these free e-newsletters
You May Also Like
---