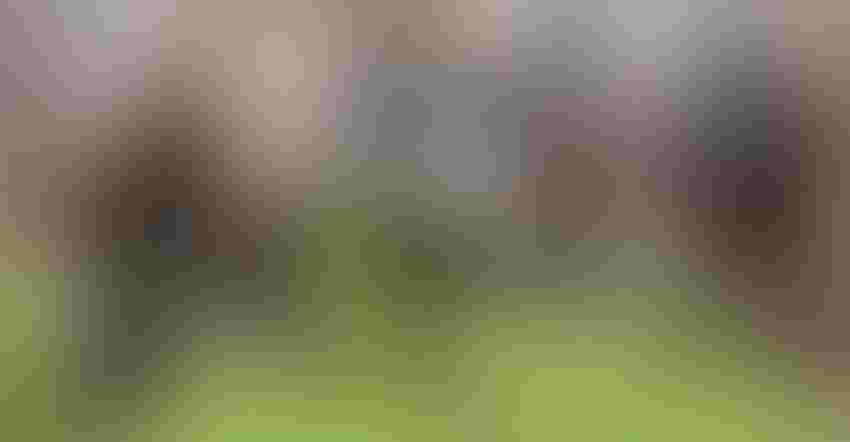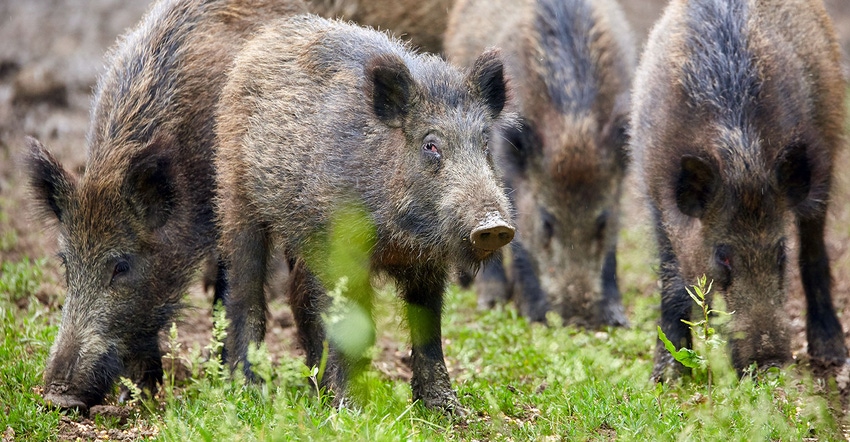 Wild pigs are now found in every county across the state of Mississippi except for one. Their reproduction rate is triple that of whitetail deer, and Dr. Bronson Strickland, Extension wildlife biologist, Mississippi State University, is dedicated more research to this invasive pest than he ever has before.
xalanx/iStock/Getty Images
For the first time in history, Mississippi hunters harvested more wild pigs during the 2017-18 deer season than they did whitetail deer. It is a painful sign of the times and statistically drives home the point that wild pigs have taken over the Mid-South, Southeast, Southwest, and Western rural portions of the United States.
Dr. Bronson Strickland, Extension wildlife biologist, Mississippi State University, put the problem in perspective when he spoke at this year's Mississippi Agricultural Industry Council convention. "Appropriate funds should have been directed toward wild pigs in 1982 when they were only present across 7 percent of the U.S. land area," says Strickland. "Today, they cover over 22 percent, and that percentage is growing each time we accumulate data. They used to be found in 42 Mississippi counties, now they are in all but one."
The fact that Mississippi's deer hunters harvested more wild pigs than deer is especially disturbing because those hunters were sitting in field stands or ground blinds wanting to harvest buck or doe, but they ended up harvesting a wild pig.
"These numbers don't even include trapping or aerial gunning," says Strickland. "They will eat anything from which they can extract a calorie, and our state's farmers know all too well hogs love corn, soybeans, and rice."
Wild pigs have a reproductive rate tripled that of whitetail deer, they can live anywhere, and they have no natural predator they fear other than humans. "They don't fly, but if you look at a geographic population map, you would think they could, given the fact they are scattered so widely across our country," says Strickland.
"So how do wild pigs go from Louisiana to Michigan or New Hampshire? Because a small group of hunters load them up in trucks and carry them to other locations to be hunted for sport. This has been proven through genetic testing, and this irresponsible action is exacerbating the problem."
Their impact and public perception
Wild pigs are an invasive species pest and are causing damage to the nation's crops and natural resources at an alarming rate. "A recent survey conducted across the Delta showed 10 to 15 percent of corn acreage in Mississippi has sustained wild pig damage. It is their crop of choice followed by soybeans, and then rice."
Strickland showed the audience an image of a wild pig next to a young cow and said, "This should really scare everyone in this room, especially if you have cattle.
"The Europeans are dealing with African swine fever, and it could decimate their swine industry, which demonstrates how wild pigs can spread disease that could infect our domestic livestock."
Research in the Mississippi Delta revealed that once wild pigs arrive in an area, there will be a 26 percent decline in native wildlife diversity. Some wildlife species cannot, or choose not to, complete with wild pigs for food. This is especially worrisome for treasured species like whitetail deer, which have up to 50 percent diet overlap with wild pigs in the fall. "They basically eat many of the same things," says Strickland. "If a deer and a wild pig are competing for food, the pig will win every time."
Half of the survey respondents maintain negative attitudes or perceptions about wild pigs, but 8 percent have positive attitudes about them. "Those are the people that scare me," says Strickland. "We are trying to change that perception through several means of communication, but that 8 percent likely include the people moving them over the landscape."
In Mississippi alone, wild pigs cause $60 million to $70 million in damage annually, with most of that damage being done to infrastructure. "Those damage estimates are similar across all states where this problem is pervasive, except Texas where damage is greater because of the larger land area," says Strickland. "It's not the economic cost of the rice they eat, it's the damage to levees that have to be repaired, and the labor and time on equipment that it costs to make those repairs."
What's being done
In 2014, USDA began earmarking $20 million to stop the spread of wild pigs and monitor them for pathogens that can affect domestic swine production, other livestock, and human health. "Some of these annually-budgeted funds will also be used to develop and improve tools and methods to help mitigate this problem," says Strickland. "We have had some success, especially in states like Idaho, New York, and Maryland where smaller wild pig populations have been eliminated."
Some of those funds have been allotted to USDA Wildlife Services in Mississippi to expand eradication efforts. "That money is being used to fund trapping efforts and continue an aerial gunning program," says Strickland.
"I would urge anyone being impacted by wild pigs to contact the Wildlife Services staff in our state and get on the list to see if you qualify for this aerial gunning program. Unfortunately, this type of control is more effective in the Midwest because they have a landscape conducive to it."
Toxicants, like sodium nitrate which block oxygen transfer in the blood, have been tested as part of potential control solutions. "It is very effective at killing the pigs that are targeted, but it's also effective at killing other animals that consume the bait, so more research is being conducted on the bait formulation and delivery system to minimize any non-target animal consumption," says Strickland. "We're also looking into an anticoagulant toxicant that uses Warfarin that has fewer secondary concerns, but Warfarin requires multiple daily doses."
A USDA/NRCS pilot program is scheduled to begin this fall in Mississippi where funds will be directed exclusively to private land owners for trapping efforts. "This project will be evaluated across Issaquena, Sharkey, Warren and Yazoo counties. Landowners in these four counties will receive some portion of the $33.75 million delivered through NRCS," says Strickland. "The landowners will have to do the work and need to help document the effectiveness of the project, with hopes to get more funds in the future."
No matter what efforts or controls eventually gain the critical mass needed to affect wild pig control, it will ultimately have to be an across-the-board team effort. "If one landowner or farmer is being proactive to control the problem on his/her property, it will do no good if his/her neighbor is doing nothing," says Strickland. "What I call 'management on an island' will not be successful. It's going to take management collaboration."
Subscribe to receive top agriculture news
Be informed daily with these free e-newsletters
You May Also Like
---