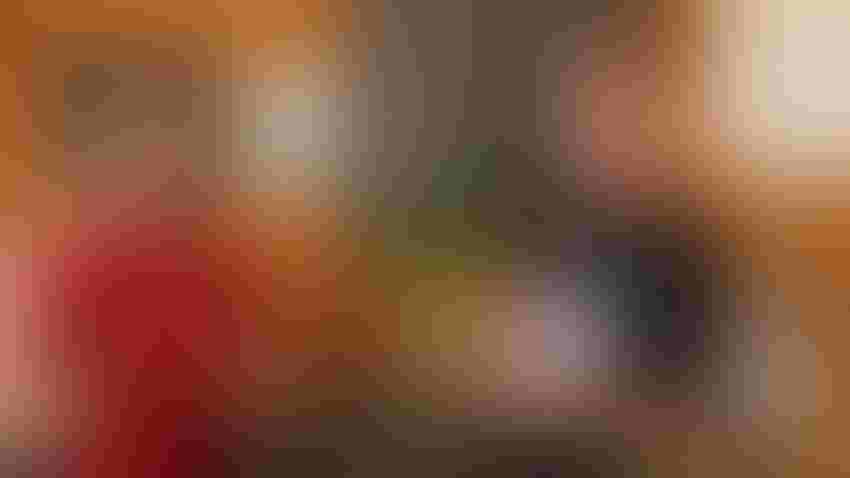 ONE-OF-A-KIND FARM: Farm owner Tony Schultz (right) and Josh Wright, the brewmaster at Stoney Acres, display vegetables and beer produced on the farm.
COURTESY OF STONEY ACRES
Tony Schultz left behind a potential career in education to return to his family's farm. "It's been the goal of my adult life to ensure my family farm survives and is in a position to be handed down to the next generation — and I can't imagine having more fun doing it," he says.
That's because Schultz is doing it on his own terms. The former dairy farm his parents operated near Athens, Wis., is now known as Stoney Acres and raises pigs and beef, all kinds of vegetables and spices for the special salsa and sauce Schultz makes to use on his pizzas, and wheat and corn for cattle feed and to make the pizza dough.
Pizza Nights
Stoney Acres is well-known around Schultz's corner of Marathon County for his Friday and Saturday Pizza Nights from April to November, plus private parties "whenever." His pizza ingredients are all homegrown except for the cheese, supplied by a Marshfield, Wis., cheesemaker. Frozen pizzas are sold through the winter months, as are fresh pizzas at the farm, Wausau Winter Farmers Market and Sawmill Brewery.
Schultz also has a brewmaster on staff to brew up to 15 varieties of beer. There are always eight varieties on tap at Stoney Acres, usually including an India pale ale, cider and bock. He began a brewhouse six years ago; he does not bottle his beer, but sells only on tap at the farm, plus an occasional keg.
Schultz also has a Community Supported Agriculture membership between 70 and 220, and sells produce at the Wausau Farmers Market. With help from his parents, he raises 12 acres of vegetables, 15 acres of wheat and 20 acres of corn. He maintains 80 acres of pasture for 120 mostly Berkshire pigs with some Yorkshire and other breeds mixed in, and 50 beef animals, including 25 cows homegrown from Scottish Highlander, Calloway and Hereford-Angus cross. The beef is grass-fed, the pigs are pastured, and everything is certified organic. Eggs are available year-round from his flock of laying hens. He also raises mushrooms for his pizzas and mills his own flour.
In addition to Schultz and his parents, Stoney Acres has two full-time and three part-time workers, plus five to 14 additional employees on Pizza Nights, depending on the weather.
Self-taught farmer
Schultz earned a bachelor's degree from the University of Wisconsin-Madison in curriculum and instruction development, but it wasn't long before he decided he wanted to continue the family farm. His own farm upbringing helped a lot, and he is mostly self-taught on raising vegetables and doing marketing.
"It's been 18 years of trial and error," he says, laughing, "constant hard work and letting failure wash off my back quickly." He acknowledges that there have been disappointments but notes that he is "constantly developing — it's a work in progress."
Schultz credits his parents with lots of support. "The key to a successful family farm is intergenerational support, and I have plenty of it," he says.
For example, his father, Ed, taps the maple trees on the farm and cooks down the sap into syrup. He's also in charge of the beehives and honey production.
Schultz tells the story of Stoney Acres via an extensive website, where the showman in him extols the values of 200 varieties of vegetables, fruits and herbs used in his sauce and salsa production, pizza output, and produce sales.
Buchholz lives in Fond du Lac, Wis.
Subscribe to receive top agriculture news
Be informed daily with these free e-newsletters
You May Also Like
---