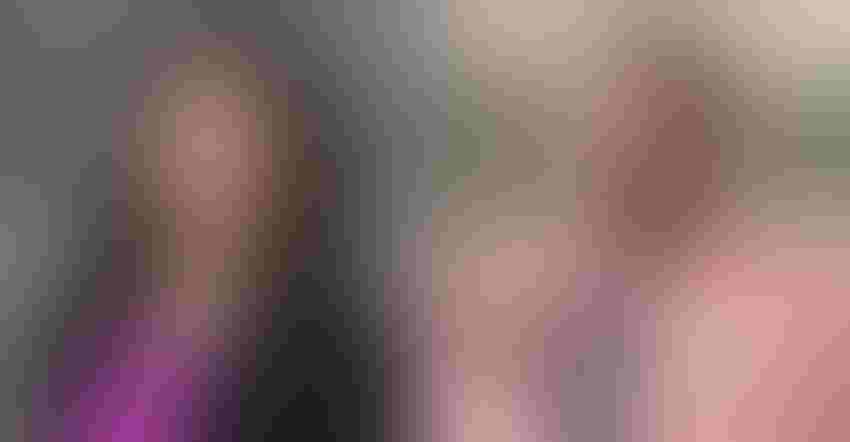 LEADERS: Jenna Reese and Mike Krol have been chosen for new positions with the Ohio Forestry Association.
Tree farmers, loggers and industry representatives from across the state gathered to hear industry updates and present service awards during the Ohio Forestry Association annual meeting March 3.
In conjunction, the Ohio Tree Farm Committee also held its annual meeting and presented awards.
The OFA board of directors selected Jenna Reese of Baltimore, Ohio, to replace retiring Executive Director Brad Perkins. Previously, Reese was the director of state policy for the Ohio Farm Bureau Federation.
One of the highlights of the meeting was the presentation of industry awards. Here are the winners:
OFA Logger of the Year. Curtiss Jones (Lumber Stumpers)
Outstanding Individual in Government Service Award. Danielle Gill (Hocking County Soil and Water Conservation District)
Outstanding Individual in Industry Award. Eric Roush (Pixelle Specialty Solutions)
Walt Lange Conservation Education Award. Jeremy Scherf (ODNR — Division of Forestry)
Outstanding Individual in Private Service Award. Kathryn Downie (Legacy Forestry Consulting LLC)
Director's Awards for Outstanding Contributions to OFA Programs. Emmett Conway (Superior Hardwoods of Ohio) and Jim Doll (Doll Lumber Co.)
Mike Krol of Bloomingburg, Ohio, began his term as board president at the conclusion of the meeting. Krol has been with American Wood Fibers since 2007 and is responsible for raw material procurement for its pelleting and wood flour facility in Circleville.
The Ohio Tree Farm Committee awarded Mike O'Neill (Knox County, Ohio) the 2022 Outstanding Tree Farmer of the Year Award. Colton Frink (Bird Dog Forestry) received the 2022 Ohio Tree Farm Inspector of the Year Award.
OFB names director of donor engagement and giving
With more than 15 years of experience as a professional fundraiser, Kelly Warner of Harrod has been named director of donor engagement and giving for the Ohio Farm Bureau Foundation.
Warner will be responsible for broadening the base of annual support for the foundation by focusing on donor engagement and stewardship initiatives. She will provide oversight to the foundation's annual events, including the Golf Invitational and Foundation Breakfast at the Ohio Farm Bureau annual meeting. She will also work with volunteers and donors to enhance the foundation's scholarship program. 
Warner and her husband, Kyle, are raising their 2-year-old twins in Allen County. They are members of the Allen County Farm Bureau.
To learn more about the foundation, visit ofbf.org/foundation.
Ohio Soybean Association gets behind federal push for U.S. biofuels
The Ohio Soybean Association recently joined other soybean associations in support of a petition to include biofuels in EPA's vehicle standards. OSA filed the petition with a federal appeals court. along with soybean associations from Illinois, Iowa, Indiana, Michigan, Minnesota, North Dakota and South Dakota, as well as Diamond Alternative Energy LLC.
In the petition filed with the U.S. Court of Appeals for the District of Columbia Circuit, OSA and the allied groups argue the EPA's final rule for greenhouse gas standards for passenger cars and light trucks would exclude biofuels by mandating only electric vehicles as the sole technology solution to curb GHG emissions in the transportation sector. This action is at odds with the Clean Air Act and contradicts the law passed by Congress to promote renewable fuels under the Renewable Fuel Standard.
"American grain farmers have a proven solution for improved air quality that's grown right here at home," said Patrick Knouff, OSA president and Shelby County soybean farmer. "Using biodiesel instead reduces GHG emissions by more than 85% compared to petroleum-based fuels."
A study by Clean Fuels Alliance America (formerly the National Biodiesel Board) found that in 2019, biodiesel reduced U.S. GHG emissions by nearly 18 million metric tons.
In addition to the good they provide for the environment, biofuels are an important part of the economy. A December 2021 report issued by Capital Policy Analytics found that the economic benefits from U.S. biodiesel production in 2020 totaled $15 billion, in addition to environmental benefits of $4.3 billion.
Subscribe to receive top agriculture news
Be informed daily with these free e-newsletters
You May Also Like
---