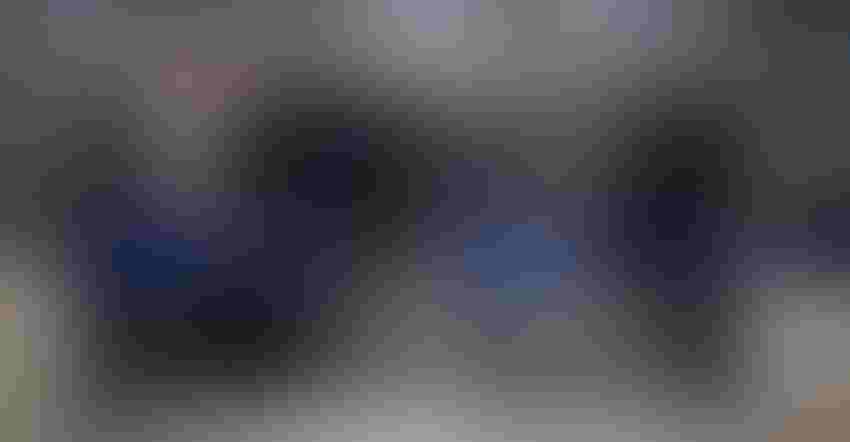 GRAND OPENING: Gov. Terry Branstad (third from right) congratulates Nassef Sawiris (holding scissors) who cut the ribbon in a ceremony to open a new $3 billion Iowa Fertilizer Company plant in southeast Iowa.
Rod Swoboda
Located in Iowa's southeast corner along the Mississippi River, the first nitrogen fertilizer production facility built in the U.S. in nearly 30 years officially opened for business April 19. Iowa Fertilizer Company and its parent company OCI N.V. held a ribbon cutting ceremony to unveil their new plant at Wever, Iowa. Expected to produce up to 2 million metric tons of nitrogen fertilizer products annually, the plant will manufacture anhydrous ammonia, urea and UAN solutions.
Nassef Sawiris, CEO of OCI N.V., told people attending the ribbon cutting that the day marked an important change in the nitrogen market in North America. "The start of production at our plant here at Wever is a transformative moment for the agricultural industry," he said. "As one of the most innovative and efficient manufacturing plants in the nation, Iowa Fertilizer is leading the way in providing American farmers a stable, high-quality and domestic source of nitrogen fertilizer products."
Located among the highest nitrogen consuming acres globally, on the border between Iowa and Illinois, the number one and two corn producing states in the nation, "this site houses not only a premier nitrogen production facility, but also an industry-leading distribution center," said Sawiris. "We couldn't be happier to be part of this community which supported us." 
Good news for Midwest farmers
Larry Holley, president of Iowa Fertilizer Company, said the domestic production of nitrogen is good news for farmers in Iowa, Illinois and across the Midwest. "Locally produced nitrogen will lower the costs associated with transporting the fertilizer," said Holley. "And this is the safest, most innovative, environmentally friendly plant ever built." 
Daily maximum production capacity of the Wever plant is 4,750 tons of liquid UAN; 1,320 tons of granular urea; and 2,425 tons of ammonia. The facility will also produce diesel exhaust fluid (DEF) at a maximum of 990 tons per day. Holley said yearly production will be at least 850,000 tons of ammonia, 460,000 tons of granular urea, and 1.7 million tons of liquid UAN fertilizer.
At time of peak construction, the Iowa Fertilizer Company plant employed more than 3,500 workers to build it. Currently, the plant employs over 200 full-time workers to operate the plant. Additionally, more indirect positions will be created.
Iowa Gov. Terry Branstad and Lt. Gov. Kim Reynolds along with other state and local officials took part in the ribbon cutting. "In Iowa, we have created a roadmap that attracts new businesses and supports key industries to drive long-term economic growth," said Branstad. "At the start of this Iowa Fertilizer facility project, the unemployment rate in Lee County was 8.0%, highest in the state. That's why my administration fought so hard to encourage the company to locate its fertilizer plant here. Today, Lee County's unemployment rate is down nearly three points, to 5.3%, providing a positive and meaningful effect on working families in the area."
Was the plant over-subsidized?
Iowa Fertilizer Company is owned by OCI N.V., headquartered in the Netherlands. OCI has roots in Egypt, as Orascom Construction Industries, an Egyptian firm, was the owner when the Iowa fertilizer plant project was proposed in 2012. Orascom was bought by OCI N.V. in 2013.
New nitrogen facilities like this one don't come cheap. The new Iowa Fertilizer Company plant was built in part with funds from the largest tax incentive package in Iowa history. The $3 billion plant received more than $100 million in state tax subsidies, making it an intense target for criticism. Opponents of the project question whether the 220 permanent jobs and 3,500 construction jobs were worth the $109 million in state assistance and roughly $30 million in local tax abatement over two decades. The company agreed to pay $16.4 million in taxes, under a development agreement. The plant also received federal tax benefits.
Branstad acknowledged the plant's opposition saying "some people haven't been supportive. But a lot more have." He added, "When you have a project of this magnitude it takes courage and perseverance to see it through and get it done. This group saw the incredible potential and remained committed."
Investment will pay off for decades
The five year collaboration between state and local development leaders, Republican and Democrat officials in southeast Iowa, the ag community, Iowa Fertilizer Company, and state leaders "resulted in one of the largest private sector construction projects in Iowa's history," said Branstad. "It will pay off for decades," he added, referring to the state's investment.
Despite the high price tag and controversy over use of public funds, the new plant is ready to bring an economic lift to southeast Iowa, specifically Lee County. Both Branstad and Reynolds pointed out that this region needs an economic shot in the arm.
Iowa Farm Bureau economist David Miller says the new nitrogen fertilizer plant will benefit farmers at a time when they are struggling to post a profit. "You now have two major domestic suppliers who are pushing down nitrogen prices," he notes. In addition to the Iowa Fertilizer Company plant, CF Industries recently completed a $1.7 billion expansion at its plant near Sioux City in northwest Iowa. CF Industries received $32.5 million in state financial incentives.
Subscribe to receive top agriculture news
Be informed daily with these free e-newsletters
You May Also Like
---