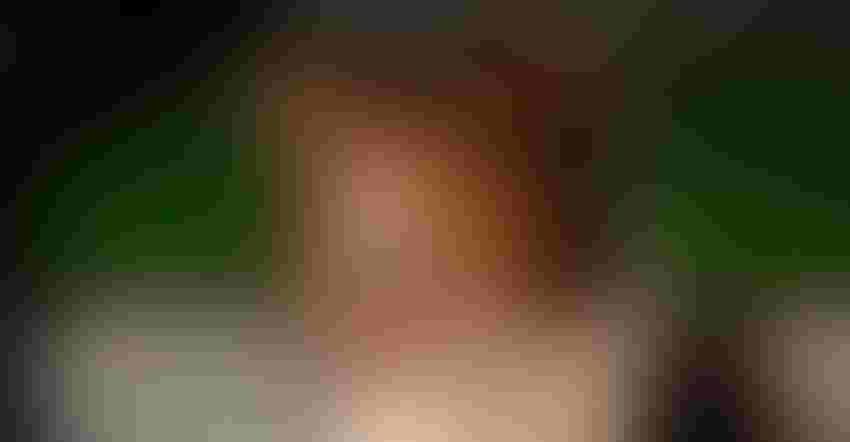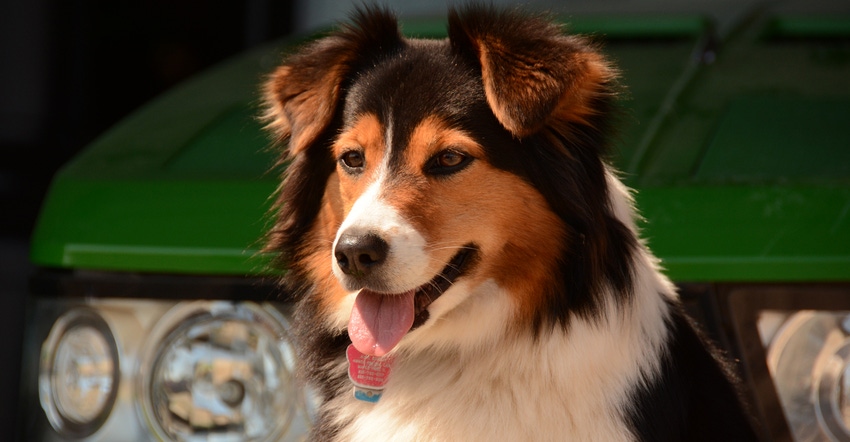 FEARLESS: "There's nothing she won't try," says Joe Gorenz of the family's dog, Stella.
"She's small. She's smart. She's brave. She's in everybody's business."
That's what Anne Gorenz has to say about her dog, Stella, and it's exactly why she's been named Prairie Farmer's Favorite Farm Dog for 2019.
Three-year-old Stella is an Australian shepherd who lives on a Maple Park, Ill., farm with Anne and her husband Ed, along with their son Joe. Stella is known for climbing to the highest heights of pretty much anything, and for being endlessly competitive.
"Say 'squirrel' and she's off in a flash," Anne says. "It's not like she wants to hurt the squirrel; she just wants the chase."
Joe agrees. Stella is competitive. "She wants to be the best, the first, at whatever it is," he says.
That makes for a solid farm dog and a solid farm companion. Stella's both. She'll ride all day in a tractor, and then come home to rest in the house — where she's been known to save her humans a time or two.
About a year ago, Stella alerted Anne in the middle of the night that Joe was in a life-threatening diabetic state. She woke up Anne, who was able to help him.

BEST DOG: "She's not aggressive, she's good with children — and she's great at the nursing home," says Anne, shown holding Stella with her son, Joe.
The Favorite Farm Dog Contest began in 2000, and ever since, editors and judges at Prairie Farmer have weighed the qualifications and debated the merits of talented working dogs, terrific companion animals and guardians of the farm. They examine photos and read essays, and are reminded again and again that a good farm dog is truly a farm family's best friend.
The winners of the 2019 Prairie Farmer Favorite Farm Dog Contest are: Stella, Rayne, Chloe, Queen, Maggie, Sadie, Princess Leya, Mallory and Jimmy.
Stella's essay was submitted by Anne. For Stella's first place win, Anne receives a $100 prize, a family farm photo shoot with Stella, and a 16-by-20-inch metal wall art hanging with Stella's picture.
Second place goes to Rayne, a 4-year-old border collie on the farm of Julie Willis, Belvidere, who wins $75 for Rayne's efforts.
Chloe earns third place for her owners, Jane and Nicki Adolph. The Adolphs win $50 thanks to Chloe's efforts on their Mount Carroll farm.
Honorable mentions go to entries Emily Adcock and Mallory, Moweaqua; Scott Bidner and Jimmy, Champaign; Garrett Williams and Princess Leya, Noble; Kaity Spangler and Queen and Maggie, Avon; and Kristi Droste-Kollmann and Sadie, Nashville.
Thanks to everyone who shared photos and stories of their incredible farm dogs. Keep your cameras handy for next year's contest!

BUDS: Stella rides in the tractor with Joe and even alerted Joe's mom, Anne, a year ago when Joe slipped into a life-threatening diabetic state in the middle of the night.
Here is Anne's winning essay about Stella:
1st place: Stella
When our daughter surprised me with 8-week-old Stella, I was less than thrilled to be tackling the challenges of a new puppy. Stella proved to be different than most, as she immediately captured everyone's heart. She went everywhere with me and learned my daily routines. She knew by the clothes I put on that I was either headed to the farm, off to school, or leaving for a road trip. Stella learned to ride patiently in the truck, instinctively staying out of harm's way with the horses, and learned to keep the chickens in their coop with a simple "watch 'em Stella."
Stella has an ability to know when there is imminent danger or need of care. Her keen sense awakened me to alert us that our son was in a life-threatening diabetic state. From that night on, Stella wanders in and out of his room as a part of her nightly rounds. Recently she took over nurturing an orphan kitten that now thinks Stella is her mother.
There is nothing Stella won't do, as she constantly aims to please. On command, she will hurdle round bales, scale ladders to barn rooftops, or scurry across logs. During the fall, Stella faithfully and eagerly rides in the tractor's buddy seat hauling loads to the co-op and participating in tillage work. Stella joyfully tolerates costumes we all adorn her with, including eyeglasses and a variety of hats and clothes. In 30 years of marriage, I never thought a dog would live in our house, let alone sleep in our bed; Stella has proven otherwise.
Stella truly embodies the definition of the Favorite Farm Dog title, as her unique skills, daily amusing antics, never-ending love, and the desire to assist in any way possible, make every day spent with her a sincere blessing.
Anne Gorenz,
Maple Park, Ill.

LOYAL: "She's so eager to please. And she loves the attention," Anne says.
Check back tomorrow for stories about the second and third place winners in the 2019 Prairie Farmer Favorite Farm Dog Contest!
Subscribe to receive top agriculture news
Be informed daily with these free e-newsletters
You May Also Like
---