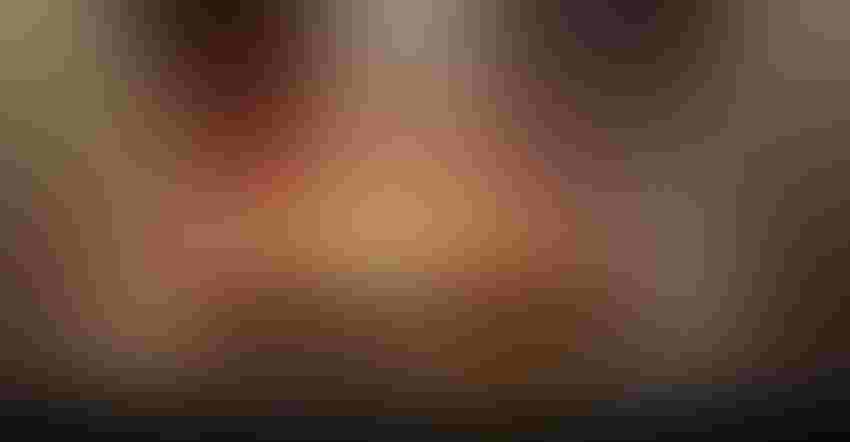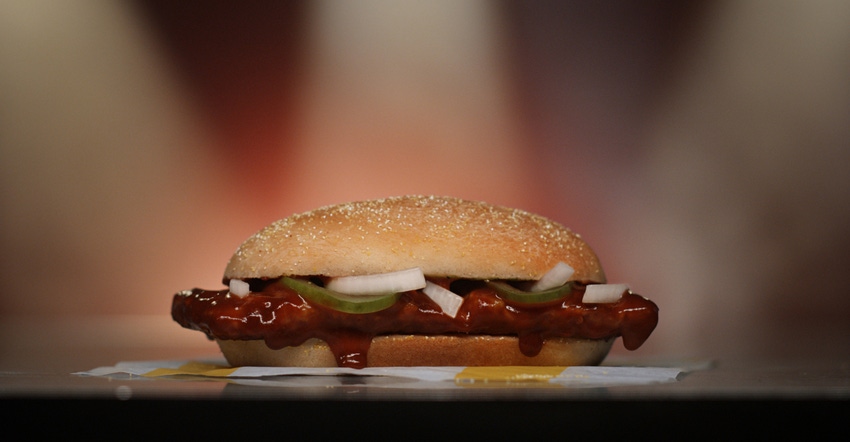 FORMATIVE YEARS: McDonald's restaurants recently relaunched the McRib sandwich nationwide for the first time since 2012. Roger Mandigo, UNL distinguished professor emeritus of animal science and food science and technology, created the process that gave birth to the popular sandwich.
Courtesy of McDonalds
Shortly after the Christmas season began, McDonald's USA made a delivery across the country in the form of the McRib sandwich, which according to a McDonald's press release is "seasoned boneless pork slathered in smoky, tangy barbecue sauce, topped with slivered onions and tart pickles."
If not for the ingenuity of a University of Nebraska-Lincoln distinguished professor emeritus of animal science and food science and technology, the sandwich craze may not have had any form at all.
Among many other accomplishments during his four-decade career at UNL, Roger Mandigo pioneered the process allowing processors to form meat products into pretty much whatever shape they wish for their intended market. Mandigo joined UNL as an assistant professor in 1966, was promoted to professor in 1974 and retired in 2011.
"What we developed was a process," Mandigo says. "We take some muscle, get it to a very cold temperature, put it through a machine that changes it into very small particles, so it almost looks like ground meat — it could be ground meat, in fact."
To that, the UNL team added salt, sodium phosphate, water and a seasoning blend. Mandigo says that salt solubilizes the protein binding the product together, and the sodium phosphate stabilizes the moisture in the product to "allow me to keep the product very juicy."
Project takes shape
Mandigo's research originally was a project funded by the National Pork Producers Council, and his team presented the initial finished product — appropriately — in the shape of a pork chop. "But we've got 20 or so other shapes that we could put it in," he says. "We just use a mechanical press to shape it. So, you could have almost any shape you want."
The finished product that was presented to McDonald's when the fast-food giant showed interest was in the shape of the state of Nebraska.
In addition to shapes of the end product being only limited by the imagination, Mandigo also says most any kind of meat can be used, but most of his team's work was with beef, pork, lamb, chicken and turkey, "but beef and pork are obviously the most popular ones."
"Lamb tastes great," he says. "Chicken and turkey work, and they're pretty tasty too, but it's easier and cheaper to just eat the chicken and turkey the way they come to you right now in the store."
Gary Sullivan, UNL Meat Science associate professor, says, "The technology that Roger is talking about in many ways is the same as used for the chicken that is in the chicken nuggets or chicken patties. It goes through a very similar process, being restructured, as what the McRib does."
Honors come with research
McDonald's is not the only institution to take note of Mandigo's work, as he was the 2000 recipient of the R.C. Pollock Award from the American Meat Science Association, was inducted into the Meat Industry Hall of Fame in 2010 and the Nebraska Hall of Agricultural Achievement in 2012.
Accolades were not the reason that Mandigo got into his profession. "First of all, I was a classroom teacher. I did research on meat processing," he says. "My goal was to teach in the classroom and carry on some research."
Sullivan adds, "I would also say [Roger] was very impactful in training graduate students. And when you do research, maybe as important as the research outcome is the students who are trained through that process. Many of Roger's former students are leaders in the industry." Sullivan adds that Mandigo advised 76 graduate students in his career.
The McRib was relaunched in early December for a limited time, the first time that it's gone nationwide since 2012. The sandwich made its national debut in McDonald's restaurants in 1982.
Learn more about the UNL meat science department at animalscience.unl.edu/meat-science.
Subscribe to receive top agriculture news
Be informed daily with these free e-newsletters
You May Also Like
---