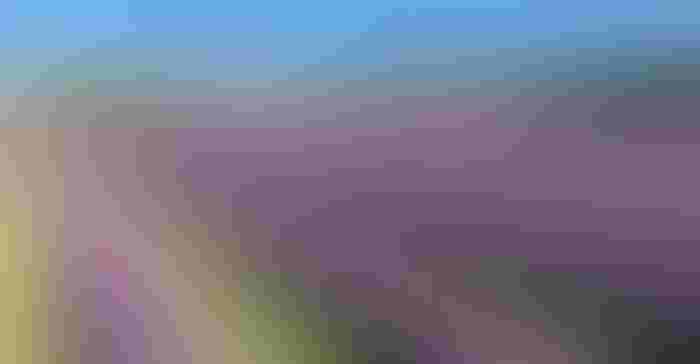 Washington Island's best-known farm earned a place in a national article titled "10 Smelliest Cities." It wasn't a put-down, but rather an honor for the sweetly scented Fragrant Isle Lavender Farm and Shop in Door County, Wis. Owners and operators Edgar and Martine Anderson have the largest lavender farm "in this part of the country."
The Andersons raise 12 varieties of lavender, with 20,000 plants on 21 acres. Their shop offers lavender oils, chocolates, pastries and a wide range of other lavender-infused products, including ice cream.
"We do a lot of culinary in our shop," Edgar Anderson says. There's a cafe where lunch is available and lavender foods can be sampled. "We've got music; come in summer and have fun."
Fragrant Isle was born in 2012 when the Andersons hand-planted 9,000 lavender plants. Product development began. The newly developed products contained the essential oil and buds from their plant supplier. This was done to maintain product consistency until their own plants reached appropriate maturity for productive harvest, according to Anderson.
Labor-intensive enterprise
"Most work is by hand," Anderson says, explaining that equipment is available but not affordable to the average grower. Fragrant Isle uses almost all hand labor.
"We do have a harvester," he jokes. "It's not tractor-driven; it's hand-pushed." Planting, likewise, is done by hand, with cuttings. Anderson points out that using cuttings is key to maintaining the consistency of each variety. Seeds do not stay true to the mother plant due to the cross-pollination that occurs.
Lots of volunteers helped the Andersons get started and expand. "It was wonderful," Anderson says. "It was almost like a barn-raising event where many volunteers would show up and help plant the farm. We are forever thankful to them."
Weeding is the most intensive labor demand, Anderson says. "We walk the fields all the time to look for problems," he says, adding that insects are not a problem — "yet! As a result, we do not spray any chemicals. It's a blessing."
The sandy loam soil on the Anderson farm is ideal, and because lavender thrives in poor soil conditions, only spot-fertilization is needed. "You want to grow lavender on fast-draining soils," Anderson advises. He follows organic production rules.
Yields are low the first two or three years as the plant matures, so capital investment was high for the startup, and even now, he says with a chuckle, "we're not losing our shirt, but it has high potential. The brand is very well recognized," and Washington Island is among the top tourist attractions in Door County. Bus tours are frequent, Anderson says, and the farm has a retail shop in Fish Creek. They also sell wholesale product to other retailers, mostly in northeast Wisconsin.
Member of mint family
Lavender is a perennial, part of the mint family, and a field will last 10 to 12 years. It's an edible plant, but, Anderson says with a laugh, "not all of it tastes good." English lavender is used in food products. Other varieties are raised for their fragrance.
Harvest is from late July to the end of August. "We only harvest what we can distill in one day," Anderson says. "Plants keep flowers a long time, so we cut as we go."
Some plants are cut and dried, and the buds are separated out. Those go into culinary products. "The majority of plants go into oil production," he says. A steaming process distills the oil, but the yield "is very, very low." It takes 60 pounds of flowers to produce 8 ounces of essential oil, hence its cost. Anderson quickly points out, though, that the product is pure, therapeutic-grade oil, not diluted as many imported lavender oils are.
The Andersons operate their farm with four employees — more in summer — and have 25 others who work in the shop and dining area. Anderson is retired from McDonald's Corp. after leading its rapid global expansion in charge of equipment planning, engineering, sourcing and construction. His wife had a long career in haute couture with Saks Fifth Avenue and, most recently, Neiman Marcus.
They retired young in 2011 and moved to the small island off the tip of Door County. "Those careers are the reason we are able to do this," Anderson muses, while noting that lavender was not immediately in the picture as the couple cast about for something to do in retirement. Then Martine, who grew up in France, "started talking about lavender." She had long dreamed of having a "large, lush lavender garden of her own. ... [She] kept thinking that the island was a lot like the area around Provence [France], so we did weather studies, took soil samples and planted a test garden."
The business was born. "We are happy here on the island," says Anderson, inhaling the fragrance from his fields.
To see photos of Fragrant Isle Lavender Farm and Shop, click through the slideshow.
Buchholz lives in Fond du Lac, Wis.
Subscribe to receive top agriculture news
Be informed daily with these free e-newsletters
You May Also Like
---