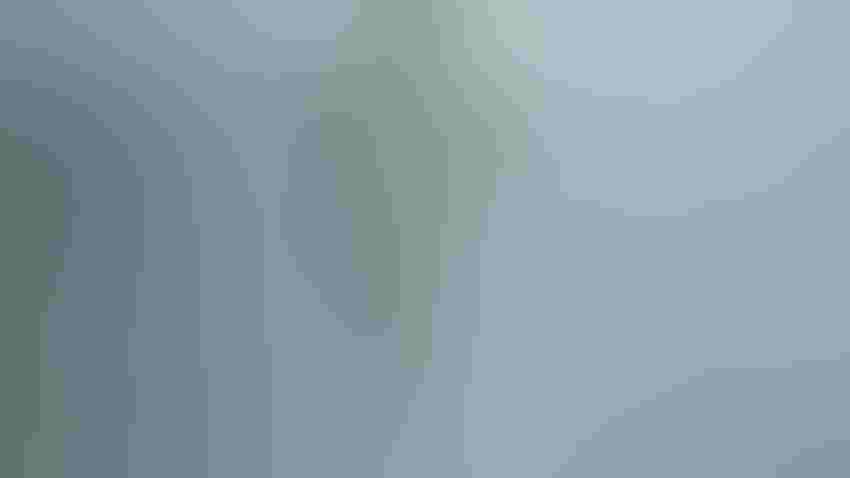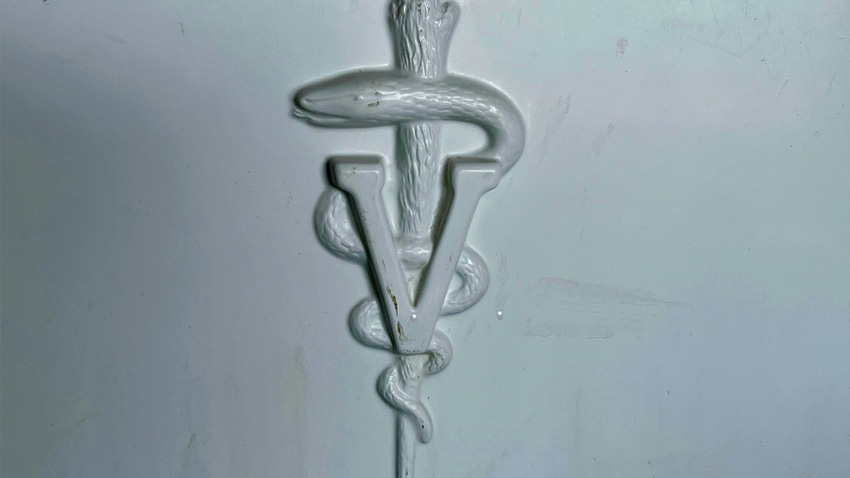 VETERINARIAN SUPPORT: Iowa continues to develop programs to help support veterinarians across the state.
Photos by Jennifer Carrico
Mentors mean a lot in many professions. In animal health care, it means someone to help you learn how to handle clients of both the human and animal kind. Finding the right mentor to work with makes the experience of starting a new profession much easier. Mentors, along with other helpful programming, can lead to a longer time in that position.
Veterinarian Shawn Nicholson, of Stuart-Anita Veterinary Clinics, says he was fortunate to learn from the best when he started as a vet 25 years ago. "When I started, Rex Wilhelm was the main vet I worked with. He taught me many things about how to work with both people and animals," he says.
Since then, Nicholson has had the opportunity to mentor veterinarians who have joined his practice. "We want our vets to see how we do things and then be able to do those practices on their own, but still have other vets available as backup."
Financial assistance
Nicholson says he is aware of the challenges new graduates deal with, and as president of the Iowa Veterinary Medicine Association he's glad the organization can help these new veterinarians transition into practices in hopes of keeping them in rural Iowa.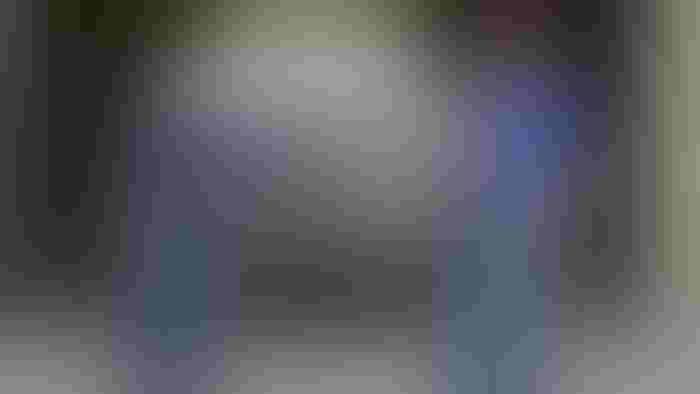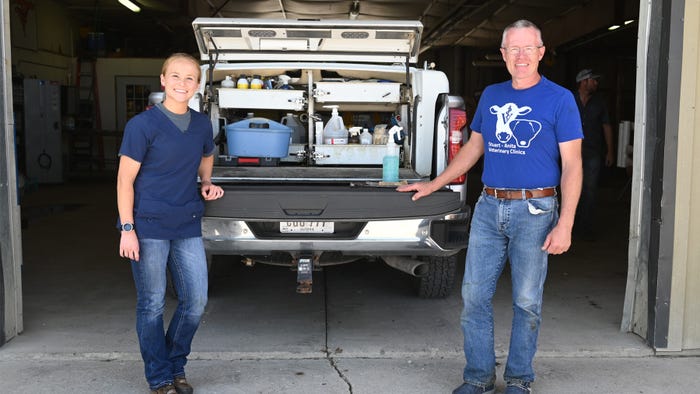 MENTORS ATTRACT NEW VETERINARIANS: Madison Durflinger (left) is a 2023 graduate of the Iowa State University College of Veterinary Medicine. She joined the Stuart-Anita Veterinary Clinics because of having a mentor like Shawn Nicholson, a 25-year veteran veterinarian.
IVMA told the Iowa Legislature about the problems seen with keeping veterinarians in rural areas to cover mixed practices and large-animal practices. That led to the Rural Iowa Veterinarian Loan Repayment Program, in which recent graduates who meet the requirements could get $60,000 in loan repayment in four increments. This, along with the several other programs involving financial and mental counseling, has been one way the organization helps its members.
Madison Durflinger is a new veterinarian at the Stuart vet clinic. She grew up on a cow-calf and row crop operation in southeast Iowa and has experience with horses. She says she was drawn to the Stuart group because there is room for growth for the clinic, and for her as a veterinarian there. "I knew I wanted a mixed-animal clinic, especially with open-mindedness to grow their equine clients," she says. "And the location was great for me to be able to be close to a larger city, but still have the rural area."
Durflinger says qualifying for the Iowa loan repayment program will be helpful for her to be able to pay off her schooling more quickly. "I'm thankful for the Iowa loan program, as the federal funds are harder to get," she adds. "Switching from student to doctor takes a different mindset, and not having to worry as much about repaying my loans will make the transition easier."
Career challenges
Lee County veterinarian Tara Gerdes says she didn't even know she wanted to be a vet when she went to Iowa State University for her undergrad studies. After encouragement from her academic adviser, she did go to veterinary school and graduated in 2008.
"At that time, there was probably 60% women in my class, and about 30% of my class wanted to practice large- and mixed-animal veterinary care," she says. "After a couple years working in a mixed-animal clinic, my husband and I decided to build a clinic in the area where we grew up."
Gerdes had another vet in her practice for a couple of years but has been on her own for about 10 years. This can be challenging, as more than 40% of her practice is with large animals. Having a haul-in facility has made doing large-animal work easier. "My clients don't have to have the facility at home to still get the quality care for their animals. We have a table to put cattle on when they need attention to their hooves. If they have a cow needing a C-section, it's so much cleaner to come here to do it," she says.
Travel is still required many times, which takes good scheduling when it's not an emergency due to her being the only vet on staff. Gerdes also has her Illinois veterinary license, and she will travel up to three hours away into Illinois or the same distance west into Iowa to get to clients.
The advancements in technology have made her work as a veterinarian easier and quicker to complete the task. Oftentimes she will receive a cellphone photo from a client, which allows her to know what to expect before she gets to the animal, or be able to advise a client in the animal's care.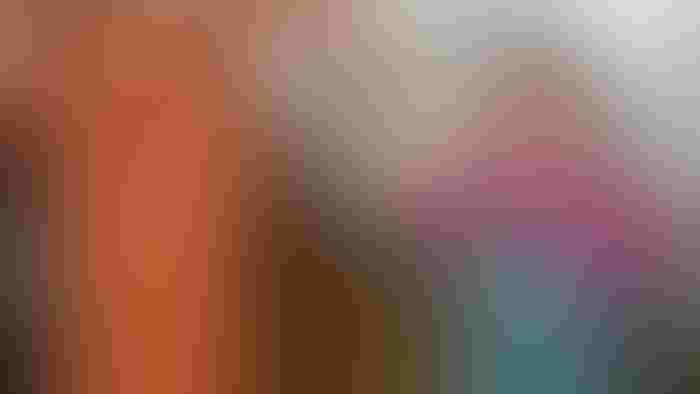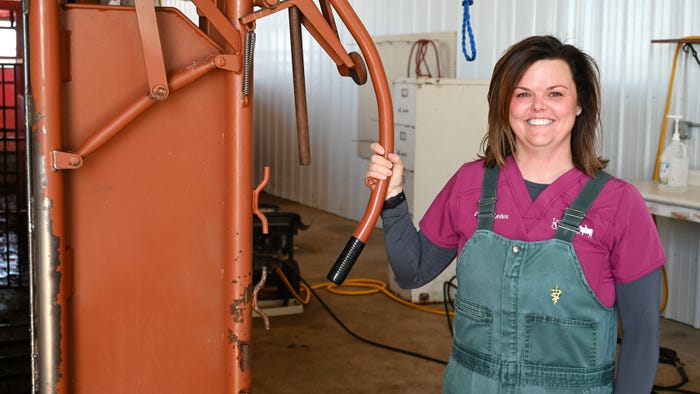 CHALLENGES IN PRACTICE: Lee County veterinarian Tara Gerdes says she has to travel up to three hours from her clinic to cover clients' needs.
"Since there's few large-animal vets in my area, using cellphones has helped us diagnose the problem and determine if I need to get there immediately, or if I can tell the client what they need to do to care for their animal," she adds. "There's definitely a need for more vets across Iowa and other rural areas."
Keeping vets practicing
From the ISU veterinary class of 2008, Gerdes says she has classmates who started out in large or mixed animal practices and have moved on exclusively small animal, government, or corporate jobs. While there are many of those positions available, it has made it challenging to know there are enough vets to cover Iowa's food animal industry.
The continual development of programs to help veterinarians has been helpful to keep practices going. Nicholson says bringing in new veterinarians means he must be open to developing more in their areas of interest. "We are glad to help our vets find continuing educational courses to learn about new developments. If they are happy with what they are doing, they're more likely to stay here longer, which is what we want," he says.
Durflinger says through her final year of vet school, during their two-week rotations as well as internships, students learn more about what part of the industry they like and want to work in.
"The veterinary profession is always evolving in terms of what the next step for the industry is. This can lead to challenges, but as long as we are willing to work with the change, vets will continue to see clients, and hopefully we will see more coming to rural Iowa practices," Nicholson says.
Subscribe to receive top agriculture news
Be informed daily with these free e-newsletters
You May Also Like
---