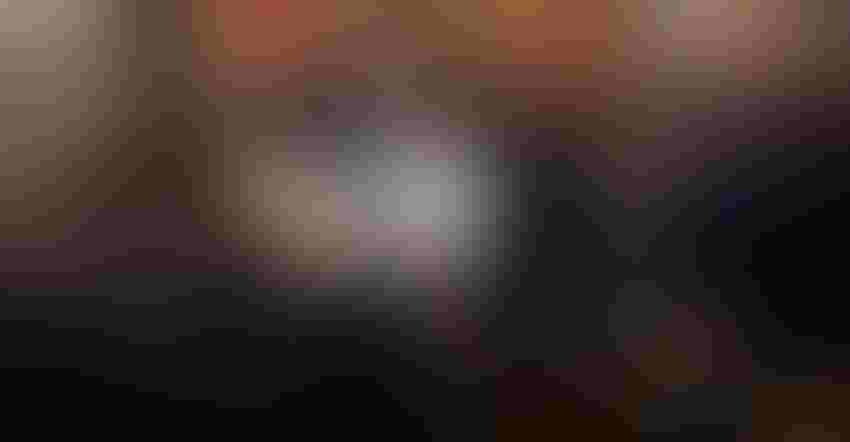 President Donald Trump and Chinese Vice Premier Liu He hold up signed agreements of the phase 1 trade deal between the two countries.
Mark Wilson/Getty Images News
By Alfred Cang, Javier Blas and Isis Almeida
Donald Trump's trade truce with Beijing included a pledge to buy billions of dollars of U.S. foodstuffs over the next two years, reopening one of the most important export markets for America's farm belt.
"The farmers are really happy with the new China Trade Deal," the president tweeted the day after a signing ceremony in the White House.
The euphoria is fading fast. The dispute with Washington exposed Beijing's vulnerability when it comes to food imports -- especially the soybeans needed to feed its massive herd of livestock -- and the Communist Party leadership will now do all it can to wean itself off the U.S.
"Anytime you have a disruption in your supply chain, and especially with something as sensitive as food, they have to diversify their supply chain," said David MacLennan, chief executive of Cargill Inc., the world's largest agricultural commodity trader. "I think they don't want to be in the same position again of being overly dependent on one supplier."
Food security has been a policy priority since a surge in the cost of everything from pork to electronics in the late 1980s stoked dissent in the run-up to the Tiananmen Square protests. A generation later and the world's largest population is many times richer with a growing taste for protein-heavy diets,but doesn't produce nearly enough domestically.
For U.S. farmers, the trade deal means a potentially short-lived benefit as China seeks to make good on its two-year promise. But long term, as America's biggest customer goes elsewhere -- creating a huge opportunity for rival agriculture giants like Brazil, Argentina and Russia -- that could have political repercussions for Trump-supporting rural communities.
The fortunes of global agricultural companies will also be shaped by China's response. From agricultural traders like Cargill and Louis Dreyfus Co. to farming equipment manufactures such as Deere & Co., dozens of companies have billions of dollars at stake in where China buys its food.
China has long been striving for self sufficiency, paying huge subsidies to farmers to grow corn and rice. More than 95% of its cereal needs can now be satisfied locally. But declining arable land, water shortages and an aging farm labor force mean that domestic production alone isn't enough in the rapidly urbanizing country.
So the shortfall needs to be met overseas. President Xi Jinping launched the Belt and Road initiative in 2013 to expand its trading routes, after also embarking on a multi-billion-dollar spree in global agriculture firms and infrastructure over the last decade, most of which have been outside of America.
Before hostilities escalated in 2017, the U.S. was China's top agricultural supplier for 18 years running, relying on the nation for almost 20% of its farm goods imports amounting to $24 billion a year.
And that's where China has been exposed by the trade war.
Imports from the U.S. tumbled 45% in 2018 as the two countries hit each other with tariffs. Beijing slapped retaliatory levies ranging from 5% to 60% on almost all American farm goods including soybeans, pork and corn.
The duties gave Beijing crucial leverage over Washington, prompting Trump to announce a $28 billion bailout for farmers faced with a devastating loss in business. But they also forced China to search for supplies elsewhere.
Now China's going to double down on efforts to diversify, with rivals Brazil and Argentina the most obvious beneficiaries.
Brazilian President Jair Bolsonaro and China's Xi promised to continue increasing bilateral trade that surged to record levels during the trade war. China also bolstered its alliance with Argentina, opening the door to the South American nation's soybean meal shipments for the first time.
"Food security is always critical to China's leadership, and this trade war just affirms the importance of having strong domestic production and diversified import sources," said Li Qiang, chief analyst with Shanghai JC Intelligence Co., an influential Chinese agricultural consultant.
But the seasonal nature of agricultural production means China can't rely on South America alone. Brazil typically exports soybeans during March to September, before U.S. shipments take over. Despite record imports from Brazil, China briefly experienced a soybean deficit due to lack of American supply.
China has also been looking for other sources, for example by investing in Russia and the Black Sea regions.
Reality Check
The reality is though, that it will be hard to wean itself entirely off the U.S. China's annual soy demand is about 110 million tons, of which domestic output satisfies just 15%, according to China's ministry of agriculture. The U.S. accounts for about a third of global soybean trade while Brazil and Argentina alone don't export enough to satisfy China.
The U.S. is just too influential and China recognizes this. America will remain an important trading partner for soybeans, China's minister of agriculture and rural affairs said last year. It may also prove politically expedient for Beijing to maintain some trade with Washington to keep its truce in place.
"China will diversify," said Alberto Weisser, who was chief executive of agricultural commodity trading giant Bunge Ltd. for more than a decade. But "the easiest thing for China is to buy American agricultural commodities in exchange to be able to export" its products to the U.S.
There's historical precedent for how trade disputes can permanently reshape global trade, and the lessons from a battle more than 40 years ago suggest American farmers may suffer over the longer term.
The U.S. fought a dispute with Japan in 1973 that went as far as Washington imposing an embargo on soybean exports. The conflict lasted only five days, but its consequences are still felt today.
After the brief embargo, Japan returned to buy U.S. soybeans, but scarred by the dispute, it never saw America again as a reliable supplier. Instead it diversified purchases, helping the growth of the then-nascent Brazilian soybean industry.
Closer to home, a Nixon administration embargo on trade with China that spanned two decades through 1971 may also have stained the U.S.'s reputation as a reliable partner in the minds of Chinese leadership. Xi, Premier Li Keqiang and top trade negotiator Liu He, grew up during the period and that's shaped Beijing's thinking, said Darin Friedrichs, a Shanghai-based senior analyst at INTL FCStone's Asia commodities division.
"Given those experiences, it's not surprising they put a lot of emphasis on food security," Friedrichs said. "They don't want to be overly-dependent on a single supplier."
--With assistance from Dominic Carey.
To contact the reporters on this story:
Alfred Cang in Singapore at [email protected];
Javier Blas in Davos at [email protected];
Isis Almeida in Chicago at [email protected]
To contact the editors responsible for this story:
Anna Kitanaka at [email protected]
Alexander Kwiatkowski
© 2020 Bloomberg L.P.
Subscribe to receive top agriculture news
Be informed daily with these free e-newsletters
You May Also Like
---