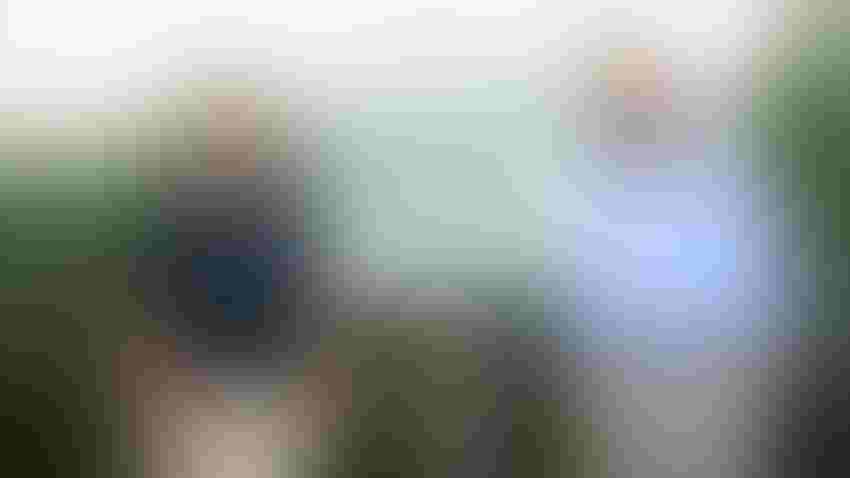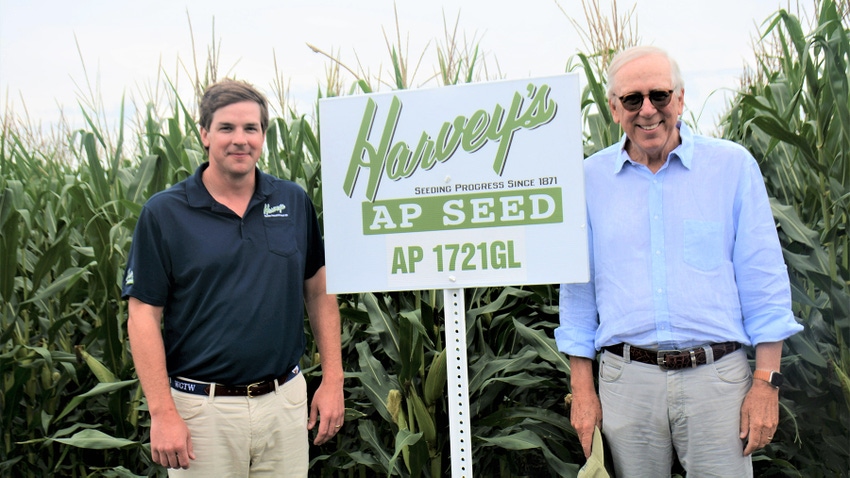 Wes Ward, left, president of Harvey's; and John McNairy, Harvey's chairman/CEO , shown at Harvey's 160-acre experiment farm in LaGrange, N.C.
John Hart
Like the farmers they serve, Harvey's has relied on diversity to succeed in a tough and challenging business.
It was a strategy that began more than 150 years ago in 1871 when Lemuel Harvey founded L. Harvey & Son in Kinston, N.C. to provide fertilizer to farmers in eastern North Carolina. And it continues today.
The company does everything from farming on their 6,000 acres, to selling farm supplies, seed, chemicals and LP gas for farms and homeowners. They also gin cotton and operate a seed conditioning facility.
"Through those years, in eastern North Carolina, you had to do a lot of different things," explains John McNairy, chairman and CEO for Harvey's.
A diversified start
In the beginning, Lemuel Harvey quickly branched out beyond selling just fertilizer. In 1890, he began selling plows and farm equipment. In 1920, Harvey's purchased their first farmland to produce crops.
"Our basic business has always been the fertilizer supply business. We were one of the first to finance farmers. That's how we got a pretty loyal base through the years. We were in the department store business; we were in the insurance business. In 1947, we were probably the first John Deere dealer in North Carolina," McNairy says.
McNairy is the fifth generation to run the Harvey family business. He married Leigh Harvey, the daughter of Charles Felix Harvey, III, who became president of Harvey's in 1950. Harvey's father, Charles Felix Harvey, Jr. became president in 1933, while his father Charles Felix Harvey, Sr. became president in 1910, succeeding founder Lemuel Harvey.
McNairy married Leigh Harvey in 1970 and first practiced corporate law in Atlanta. Charles Felix Harvey asked his son-in-law to return home to run the family business in 1981.
He decided to join Harvey's because he loved business and wanted to run one instead of only advising clients on business issues. John and Leigh McNairy and their children made the move to Kinston, where McNairy continues as chairman/CEO.
"Mr. Harvey only had one rule: I don't want to be surprised. He always used to tell me if I hear it from you, we're good. If I hear it from a customer or a supplier, we're not good," McNairy explains.
Strategy for success
In many ways, this strategy is key to the company's success. This, in addition to relying on diversity, has been the approach to profitability since the beginning. In 1947, Harvey became the first John Deere dealer in North Carolina. In 1991, Harvey's went into the cotton gin business, becoming one of the largest cotton ginners in North Carolina.
Wes Ward, president of Harvey's, notes that Harvey's surpassed 2 million bales ginned this past crop year. The company started with four gins in 1991 and currently operates two gins in Bethel and LaGrange.
On top of that, Harvey's went into the LP gas business in 1950 with a focus on agriculture to serve poultry, hog, and tobacco farmers in eastern North Carolina. Today, Harvey's LP gas team consists of 12 licensed technicians who serve tobacco barns, grain dryers, peanut dryers and hog and chicken houses under the name Tidewater Energy. Ward explains that homeowners are an important focus, but most of the gallons are agricultural.
The company further expanded in 2008 when it acquired Cashwell and Jones seed cleaning business from JL Jones. Cashwell and Jones conditions soybeans and wheat for national brands, local brands, and Harvey's' proprietary seed line, Harvey's AP.
"This business has been excellent in helping build Harvey's AP seed line for wheat, and soybeans.  Having C&J allows us to be vertically integrated in seed production, we can grow seed stock on Harvey farms, condition the seed at C&J, and sale to our customer base through our retail division," Ward says.
In 2010, Harvey's supported the formation of International Farming Corporation, a private equity venture, that purchases farmland across the United States from California to North Carolina as well as internationally in Australia. McNairy explains that the opportunity arose following the financial crisis in 2008. In addition to farmland, the fund has interest in a peach operation in Georgia and an apple business in Washington. "It's all part of our diversification strategy," McNairy explains.
Hands-on research
Certainly, farming is an integral part of Harvey's business. The company farms just shy of 6,000 acres of cotton, corn, soybeans, and wheat across three North Carolina counties: Lenoir, Jones, and Craven.
Ward adds that by farming, Harvey's is better able to relate to and serve its farming customers.
"I think it does say something when we can go to the turnrow and say we understand what you're going through with these swings in commodity prices. We didn't catch that half inch of rain either, so I do think it helps us have better conversations and help us relate better to the farmer," he says.
Brandon Brewer runs Harvey's farm operation with a team that includes Dynamite Tyndall, who directs traffic every day on corn, cotton, soybeans, and wheat. Like all farms, Ward says maximizing yields and lower input costs is the focus.
"We adopted all of the precision farming practices: precision fertility, precision liming, variable rate seeding, and zone mapping. We work to decrease our costs and increase our revenue through yield," Ward says.
In addition, Harvey's launched its own 160-acre research farm in 2016, located in LaGrange. In the past three years, the company has really ramped up its research work, under the direction of Gary Hamm.
"What this allows us to do is better train our young salesmen coming in, and even our tenured employees. We test seed to help growers make better variety selections. We conduct fertility research because we sell fertility. We do cotton research to help farmers with PIX recommendations," Ward says.
"Through this research farm we test our own Harvey AP seed lines, fertility programs, and crop protection products.  All this information is passed back to our sales teams and customers," Ward says.
Great management and employees
Indeed, the question arises, how does Harvey's succeed in so many business endeavors?
McNairy says it all boils down to having great people to work for you and partner with you. "We have great managers. It's not an easy job, but by having great managers, it makes it easier."
In addition to Ward, who is president of Harvey Fertilizer and Gas, and Brewer, who runs the farming business, divisional managers include Brandon Cole, who runs the fertilizer division; Kevin Pearson, who runs the LP gas division; Herbert Rouse, who manages both the cotton gin business and the Cashwell and Jones seed conditioning company; and Mike Pollard, who manages the financial services division.
"Each division can complement each other in some form or fashion. If you look at our ag retail division, that may complement our cotton gins in the sense that if they buy the inputs from that fertilizer store, then they gin the cotton with our Harvey Gin, then we will offer them a very attractive financing rate," Ward explains.
Both Ward and McNairy say Harvey's would like to continue to grow each of its core businesses. And both emphasize that Harvey's' managers and employees are key to the company's success for more than 150 years.
"Throughout each division, all of our employees are local to their community. Our stores represent that local community and where we've seen some national competitors at times consolidate and close some of those community-based stores and build super centers, we've stayed in each of our local communities.  We are North Carolina based so our dollars are going back to the communities," Ward says.
"Harvey's couldn't be more thankful to its employees and loyal customers over the years.  Without great employees and loyal customers, we wouldn't have the business we do today after 150 plus years."
Subscribe to receive top agriculture news
Be informed daily with these free e-newsletters
You May Also Like
---