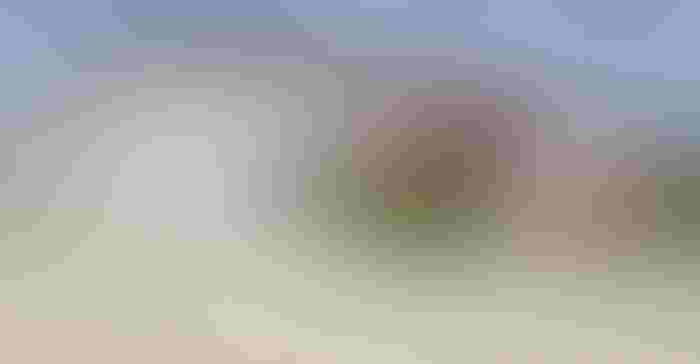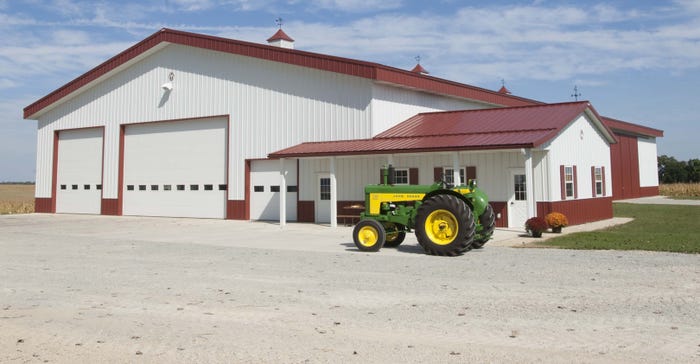 You've picked your spot for a new farm shop. Now it's time to concentrate on inside details, including doors, walls, insulation, heating and more.
Dan Nyberg, sales training manager for Morton Buildings Inc., has assisted hundreds of customers in working through these details. The goal is to make decisions that help you put together a farm shop that best suits your needs.
Nyberg offers insights into what customers opt for most often today:
Doors. "Hydraulic doors are becoming popular," Nyberg says. "You can opt for hydraulic doors up to 50 feet wide."
Some people still choose traditional overhead doors. "Remember, you must allow an extra 2 feet at the top for the door to curve back," he says. "So, if your building height to the ceiling is 18 feet, you'll have 16 feet of clearance."
That may be enough if your combine clears 16 feet, or if you don't drive it into the shop. "Think about how you operate during harvest," Nyberg says. "Do you want the option to head to the shop and pull straight in if a storm threatens?"
Bifold doors are another option. You can go to greater widths with these.
"Maybe you want a 10-foot-by-8-foot door on a side if you're going for your pickup," Nyberg says. "Perhaps a 20-foot-by-14-foot door makes sense to drive a tractor in. You don't want to open the largest door more than necessary in cold weather."
Related:Build a useful, long-lasting farm shop
Related: New report offers farm shop insight
Heat. In-floor steam heat from circulating water is growing in popularity. Upfront cost is higher, but it's very efficient, Nyberg says. "Plus, you can set it relatively low and still be comfortable because heat radiates from the floor," he adds. "Plastic tubing goes down in the concrete floor in sections before it's poured. You can control heat in various sections independently."
Radiant heat tubes are another efficient option. They're typically hung 6 to 8 feet from sidewalls.
Forced-air heat furnaces are the least efficient. Once doors are opened, it takes longer to recover, Nyberg says.
Walls and ceilings. You may opt for plywood for the first 8 feet of interior wall and steel above that. White steel on sidewalls is popular because it's good for light reflection.
Some people mount soundboards around walls to help deaden sound. Another choice is acoustical steel for walls or the ceiling, Nyberg says. This perforated steel helps reduce sound volume.
If you install a ceiling in the shop versus leaving trusses exposed, you'll likely add insulation. You will also need a vapor barrier, Nyberg notes.
Air outlets. You can't have too many air outlets, especially if you use pneumatic tools, Nyberg says. Some people place the air compressor in a loft, while others place it on the cold storage side of a combination shop and storage shed.
"Some build a separate room for the compressor," Nyberg says. Remember to provide adequate air intake for the air compressor.
Drains. Especially if you wash equipment inside, floor drains are essential. Some people wall off a room for cleaning equipment.
Codes for floor drains vary by state, and sometimes by county. Many require a settling basin so dirt and oil settles out before water exits the building. Make sure your plan complies with code, Nyberg says.
Lighting. While fluorescent lighting was once popular, more people go with LED lights today, Nyberg says. The initial cost is higher, but they fire up quicker and last longer, he explains.
Click through the slideshow to see photos of these farm shop details and more. 
About the Author(s)
Subscribe to receive top agriculture news
Be informed daily with these free e-newsletters
You May Also Like
---