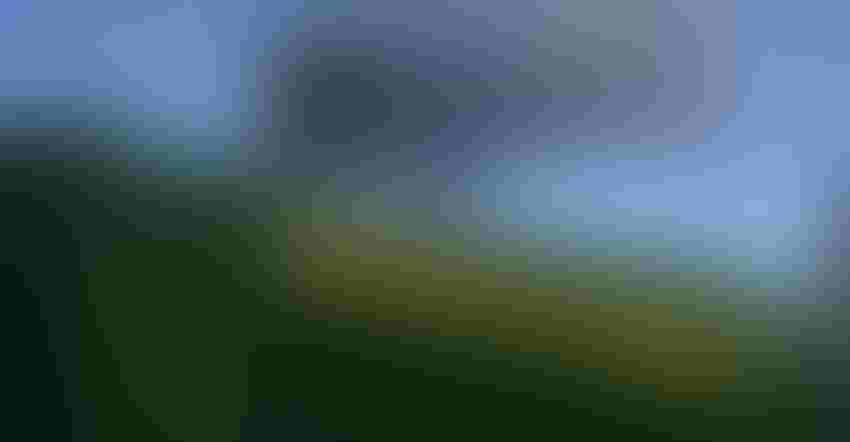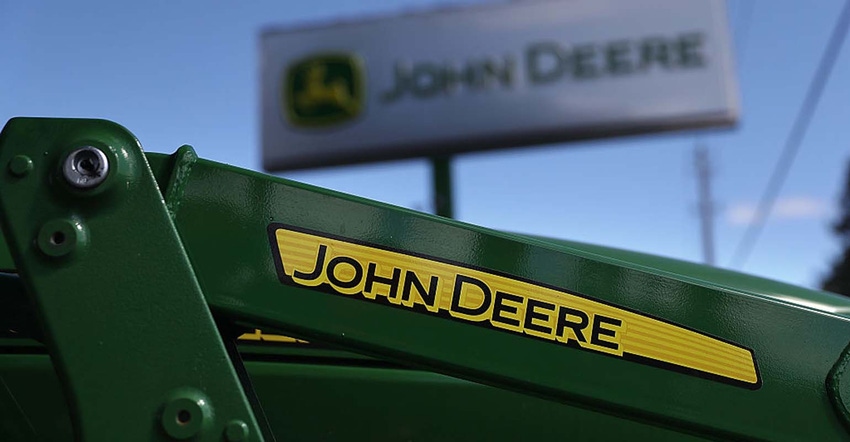 JustinSullivan/Staff/GettyImages
by Lydia Mulvany 
Agricultural markets can stay depressed longer than farmers can keep their old tractors rolling -- at least that's if Deere & Co. is any guide.
Deere on Wednesday reported its first increase in annual sales in four years, the latest sign that the company is finally climbing out of a prolonged downturn amid languishing commodity prices. It also forecast higher revenue for fiscal 2018 and bigger-than-expected earnings. The shares rose 4.3%.
The world's largest farm-machinery manufacturer is on an upswing even as the U.S., which still accounts for most of Deere's revenue, expects farm incomes to decline this year. In October, Deere saw the biggest surge in demand for its big equipment since 2010, with all categories of machinery rising by double-digit percentages in North America, Mircea Dobre, an analyst at Robert W. Baird & Co. Inc. in Milwaukee, said in a report earlier this week. 
Farmers can only push their tractors and combines so far, despite enduring one of the longest agricultural downturns. Most big equipment is sold to corporate farms, which have a replacement cycle that's stretched out when commodities are under pressure, said Karen Ubelhart, an analyst at Bloomberg Intelligence. That's driving more customers to Moline, Illinois-based Deere after years of production and inventory cuts at the company.
"The strength that we're seeing in large ag is not coming from improved fundamentals," Tony Huegel, Deere's director of investor relations, told analysts on a conference call. "We've gone a number of years at very, very low level, so the equipment has begun to age a bit." 
Industry-wide demand for large machinery will grow as much as 10% in fiscal 2018, Deere said. North America is expected to be the strongest region, while Deere forecasts the sector's sales will increase 5% in Europe due to improving dairy and livestock markets. South American tractor and combine sales could rise as much as 5%, particularly on favorable conditions in Argentina. Sales in Asia will be flat, it said. 
Deere also makes construction and forestry equipment. It said fiscal 2018 sales in that segment will surge 69%, mostly due to the pending acquisition of German road-construction equipment maker Wirtgen Group. The market for construction machines is booming on the back of strength in the U.S. housing market, Ubelhart said.
A sustained recovery in agricultural equipment is far from assured. Stubborn crop surpluses have crushed commodity prices and incomes in recent years, spurring some farmers to defer big-ticket purchases, or buy used machinery instead. Some farmers may still try to squeeze more life out of their tractors and combines as the corn, soybean and wheat markets are widely expected to be dogged by excess supply into 2018, keeping a lid on prices. On average, U.S. corn farmers are set to remain unprofitable for a fifth consecutive year, according to Bloomberg Intelligence.
Net income rose to $1.57 a share in Deere's fiscal fourth quarter, which ended Oct. 31, from 90 cents a year earlier. That beat the $1.47 average of 18 estimates compiled by Bloomberg. Deere forecast net income for fiscal 2018 of $2.6 billion, exceeding the $2.3 billion average estimate. The shares closed at $145.25 in New York.
Other highlights from its earnings report:
Fourth-quarter equipment revenue rose to $7.09 billion from $5.65 billion a year earlier, beating the $6.9 billion average estimate. Company equipment sales are projected to rise 22% in 2018, and 38% for the first quarter compared with a year earlier. Net income from financial services, the unit that offers finance for equipment purchases, is forecast to be about $515 million in fiscal 2018. 
To contact the reporter on this story: Lydia Mulvany in Chicago at [email protected]
To contact the editors responsible for this story: Simon Casey at [email protected]
Jim Efstathiou Jr.
© 2017 Bloomberg L.P 
About the Author(s)
Subscribe to receive top agriculture news
Be informed daily with these free e-newsletters
You May Also Like
---