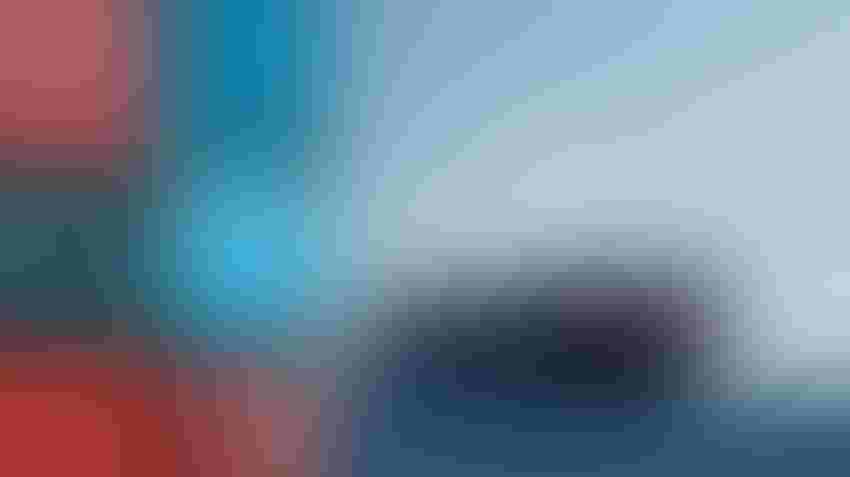 Asian demand for empty shipping containers is causing a backlog of agricultural goods at West Coast ports.
Paul Taylor / Getty Images
A letter from over 100 members of Congress was sent March 9 to the Federal Maritime Commission over continued concerns over the inability of U.S. agriculture to export goods overseas.
These concerns follow reports that "certain vessel-operating common carriers (VOCC) are declining to ship U.S. agricultural commodity exports from our ports," according to the letter, which was made public late Tuesday after having been provided to Farm Progress.
The concerns raised by agricultural exporters across the country surfaced last year, Investigations were reportedly started by the Federal Maritime Commission shortly thereafter to investigate allegations of possible illegal trade activities.
Nearly half of all agricultural production from California and about 20 percent of U.S. agricultural production is affected by the shipping slowdowns, lawmakers say.
The letter reveals bipartisan support over the issue of shipping companies sending empty containers on vessels to Asia, rather than fill them with U.S. agricultural goods. Reports from California suggest agricultural commodities shipped to China must first move inland for processing, emptying and return to seaports, increasing the time at that end to refill shipping containers and send them back with consumer goods to the United States.
In the letter to Federal Maritime Commission Chairman Michael Khouri, the decision by maritime carriers to leave U.S. ports with empty containers "constricts entire supply chains and propels trade to move only in an inbound direction." The letter goes on to call such moves "unacceptable" and harmful to the U.S. economy.
Related: Shipping crisis disrupts industry
"Should it be found that the VOCC's are predatory or unreasonable in refusing to export these American agricultural products or imposing unreasonable fees, they must be held accountable by the commission for the harm they are causing our producers," the letter states.
Rep. Adrian Smith, R-Neb., said the issues affect beef and hog exports from his district and is devaluing meat exports because of the time required to ship goods overseas. Smith is a member on the Ways and Means Committee, which is looking into the international trade implications involved.
As the second-ranking member on the House Agriculture Committee, Rep. Jim Costa, D-Calif., likewise says the federal government needs to quickly resolve these issues to the benefit of U.S. agriculture.
Costa and Smith continue to lead the fight from Congress over the matter and are signatories on the bipartisan letter. Other signatures from members of Congress include, but are not limited to, representatives from Arizona, California, Oregon, and Washington.
'An integral link'
House Republican Leader Kevin McCarthy, whose district includes Kern County, Calif., one of the top three grossing agricultural regions in the U.S. by value, called on the commission to enact swift action to correct the trade imbalance.
"California agricultural exports were valued at over $21 billion in 2019, which represents approximately 16% of total U.S. agricultural exports," McCarthy told Farm Progress in a written response. "California products are shipped around the world, but countries in Asia are the destination for more than $6 billion of California-grown produce and agricultural products. The VOCCs play an integral link between Californian agricultural exporters and their overseas customers, and actions that VOCCs take directly impact our communities."
Agricultural groups have reported slowdowns or the complete inability to export commodities overseas. Perishable goods forced to be shipped in refrigerated containers have been particularly hard hit.
"It is cost prohibitive for producers of these agricultural commodities, particularly perishable products, to use alternative methods to fulfill overseas contracts in a dependable and affordable manner," the letter states.
Though some tree nut exporters from California have reported everything from delays to a complete inability to export products, Blue Diamond Growers, the large almond cooperative based in California, reports mixed success in moving product overseas.
"Blue Diamond is working harder to execute shipments in a volatile environment to meet our customer's needs," said Bill Morecraft, Senior Vice President, Global Ingredients Division, Blue Diamond Growers in a prepared statement.
"The lack of containers is not significantly impacting Blue Diamond, and by leveraging our strong global partnerships, we are exporting a record number of shipments this year," Morecraft continued. "As for any delays in shipments, they have been varying based on the shipping destination. The delays in shipping schedules from west coast ports impact the ability to execute shipments on a timely basis and disrupt the normal cadence of business."
Lawmakers sound alarms
In a news release late Tuesday, Costa, Smith and six other members of Congress issued a joint release sounding alarms over the crisis. Rep. Rodney Davis, R-Ill., said international trade and export markets are a major source of income for American farmers and producers.
"That's why reports of VOCCs declining to ship American agricultural products are so concerning," Davis said. "These supply chain issues may create financial problems for Illinois farmers and agricultural companies at a time when they need certainty and stability more than ever. I urge the Federal Maritime Commission to investigate these reports so we can find out if regulatory action needs to be taken."
California Democratic Rep. Jimmy Panetta, who represents the Central Coast, said purposely not shipping agricultural products from U.S. ports poses a "serious threat" to the region's industry.
"While I am grateful for the effort by the Federal Maritime Commission to investigate this issue, more needs to be done to ensure a fair and equitable resolution, so that products continue to be exported on a timely basis," Panetta said. "My district is home to one of our nation's most productive agricultural regions where businesses rely on a consistent flow of products internationally. With this letter, my congressional colleagues and I are calling on the Commission to do more to end these types of unacceptable practices by certain vessel-operating common carriers."
Others voicing concerns included Reps. John Garamendi (D-Calif.), Mike Thompson (D-Calif.), Dusty Johnson (R-S.D.), and Troy Nehls (R-Texas).
Letter to Biden
The latest letter comes after 71 agricultural organizations nationwide in late February called on President Joe Biden to intervene in the crisis. In the letter sent Feb. 24, the group requested that provisions available to the Federal Maritime Commission via the Shipping Act and other government tools "be immediately applied to stem the current ocean carrier practices that are so damaging to our agricultural products."
"These refusals and charges by the ocean carriers dramatically increase costs to our exporters, making foreign sales inefficient and uneconomical, rendering farmers and processors (for the first time), unreliable suppliers to the global supply chain," wrote the groups, which call themselves the Agriculture Transportation Coalition. "The international ocean container carriers which carry over 99% of our foreign commerce, are headquartered overseas - perhaps unaware of the injury their actions are causing to the U.S. economy, as they profit from the pandemic."
The group included the American Farm Bureau Federation, the American Feed Industry Association, Dairy Farmers of America, the National Cotton Council, the North American Meat Institute, the National Pork Producers Council, and USA Rice.
On the West Coast, the members included more than a half-dozen California commodity groups as well as the Idaho Potato Commission, the Colorado Corn Growers Association, the Oregon Seed Association, the Pacific Northwest Asia Shippers Association, and the Washington Farm Bureau.
In March 2020, the Federal Maritime Commission launched Fact Finding No. 29, "International Ocean Transportation Supply Chain Engagement," to investigate all the congestion, bottlenecks, and fees seen at our ports. In November, Fact Finding No. 29 was expanded to include reports of the decline to ship American exports.
On Feb. 17, Federal Maritime Commissioner Rebecca F. Dye issued "information demand orders" to ocean carriers and  marine terminal operators to determine if legal obligations were being met.
Subscribe to receive top agriculture news
Be informed daily with these free e-newsletters
You May Also Like
---