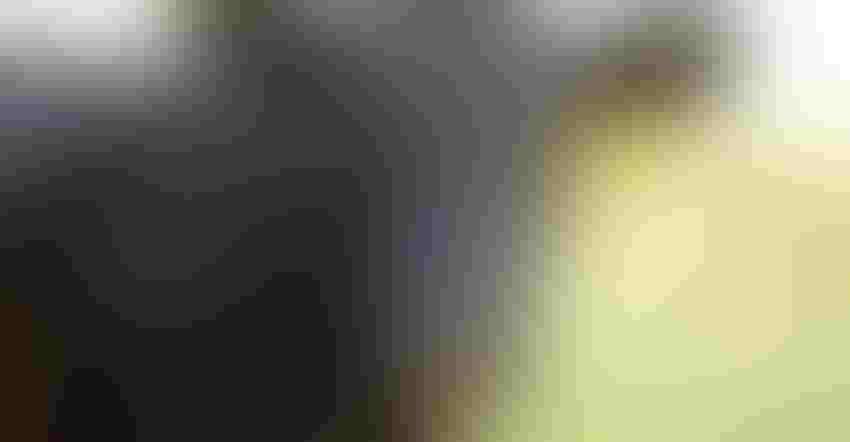 FIGHT OUTBREAK: While Illinois farm groups support voluntary premises registration for livestock farms, Illinois State University professor emeritus Paul Walker says mandatory registration would better prepare the state for animal disease outbreaks.
Holly Spangler
The U.S. has been lucky with biosecurity, says Illinois State University professor emeritus Paul Walker. Global outbreaks of avian influenza, foot-and-mouth disease and the more recent African swine fever haven't significantly impacted producers in the U.S. yet — in part because U.S. Customs and Border Protection is able to intercept foreign food that's potentially contaminated with disease.
"They're able to intercept a lot of it, but something is going to get through the cracks sooner or later," Walker says. Registering the locations of livestock operations makes isolating disease easier to do early on in an outbreak, adding protection to the supply chain for consumers and producers.
Walker says rather than continue to "push our luck," he has recently lobbied Illinois Farm Bureau and the Illinois Beef Association to officially endorse mandatory livestock premises registration with the Illinois Department of Agriculture. The organizations endorse voluntary registration now, though IFB says its members are having "evolving conversations" on the issue that could drive changes in its farmer-voted policy book in the future.
Swine ahead of other livestock
With African swine fever on America's doorstep, Walker acknowledges that if a stop-movement order were to go into effect for swine, any producer who wanted to transport a herd would have to have his or her premises registered with IDOA to prove it's not within range of where an infected herd is housed. This helps explain why more than 90% of the Illinois swine industry already has facilities registered.
"Smithfield requires a premises registration number to sell hogs to them for harvest. I'd say the swine industry has pushed it more; the large integrators have more control over all their cooperators. And so those folks basically all have their premises registered," Walker says, adding the beef and horse industries in Illinois are less integrated and have less incentive to register the location of their operations with the state.
"Less than half of Illinois' livestock producers have their premises registered," he says, cautioning that doesn't count backyard and hobby producers who earn less than $1,000 in farm income.
These producers, Walker says, are Illinois' largest biosecurity threat. Disease outbreaks are more likely to occur on smaller operations. He cites the poultry industry as an example.
"Avian influenza is transmitted by wild flocks when they're migrating. So a backyard flock is more apt to come in contact with migratory fowl than 100,000 chickens in a building," Walker says.
In the case of African swine fever, people who hold on to pet pigs are more at risk of contaminating their operations with foreign AFS-contaminated food than more biosecure commercial operations.
Why mandatory?
Premises registration is handled by states, with Wisconsin and Indiana being the only states to require livestock producers to report the location of their operations to regulators. While Walker is in favor of similarly requiring premises registration, he was opposed to an effort a few years ago to require it only for those who show their livestock, citing it as unfair.
Wisconsin's program requires all livestock owners to register the premises where their animals are housed — including backyard stock and hobby owners. Indiana's program is partially mandatory. All livestock buyers, sellers, exhibitors and exhibition locations must register, with exemptions for emus, rhea, equine, camelids and ostrich.
"I don't think premises registration is going very far until it is mandatory or until we have a major foreign animal disease outbreak," Walker says. "If an outbreak happens, the federal government will step in to mandate a program that may or may not be practical. A state or regional approach would likely be more effective than waiting for an outbreak and for the USDA to step in."
He adds that backing by Illinois farm groups would be necessary to get state legislators to support what he calls an "unpopular" policy.
To implement and enforce
To enforce the policy, Walker says those who sell feed could simply be required to ask their customers for their premises ID number. While IDOA previously argued that such a requirement would harm animal welfare, Walker says there could be a grace period to allow plenty of time for producers to register before the feed requirement takes effect. He argues this is the simplest and most affordable way to enforce mandatory registration and would have to be approved by the Illinois General Assembly.
"That's the only way you can enforce mandatory registration without it being a very cumbersome, agency-policed directive," Walker says.
He says some farmers aren't supportive of mandatory registration because, depending on implementation, it could result in the coordinates of individual livestock operations becoming public record — inviting risk from animal rights advocates. He prefers assigning one premises number for each livestock owner within a given radius to minimize this risk.
Another obstacle is that the voluntary form requires signatures from both the owner of the facility and operator, and Walker says some owners are resistant to registering their premises. In discussions with IDOA, he advocates that if a mandatory program were to take effect, only operators should be required to sign.
"If it's an absentee landowner in Florida, why would you contact him? You need to contact the person who's in charge," Walker says, concluding the removal of this barrier "would help some folks who run into a problem where the owner didn't want to be involved."
About the Author(s) Associate Editor, Prairie Farmer
Austin Keating is the newest addition to the Farm Progress editorial team working as an associate editor for Prairie Farmer magazine. Austin was born and raised in Mattoon and graduated from the University of Illinois at Urbana-Champaign with a degree in journalism. Following graduation in 2016, he worked as a science writer and videographer for the university's supercomputing center. In June 2018, Austin obtained a master's degree from the Medill School of Journalism at Northwestern University, where he was the campus correspondent for Planet Forward and a Comer scholar.
Austin is passionate about distilling agricultural science as a service for readers and creating engaging content for viewers. During his time at UI, he won two best feature story awards from the student organization JAMS — Journalism Advertising and Media Students — as well as a best news story award.
Austin lives in Charleston. He can sometimes be found at his family's restaurant the Alamo Steakhouse and Saloon in Mattoon, or on the Embarrass River kayaking. Austin is also a 3D printing and modeling hobbyist.
Subscribe to receive top agriculture news
Be informed daily with these free e-newsletters
You May Also Like
---