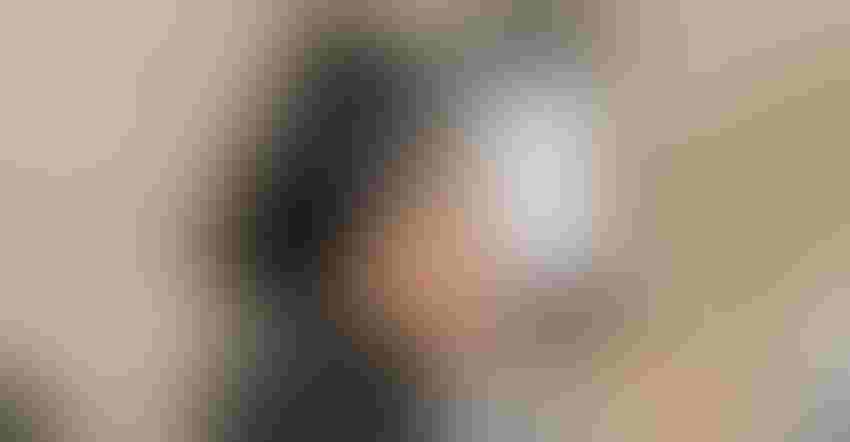 USE SOCIAL MEDIA: A person looks up the definition of "animal welfare" on their cellphone while another person watches a video statement released by Fair Oaks Farms on its Facebook page.
Amber Ferrell
On June 4, a disturbing video about Fair Oaks Farms in Newton County, Ind., hit social media. The video showed graphic scenes and pictures of how dairy animals were handled by workers.
Animal interest groups have turned their focus toward agriculture, using undercover videos and political campaigns that have affected farm businesses across the nation. Fair Oaks Farms became the face of one of the largest animal welfare campaigns on social media.
In 2004, Mike and Sue McCloskey opened their doors to the public to display the practices and innovations of the original four dairy farms. Fair Oaks became the No. 1 agritourism location in the Midwest.
However, the Animal Recovery Mission, a nonprofit investigative animal interest group from Miami, sent an investigator undercover to the farm. The investigator worked in the calf care division between August and November 2018.
When the video was released to the public, it showed calves being dragged around by their ears, hit in the face with plastic milk bottles and thrown into their calf hutches. Afterward, Fair Oaks owner and veterinarian Mike McCloskey released a video statement in response.
"The video broke my heart and created a sadness I will have to endure for the rest of my life," McCloskey stated in the video released on the farm's Facebook page.
McCloskey said three employees in the video had already been reported by their coworkers for not following correct animal welfare procedures. All three were fired three months before the video was released.
Fair Oaks Farms had what it thought was the best animal welfare program for its business and employees. McCloskey said employees went through animal welfare training and participated in educational training throughout the year. Plus, employees were required to sign a document stating that if they saw animal cruelty, they would report it to their supervisor.
Animal welfare
According to Marisa Erasmus, an assistant professor of animal sciences at Purdue University, a challenge with animal welfare today is the misconception of what animal welfare means and how to properly evaluate it. The public has strong opinions about the topic and is passionate about what constitutes humane treatment of farm animals, according to Erasmus.
An animal is in a good state of welfare if it is healthy, comfortable, well-nourished, safe, able to express innate behavior, and not suffering from unpleasant states such as pain, fear and distress, according to the American Veterinary Medical Association.
To practice good animal welfare, farmers and workers must always try to have a positive interaction with their animals. They need to study their animal's daily health and behavior, Erasmus says.
"Animal welfare is something we can measure by looking at animal behavior, physiology and production," she says.
Solutions
Fair Oaks Farms was quick to react to the release of the video. It let the public know about the video prior to its release on social media, what it would do about the situation identified in the video and how it would keep this treatment of animals from happening again.
"Don't try to cover it up; be as open and honest as you can with your customers or suppliers; stick to your word; and maintain the trust and integrity of your operation," says Beth Forbes, science communication director and former head of agricultural communication at Purdue.
With social media accessible to average consumers, it's important to follow steps provided by Forbes. What is normal to the farmer may not be normal to an average consumer. People can view the same image or video and see different things.
"It's one thing to talk about the behavior; it's another thing to see the behavior," Forbes adds.
Farmers use social media to better inform the public about animal well-being by not focusing so much on what they do, but rather on why they use certain practices.
In the video released by Fair Oaks Farms, it acknowledged that the program it had in place for animal welfare was not extensive enough and focused on a new approach. The farm added surveillance cameras where there is any animal and personnel interaction.
Hiring practices
When it comes to hiring employees, in addition to background checks, research into potential employees' social media accounts might provide insight into their qualifications and motivations for working on your farm, Forbes says.
Do a simple Google search on an individual to see if he or she was previously involved with animal interest groups, Forbes says. Also ask in-depth questions about their hobbies, interests and beliefs.
"Ask why they're there, what's their purpose, and what do they know about animals," Forbes says.
When training employees, one animal welfare and animal handling training is not enough. Implement multiple trainings. Regular onboarding classes about animal welfare and animal handling will allow employees to improve how they work with the animals every day, Erasmus says.
She adds that animal welfare should be part of the culture of the organization. All operations should have a place to submit an anonymous animal concern report on the farm. A box could be placed on the farm to submit concerns to the supervisor or owner. Once submitted, the owner should be proactive and investigate.
By using these techniques, farmers can improve the image of agriculture, experts say. If farms and operations put a focus on animal welfare and their hiring process, the industry can move one step closer to telling the whole story of production agriculture for a public who may have little farming background.
Ferrell is a senior in ag communication at Purdue University. Read her companion story about a Purdue student's experience as an intern at Fair Oaks this past summer.
Subscribe to receive top agriculture news
Be informed daily with these free e-newsletters
You May Also Like
---