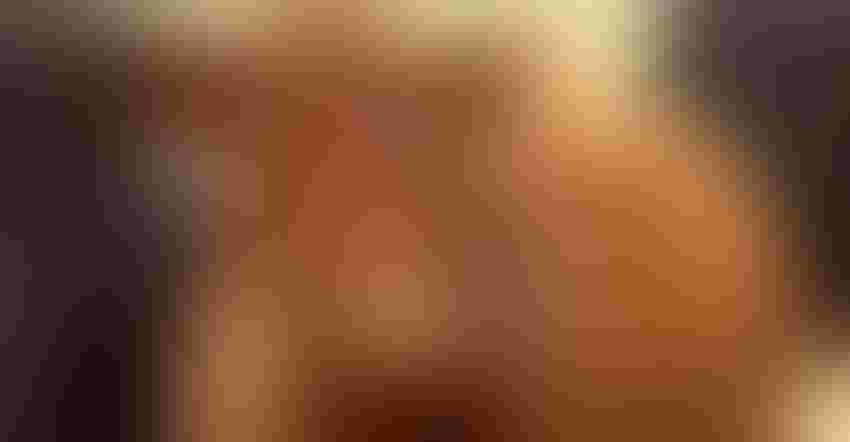 SIGN OF LICE: One of the most visible signs that cattle have been infested by lice is patchy loss of hair. But veterinarians urge visually inspecting for the critters in early spring because shedding of the winter coat can produce a similar look.
Courtesy of Elanco
The coming of colder weather means a decrease in most of the insect pests that worry livestock producers — flies, ticks, mosquitoes. But it heralds the arrival of annual pests that afflict cattle, especially those north of the Oklahoma-Kansas border: lice.
Dr. Jim Sears with Elanco Animal Health says it's an annual pest that producers need to plan for and control annually.
"We have many excellent products for lice control and producers are diligent about using them but every year as cooler weather approaches, we should assume that lice will be back and we will need to treat the herd for lice, he says."
Cattle lice are species specific to cattle. While lice also affect other animals, including deer, elk and other wild animals, each pest is specific to the host they infect, he says. Cattle get them only from other cattle.
Though largely an irritant that causes itching and some hair loss, there are circumstances where they can do more harm, Sears says.
"There are two kinds of lice. Some of them suck blood from the host, while others live off the dandruff and other debris in the hair of the animal. The blood suckers, in large numbers, can actually take enough blood that the animal becomes anemic. That can be a serious problem resulting in lack of proper wait gain or even weight loss."
Sears says there a number of excellent products on the market for control of lice, including a newer one from Elanco called Clean-Up II.
It is a pour-on that is directly applied to the back of the animal from the top of the head to the top of the tail. It is not absorbed, but rather spreads over the entire body of the animal.
It kills both adult lice and eggs in a single application.
There are other pour-on products called endectocides that work to control both internal and external parasites, including the Elanco product, Cydectin. Endectocides control lice and also parasitic worms in the gut.
"One of the arguments for using Clean-Up II is that if the only thing you need is lice control, it allows you to get rid of the lice without having to use an endectocide," Sears says. "That enables us to save those products for the times they are really needed and reduces the chance that the intestinal worms will develop resistance to them."
Sears says that while lice are fairly easy to control, there is no way to guarantee that they won't be back after an initial infection is eliminated.
"We don't always know where the lice survive from season to season, or from early in the season to late in the season, but we do know that sooner or later lice on the cattle will probably be back," he says. "There may be some external site where they can live long enough to gain access to an animal in the herd , or more likely there is at least one animal — either within your herd or a nearby herd that gained some contact with your cattle — where lice have not been completely eliminated. We do know that when it gets cold, the lice reproduce very, very quickly.
"What we advise is keeping an eye out and if you see cattle rubbing on fences or trees later into the season, check again for lice because they are probably back."
Sears also reminds producers to remember to treat bulls for lice as winter approaches.
"You usually get the bulls separated by fall, and it's important to remember to get them in and treated before cold weather," he says.
He says a late winter check for lice is especially important for cow-calf producers as spring calving season approaches.
"While lice are largely an annoyance to adult animals, they can be a life-threatening problem for baby calves," he says.
Sears says cattle generally mount some immune response that helps them withstand heavy lice loads, but some animals just don't have that immunity and they can become carriers for re-infestation of a whole herd.  If you see an individual cow within a herd for example that is literally black with lice, she is likely one of those carrier animals.
"The best advice is to cull such individuals" he says.
Toward spring, he says, cattle can start to shed their winter coats and that can result in an uneven hair pattern that can look like lice damage. He advised producers to check those animals because lice are large enough to be easily seen with the naked eye.
"Every year we get a few calls with concerns about lice that when we get out to the ranch and examine the cows, we find no lice," he says.  "Remember, lice can be seen with the naked eye, so we advise that if there is a question, at least a few animals of the herd be put into a squeeze chute and carefully examined."
Subscribe to receive top agriculture news
Be informed daily with these free e-newsletters
You May Also Like
---