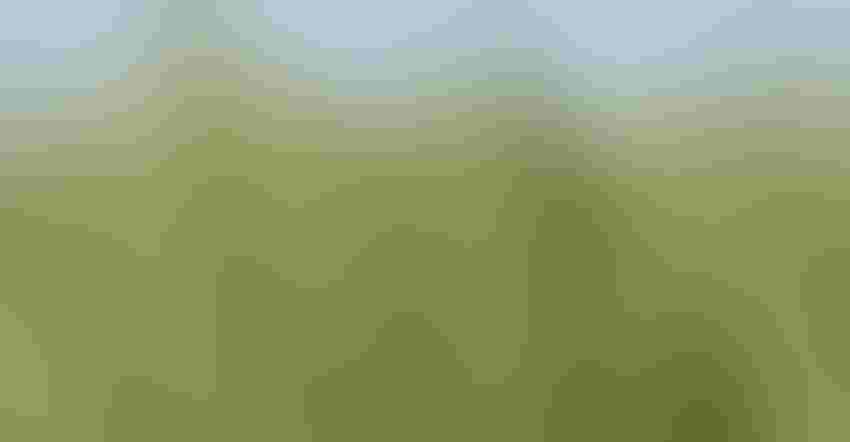 TECH TO WHEAT: Considerable breeding effort is bringing new technology to the wheat market, from more non-GMO herbicide tolerance choices to enhanced disease resistance.
Photos by Willie Vogt
Wheat kind of has a bum rap. Long separated from the rapid advances of the biotech world, thanks to global market demands, there's the idea that this is a left-behind crop lacking in ag technology value. But talk to breeders and industry leaders that market into this space, and you get a different story.
Wheat is a vibrant crop with diverse genetics, and there are technology advances targeting weed, disease and pest management that add up to boosting yield potential for this important grain. At the same time, how wheat performs in food products like baked goods must also be part of the breeding process.
"Our breeding effort, and all the areas our programs work on, is asking what we can do to help improve the profitability of wheat for the farmer," says Scott Haley, a longtime wheat breeder at Colorado State University who is stepping down at the end of 2020. "We've worked on all parts of yield, drought, heat, disease and insect resistance, and other intrinsic traits. And end-use quality improvements."
That quality improvement work has been important to his 22-year career at CSU, but "it's a weird one for me," he adds. Haley notes that when he arrived at the university, wheat producers were calling on the program to do better, because Colorado varieties had a poor reputation for quality.
"The varieties we have now that Colorado is growing, based on the variety survey, are top-quality varieties," he says. "They're a lot better than back in the day, and I wish we had stronger exports to provide greater profits for the producer. It begs the question of what it would be like if we were growing wheat like Russia or Argentina in terms of quality."
Beyond quality work, he — like other breeders — has targeted a range of traits focused on boosting yield and farm profitability. The industry is challenged by diseases and pests, but is also undergoing change.

CSO CHOICE: Farmers may find their best choices are certified seed only. The focus of companies targeting this part of the market is to provide the added value these one-and-done varieties bring to your operation.
Tackling yield-cutters
Stripe rust, cephalosporium stripe, wheat streak mosaic virus and fusarium head blight or scab — depending on where you raise wheat — present a range of trouble on the farm. All breeding programs are targeting diseases, with the aim to keep them from pulling down wheat yield. It appears to be working as wheat yields rise, putting more bushels in the combine.
But Haley notes that stripe rust brings special trouble. "The evolution of the stripe rust pathogen is a challenge. We saw that between 2010 and 2012. We are just one change [in the disease] away from losing resistance," he notes.
Wheat streak mosaic virus may gain importance in agriculture due in part to climate change. More "open" autumn farm fields with warmer temperatures in the fall, along with more corn in rotation, creates an opportunity for the disease to remain present.
Commercial breeders are hard at work on the issue, too. For example, Limagrain Cereal Seeds has two varieties, LCS Shine and LCS Ghost, that performed well, topping recent Washington State University and Oregon State University yield trials. "LCS Shine has a diverse disease package," says Hannah Kammeyer, national marketing lead, LCS. "It has good stripe rust resistance and performs well in the [Pacific Northwest]."
She adds that Shine is resistant to C-stripe. LCS released a range of varieties a few months ago that will be available in adequate supply in time for fall crop planting.
While disease resistance is a hot breeding topic, so are new pests entering wheat country. For example, the wheat stem sawfly is chewing its way through this cereal grain; one answer is to use a solid-stem variety, but that change isn't so easy.
At Syngenta, which markets AgriPro-brand wheat, the sawfly is a breeding target. "We have an experimental winter wheat variety, and two spring sawfly [solid-stem] varieties," says Paul Morano, head of North America cereals for Syngenta. "Pests are one of the hardest things to breed for."
Colorado's Haley notes that in fall 2019, the university released Fortify SF — for sawfly — and it will be broadly available in 2020 and 2021. "It's not really a solid-stemmed variety, but it's what we call semi-solid. We're interested to see how it performs. We've seen it perform well in field and test plots," he says. "It will be available as a certified seed product."
He explains that he doesn't think the wheat industry will ever fully get over the sawfly problem unless there's "some kind of magic bullet that is currently not available" to breeders. There's growing attention to solid-stemmed varieties as a tool for resistance to the bug. "We're seeing wheat acres fall, and our industry leaders here [in Colorado] say in some areas, it's at least partially due to wheat stem sawfly," he says.
While solid-stemmed varieties offer the potential to control the pest, the challenge is the drag brought on by the trait that pulls down yield potential. Haley says that's a big challenge to farm profitability, especially with weak wheat prices.
To CSO or not to CSO
An area that's gained more attention in wheat country is certified-seed-only varieties. These turn the wheat world on its ear when it comes to traditional practices, but they're also growing in popularity. In some parts of the country, a rising percentage of seed is sold this way.
Morano at Syngenta says the number across wheat country is about 33% to 35% certified seed varieties, requiring a grower to buy seed every year, but he adds that more producers are seeing the value of the approach.
One company dedicated to the CSO approach is WestBred, a division of Bayer. "Generally speaking, our new releases are CSO," says Jeff Koscelny, global wheat seed strategic commercial lead, Bayer. "[With CSO,] the farmer has to trust our varieties and have good performance. We're creating some value in the market — not only for the farmer who sees good performance, but for the supplier."
Haley at CSU sees value in the certified seed approach. For many growers using Clearfield varieties, buying new seed every year is more common. A new technology, CoAXium, developed at CSU, is only sold as CSO; those varieties provide ag technology to control grassy weeds in wheat.
CSU has a formal agreement with the Colorado Wheat Research Foundation to take ownership of all varieties and novel traits (such as the AXigen trait in CoAXium varieties) developed at CSU, and they market them under the PlainsGold brand or other third-party licensees. The CoAXium ag technology trait is also out-licensed to other seed developers, but they're not the only varieties that PlainsGold lists as CSO.
"I mentioned Fortify SF; another is Guardian, which carries two genes to protect against wheat streak mosaic virus — one for the wheat curl mite that transmits the virus, and one for the virus itself," Haley says. "It has a high level of resistance to wheat streak mosaic, and it will be also sold as a CSO."
LCS is trending toward CSO varieties, but Kammeyer explains that while this is the direction the market is heading, the company wants to move forward in a "responsible fashion, working closely with dealers to introduce CSOs." The aim is to bring to market CSOs that add value for the grower; and with this approach, the aim is to protect new technology.
For example, LCS will have four CoAXium wheat varieties available to the market this fall. "We now have varieties with diversified characteristics to better fit different farms," she says. "It's exciting for us to have options on that side as well. Having four varieties of this new technology is a point we're very proud of."
Hybrid products on the way
Of course, one wheat type that will surely be CSO will be hybrid wheat, which Syngenta is developing now. "Our plan today, if there are no changes, is to have full-volume-size supplies before the mid-2020s," Morano says. "We'll have spring wheat first. … Winter wheat will come closely behind."
Morano explains that one factor hybrid wheat will offer is consistency across a wider range of farm conditions. "We've found in our large-scale test of hybrids, you can take out a lot of inconsistency caused by the field, and hybrids perform well under stress," he says.
For WestBred, the CSO route is the company's approach to the market. "We always think about our portfolio, which in our opinion is consistently getting better, due to the many breeding tools we have deployed," Koscelny says. "Historically, farmers get to liking a variety and have often stuck with it too long. One of the things we do as a company is practice prudent life-cycle management intended to replace the current product with new products — giving farmers the opportunity to always be planting improved varieties."
The key for WestBred, and for any seed company with the CSO approach, will be at the seed supplier level. That's where the grower gets the information; he or she needs to pick the right varieties for their farms. "A pro-seed supplier can position the new products on your farm, and work with you to try something new and start replacing older varieties," he says.
New herbicide traits, the move to CSO choices, and advances in disease and insect resistance all point to one factor: There's no way wheat variety development is static. For wheat growers, there are more options than ever, with public and private varieties of wheat to specifically meet the conditions of your farm and match the demands of millers and bakers.
About the Author(s)
Subscribe to receive top agriculture news
Be informed daily with these free e-newsletters
You May Also Like
---