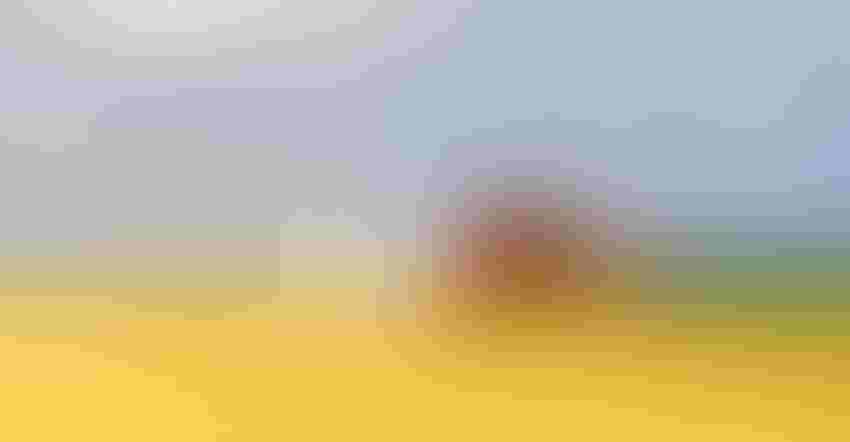 Custom harvesters in the southern Plains have fewer wheat acres to cut this year as poor stands have farmers grazing many of their fields rather than harvesting them for grain.
The fields that were harvested had low yields and average test weights of 60 lbs per bushel or higher. While proteins were said to be on the low side, the harvesters said elevators there typically do not disclose that information.
"The yields were not good, but the test weights are OK," said harvester Shorty Kulhanek, who was cutting southwest of Wichita Falls, Texas. "We had some 25 to 35 bushels, but a lot of it was less than 20."
USDA expects Texas wheat to average 30 bushels per acre from 2.3 million acres, versus 32 bpa and 2.8 million a year ago.
High cattle prices this year and low wheat prices had many farmers in Texas and Oklahoma grazing the wheat.
"We harvested about half of our normal acres. The cattle were making money so they kept them grazing it," said harvester Mike Strunk, who just finished cutting fields in north-central Texas. Yields on those fields ranged from 15 to 45 bpa.
The lower-than-expected yields in Texas and in some areas in Oklahoma were attributed to dry conditions last fall that affected early growth.
 "When you cut farms that average 21 to 30 bushels, it is bad. Typically, a good average for this country is about 35 bushels," Strunk said.
Conditions may not improve as harvesters move north. Strunk said infestations of wheat streak mosaic in Kansas will reduce harvested acres there.
"About half of my wheat near Tribune, Kansas, is gone because of the mosaic,'" he said.
Rain late this week sidelined Irvin Odegard's combines for a few days near Watonga in central Oklahoma. But the fields that were cut prior to the showers had lower-than-expected yields and average test weights.
"We were in the 30 to 40 bushel range. They were hoping for some in the 50s." said Odegard. "There are many areas where the stands did not develop because it was too dry last fall."
USDA expects Oklahoma to harvest 89.1 million bushels this year on 2.7 million acres at 33 bpa. A year ago it produced 136.5 million bushels from 3.5 million acres at 39 bpa.
Subscribe to receive top agriculture news
Be informed daily with these free e-newsletters
You May Also Like
---