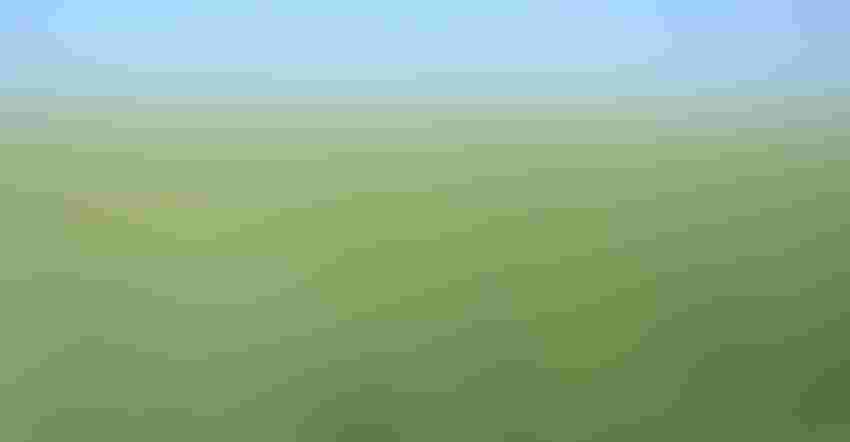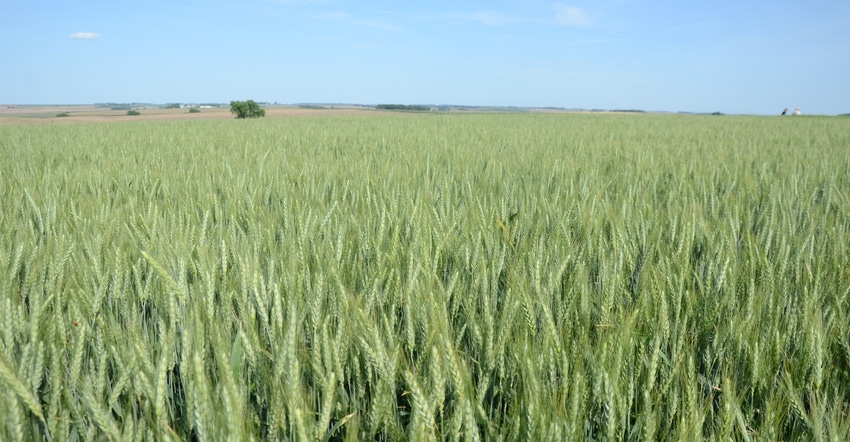 NEW CROP: Although farmers in western Nebraska are more familiar with winter wheat, there has been an increased interest in spring wheat among growers in the southwest part of the state.
Tyler Harris
Although acres have been on a steady decline, Nebraska is nonetheless considered one of the top 12 wheat-producing states in the nation — the primary market classes being hard red winter wheat and hard white winter wheat.
According to data from USDA's National Agricultural Statistics Service, just under 1 million acres of wheat were planted in Nebraska for winter 2019. That's a significant decline from 10 years ago, when Nebraska had an estimated 1.6 million acres of winter wheat planted — and a far cry from the 3 million acres of winter wheat planted in the early 1980s.
Recently, however, growers in southwest Nebraska have shown a renewed interest in wheat of a different kind: spring wheat.
While spring wheat is mostly planted in the Northern Plains and Upper Midwest, Strahinja Stepanovic, Extension educator in southwest Nebraska, notes growers in the region who traditionally use a continuous corn rotation on their dryland acres are seeking a way to break weed and pest cycles — and leave more residue in the field without going to a two-year, fallow winter wheat period. That's where spring wheat comes in.
Stepanovic notes that in many parts of the world, winter wheat is planted after corn harvest, but in this part of western Nebraska, that isn't always a good option because of a shorter growing season and very little soil moisture. Along with breaking the fallow cycle, spring wheat still would offer the benefits of winter wheat — including more residue, especially when harvested with a stripper head.
However, Stepanovic adds that spring wheat is a totally different crop from winter wheat. The two crops cannot be blended together and must be stored separately.
"There is even a totally separate futures for it," he says. "The board price at Minneapolis is usually $1 more for spring wheat. We do have people that can provide seed, but once you harvest it, you're going to have to store it and find markets.
"It usually is a little higher in protein than winter wheat, but you can't mix it with hard red winter wheat, and you're trying to find niche markets that have interest in specific baking and milling qualities."
While most growers in Nebraska have little to no experience growing spring wheat, Stepanovic says past research in the state has shown yields about 30% to 50% lower compared to winter wheat.
"This was back when winter wheat was typically yielding around 40 to 60 bushels per acre, so spring wheat was yielding around 10 to 30 bushels per acre," he says. "So, we're hoping for 40- to 50-bushel spring wheat in years where we have 80- to 100-bushel winter wheat."
This year, the University of Nebraska's Stumpf Wheat Research Center near Grant will be conducting variety trials for spring wheat, including a number of private and public breeding programs from Northern states.
"The first year we did sorghum hybrid trials, we saw anywhere from 20 to 132 bushels per acre, so obviously some hybrids weren't meant to be grown in Grant," Stepanovic says. "You expect the first year to weed out some obvious failures, but I'm also hoping to get anywhere from 10 to 70 bushels per acre for spring wheat. We're hoping to plant early, avoid the heat, and hopefully get timely rain."
Researchers at Grant also are hoping to test various management practices, including tillage and different nitrogen treatments.
There's also the question of crop insurance. While USDA's Risk Management Agency only offers coverage for spring wheat grown in Box Butte, Dawes and Sheridan counties, Stepanovic says growers are working on establishing a written agreement with RMA for insurance coverage.
And considering the widespread interest in spring wheat in southwest Nebraska, he says it's likely growers will meet the criteria for RMA's approval.
"I would advise farmers to start the process right now," Stepanovic says. "If they know they're going to plant spring wheat, try to get the paperwork done and work with RMA as soon as you can. I am hopeful that RMA will approve most of the spring wheat grown in southwest Nebraska. When it comes to insuring a crop, RMA gets the final say."
It's still too early to say for certain, but Stepanovic believes there's enough interest among growers to plant 20,000 to 30,000 acres of spring wheat in 2020.
"When we started raising field peas in southwest Nebraska, it was spread across the region with many farmers planting smaller acres," he says. "Spring wheat is somewhat similar to winter wheat, and farmers are not reluctant to plant large acres in their first year.
"With the current decline in the corn market, spring wheat generates a lot of excitement that can be a two-edged sword. I would encourage first-time spring wheat growers to have a storage [and] marketing plan ahead of time, lock in crop insurance, and try it on smaller acreage first."
About the Author(s) Tyler Harris is the editor for Wallaces Farmer. He started at Farm Progress as a field editor, covering Missouri, Kansas and Iowa. Before joining Farm Progress, Tyler got his feet wet covering agriculture and rural issues while attending the University of Iowa, taking any chance he could to get outside the city limits and get on to the farm. This included working for Kalona News, south of Iowa City in the town of Kalona, followed by an internship at Wallaces Farmer in Des Moines after graduation.
Coming from a farm family in southwest Iowa, Tyler is largely interested in how issues impact people at the producer level. True to the reason he started reporting, he loves getting out of town and meeting with producers on the farm, which also gives him a firsthand look at how agriculture and urban interact.
Subscribe to receive top agriculture news
Be informed daily with these free e-newsletters
You May Also Like
---