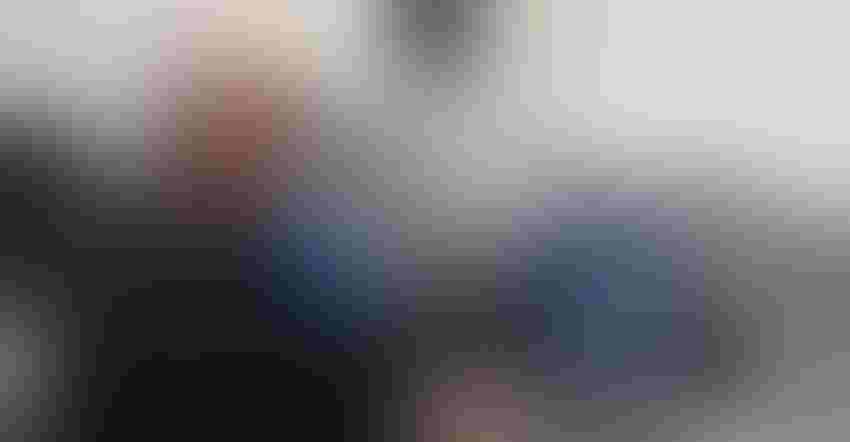 NEW GERMPLASM: Kansas State University researcher Bernd Friebe has released germplasm for the Wsm3 gene, which he says confers resistance at warmer temperatures and also confers resistance to a triticum mosaic virus in addition to resistance to wheat streak mosaic virus.
The battle with wheat streak mosaic virus is raging in farm fields across the High Plains, but the war will eventually be won in the laboratory.
From Kansas to Nebraska, Colorado and Texas, university researchers and private industry breeders are working steadily to identify more resistance genes that can be bred into top wheat varieties to protect them from the disease that has cost Kansas growers millions of dollars this year.
So far, researchers have three genes to work with, Wsm1, Wsm2 and a recently identified Wsm3, and scientists are working to identify more. Breeder Gourong Zhang at the Kansas State University Research Station at Hays, with his team of researchers, is testing 20 new resistant plant introductions, 13 from winter-type wheats and seven from spring-type wheats, to see if any of them have a gene for wheat streak mosaic that is other than Wsm2.
So far, he says his team has found two lines that may contain a different gene in the 13 winter wheat lines and has initiated the process to introduce these two resistance sources into their elite breeding lines.
Zhang's team research is being funded by the Kansas Wheat Alliance.
In June, Bernd Friebe, a research professor with the Wheat Genetic Resources Center in the Department of Plant Pathology at K-State, released germplasm for the Wsm3 gene, which he says is known to provide resistance to the virus and is the first that can do so at an outdoor temperature of 75 degrees F and higher.
Friebe says more genetic diversity is needed for getting strong, durable resistance to the wheat streak mosaic virus.
"Leaf, stripe and stem rust each have about 70 named resistant genes," he says. "This is progress toward developing more resistance toward WSMV."
The new Wsm3 germplasm has been released through the Kansas Agricultural Experiment Station and is currently available to breeders through the National Science Foundation's Industry/University Cooperative Research Centers program. Members of that program have immediate access to the germplasm, and it will be available to public breeding programs in two years.
K-State is in the process of putting that gene into Everest wheat lines, Friebe says. Everest was first released to growers in 2009, and in 2017 is the top wheat variety planted in Kansas for the fifth straight year.
Kansas State University researchers identified Wsm1 about 25 years ago, and it took almost 20 years from the beginning of the study to the point where they had a Wsm1 germplasm with reduced wheatgrass genetic material available for wheat breeding.
Friebe says technology has improved, and it took only about six years from the first identification of Wsm3 to the release of a germplasm. He says it will probably also be a shorter time than the typical 10 to 12 years before the resistance shows up in new varieties.
"Interestingly, both Wsm1 and Wsm3 are conferring resistance to the triticum mosaic virus as well as WSMV, but that resistance only works at cooler temperatures," Friebe says.
According to the 2017 edition of Wheat Varieties for Kansas and the Great Plains, edited by Layton Ehmke, there are currently six varieties that are rated as resistant according to screening tests conducted by John Fellers with the USDA in Manhattan.
They are ClaraCL, a Clearfield white wheat released by K-State breeder Alan Fritz; Joe, a white wheat released by Guorong Zhang at Hays; Mace, a red wheat out of Canada's AGT; OakleyCL, a Clearfield hard red winter wheat from K-State; and RonL, a K-State white wheat. T163, a hard red wheat from the Trio program purchased by Limagrain Cereal Seeds, also made that list.
Two Texas A&M varieties, TAM112 and TAM204, are rated moderately resistant.
Intermediate resistance rating goes to nine varieties, all hard red wheats. They are 1863, Danby and Fuller from K-State; Greer, SY Southwind and SY Sunrise from Syngenta AgriPro; and LCS Mint, LCS Pistol and T158 from Limagrain.
Drew Hendricker, regional sales manager-Central Plains for LCS, says that LCS Mint, LCS Pistol and T158 do not have the Wsm2 gene but seem to have another type of natural resistance.
Fellers notes that rating varieties for wheat streak resistance is different because High Plains virus and triticum mosaic virus so frequently occur along with wheat streak and are also vectored by the wheat curl  mite.
Subscribe to receive top agriculture news
Be informed daily with these free e-newsletters
You May Also Like
---