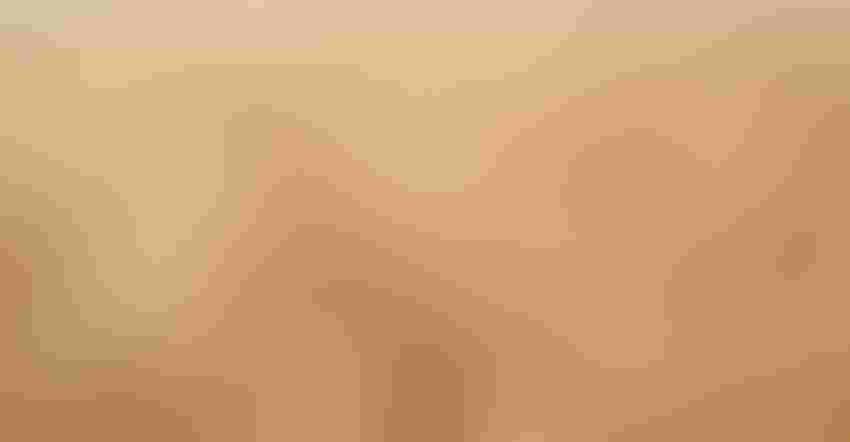 NEW OPPORTUNITY: Kansas wheat growers may one day have a chance to expand their markets with a winter variety of durum wheat, the kind of wheat used to make pasta. Durum is usually a spring wheat, but breeders at Kansas State University are working to develop Durum winter wheat lines.
Wheat growers in western Kansas may have an opportunity in upcoming years to grow durum varieties thanks to the Kansas State University Wheat Breeding Program. Although durum is not traditionally grown in Kansas because it is normally a spring wheat, Andy Auld, assistant agronomist, and Dr. Allan Fritz, professor and wheat breeder at K-State, along with others, are developing wheat lines of durum that will be winter wheats.
"What we're doing is developing a winter variety of durum that could be planted in Kansas at the same time as we plant our common hard red winter wheats," Auld says. "These would survive the winter and be harvested in the summer, the same as red wheat."
An issue the researchers have faced since starting the durum project is developing winter hardiness in the lines. They had to find germplasms that would survive the Kansas winter and have a maturity level equal to currently released winter wheat to maximize yield potentials.
Auld says they have been able to obtain some durum material from European countries, most notably Austria, as they have a big winter durum breeding program. This material is more adaptable to the Kansas environment than other countries' material. Auld and his team have tried to adapt the material from Austria to the conditions in western Kansas.
 "A lot of the European material is late, so it won't mature early enough, and it gets too hot in Kansas for a lot of the European material. We're trying to find germplasms that have that balance of winter hardiness and adaptability, so it matures at the right time," Auld says.
 Auld says that besides converting durum to a winter wheat, the breeding technique is identical to the technique used for other wheats in the program - from crosses in the beginning to the release of the variety. They have set the program up so it mirrors everything Fritz does in his breeding program.
Although the breeding techniques are the same for hard red wheats and durum, the characteristics of what the market looks for in each of them differ.
Durum is the hardest wheat of all the classes - which is why it is used for making pasta. This sets a high standard on quality. In the market, durum needs to have a minimum protein level of 13 percent. The vitreous, or clear appearance of the kernel also plays in to the quality. When you have a vitreous kernel, it produces a cleaner, nicer looking noodle. The color is also an important aspect. The market wants yellow-looking kernels.
 As of right now, the market for durum in Kansas is low. However, the accessibility to the American Italian Pasta Company in Excelsior Springs, Kansas, may help bring a durum market to Kansas, as the facility typically brings durum into Excelsior Springs from the Dakotas and Arizona.
Having durum in Kansas would be much more cost effective, while also giving growers a chance to expand their market. Plus, having durum varieties from K-State would also give the university a chance to diversify its portfolio.
K-State's Durum Breeding program started from scratch in 2000 with two graduate students as a side project. The students looked at how adapted winter durum wheats would be to Kansas. They then took those lines and started to make crosses.
In 2002, Auld started working with Fritz on the Wheat Breeding Program and found himself working on durum as a side project. At first the project was something they did when they had time for it, and then grew into a more focused effort.
As of this fall, they have a full pipeline of durum lines. Auld says they have everything in the field from elite yield trial varieties to first generation segregating populations.
The lines are currently tested in western Kansas because the environmental conditions are better suited to produce high-quality durum. Durum prefers the cooler evening temperatures and drier climate western Kansas has to offer.
"It would be an alternative crop for producers that would require less water than a crop like corn as we face tighter water restrictions to preserve the aquifer and it usually has a higher premium than hard red winter wheat," Auld says.
Any durum varieties developed by K-State will be marketed through Kansas Wheat Alliance.
The K-State Durum Breeding Project is funded by the Kansas Wheat Commission Research Foundation through a gift from AGvantage IP.
Source: Kansas Wheat
Subscribe to receive top agriculture news
Be informed daily with these free e-newsletters
You May Also Like
---