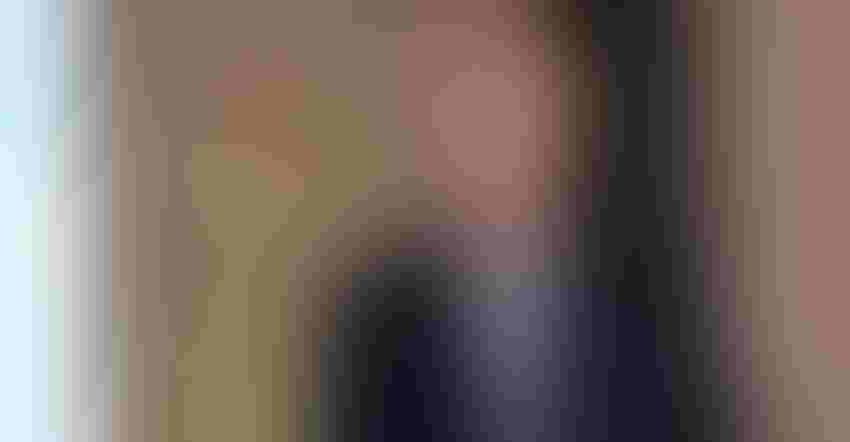 Rick Turner, BASF senior vice president, Seeds and Traits, discusses new products and long-range commitments to row crops, fruits and vegetables during a recent Global Media Event in Durham, N.C.
Ron Smith
Hybrid wheat varieties now under development are expected to add higher yield and stability and more consistency from other traits.
Rick Turner, BASF senior vice president, Seeds and Traits, explained the advantage of hybridization during a recent Global Media Event on the BASF campus in Durham, N.C.
"Yield stability is an advantage and when we keep the hybrid system stable, the other performance traits we include will express better, too," Turner said. "Disease control and other yield stresses, these sort of things, we expect will express better and we'll get better performance out of them. Our ability to develop new and stable products will increase."
Turner said yield stability will mean wheat will consistently produce good crops, even under a range of different environmental conditions. "This is what we're seeing with other hybrids. I expect to see the same thing with hybrid wheat."
He said the goal is to develop "the agronomy to support the use of hybridization. So, you'll grow hybrid wheat differently than you grow traditional; it will require a higher level of management associated with optimal seeding rates."
Turner said BASF has been working on hybrid wheat since 2011. "We have been actively breeding, selecting parent lines and developing a hybridization system to place into winter and spring wheat."
For North America, the program will concentrate on hard red winter and hard red spring wheat. He expects hybrids will be available for  commercialization by the mid-2020s.
He expects farmers who have established above average yields will see the biggest advantage.
It's a numbers game, he explained. The higher the yield to begin with, the greater the potential gain. "So, if you get a percentage gain, the higher the yield, the higher percentage you get. So, hybrid wheat will be most suited to higher production areas. That doesn't mean that will be the case over the long term. But I think that's where we see the target markets."
Turner said farmers who plant hybrid wheat should be prepared for more intense management. He added that expenses could be higher, "but you'd also expect a higher rate of return."
Other crop efforts
"We also are developing new herbicide platforms for cotton," Turner said. That platform will include a four-way stack.
"A new Bollgard 3 variety will be available for the Delta this year," Turner said. "We are looking at new modes of action to manage resistance."
BASF will offer Xtend soybeans for the Mid-South and LibertyLink GT27 beans for the Midwest. "GT27 is a high-performing variety, so they're great varieties that look really good. We're awaiting the registration for the herbicides."
He said, as with cotton, a sustainable resistance management approach is crucial.
Turner said these new products will give growers new options to control difficult populations of pigweeds and water hemp.
A new series of canola varieties will provide improved performance, Turner said. He said BASF is making new investments in advanced breeding technologies for canola. "These are all new technologies that are the coming in the next three or four years."
He's also looking at the fruit and vegetable market. He said a new tearless onion "is a really neat innovation. That's something people have talked about for a long time, and breeders found a way to do it."
Melon Market
Consumer preference also changed the watermelon market, Turner said. "Watermelon has always been a strong business and we are adapting to changing consumer needs. Big watermelons are not what they want anymore. People want smaller fruit and seedless is quite popular. We continue to try and keep ahead of these consumer needs."
Predicting consumer preference, Turner said, is an ongoing challenge. Staying engaged is essential.
"I've been fortunate," Turner said, "to be in organizations that have been market leaders. The thing about a leader is you can't stand and watch for others to tell you what to do. You have to anticipate and develop. And that's exciting.
"You have to believe that people will want some of these [new products]. The tearless onion or seedless watermelons, these things are products you have to develop. You listen to people." If not, Turner says, you may wish you did do this or didn't do that. You just have to figure out how many people wish the same thing.
"And then you have to market it."
He said the trick, too, is to create a new product but maintain all the desirable qualities of the old one. "Everything is in the eye of the beholder. I'm sure people will have opinions of whether [a new product] does or does not meet their needs, but it's another opportunity. We have a tomato that won't bleed onto bread. So, when you put it on a sandwich and you pack it for lunch, it doesn't make your bread all soggy.
"We're looking at a lot of innovations."
Subscribe to receive top agriculture news
Be informed daily with these free e-newsletters
You May Also Like
---