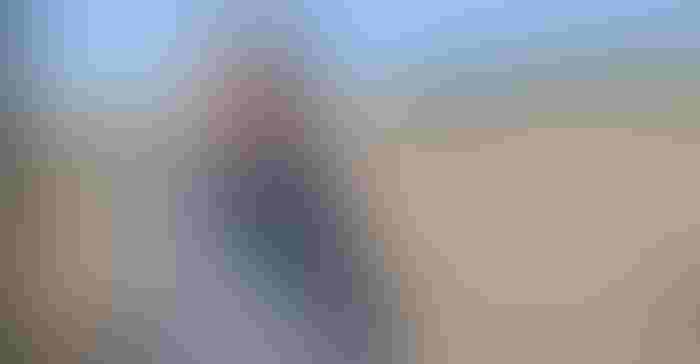 Don Gasper sits atop his ATV, while an air spreader glides by in the background. The spreader is piloted by a Lindsay Farmers Co-Op employee — something Gasper is used to.
As an avid no-tiller and cover-cropper who doesn't like to tie up his own dollars in high-cost equipment, Gasper is used to hiring custom planters and seeders. This time is different, however. It's not a cover crop that's being seeded. It's the first time winter wheat has been seeded as a cash crop on his farm in Platte County in over 50 years.
"It's been since the 1960s, since I've planted it," Gasper says. "It just didn't work. Soybeans and corn paid better."
The next day a custom planter, using a no-till air-seeder, planted 60 pounds of winter wheat per acre on 10-inch rows, for a total of 90 pounds per acre.
For Gasper, wheat is part of a three-year, four-crop rotation that involves harvesting wheat and double-cropping early- to medium-maturity soybeans. After harvesting soybeans, he'll plant a cover crop mix, followed by corn the next spring, before planting another cover crop mix. The following spring, he'll plant another soybean crop before returning to wheat.
Gasper is growing winter wheat as part of a three-year crop rotation program through the Natural Resources Conservation Service's Environmental Quality Incentives Program (EQIP).
"If I have a chance to double-crop soybeans for 30 to 40 bushels per acre, that's an extra 30 bushels, and I won't have much invested in them," he says. "The following year will be corn, and I might be able to raise a really good crop of corn. I'll, hopefully, get it back in yield in 2019, plus I get a few dollars through NRCS incentives."
With the right variety, nitrogen management and crop protection, it's not uncommon to raise 90- to 100-bushel-per-acre winter wheat in eastern Nebraska.
"You can raise 240-bushel corn. And if you're getting $3.20 for wheat and $3.20 for corn, you're getting more for corn. But with the seed cost, it costs more to raise corn than wheat," Gasper says. "I'm also raising four crops in three years instead of three crops. Maybe the wheat crop by itself won't pay off, but when you factor in the benefits to the other crops, I think it will pay off."
More interest in wheat
It might not be as common to see combines harvesting golden fields of winter wheat in June and July in the eastern part of the state, but Nathan Mueller, Nebraska Extension cropping systems educator in Dodge and Washington counties, says some growers in the area have expressed interest in adding wheat to their rotation — even if it means 20 to 40 acres.
"We had our first wheat field day in 35 years this past summer [in Dodge and Washington counties]. We also have two to three people who regularly grow winter wheat, and added four to five this fall growing winter wheat as a cash crop," Mueller says.
While winter wheat may not always seem profitable based on price alone, the local basis in places like Fremont is often stronger than it is farther west.
"Most people don't store wheat. But the last time I checked the price in Fremont, we were 60 cents over futures a few weeks ago [in December-January]. That's an eastern Nebraska benefit that we don't have in other parts of the Midwest," Mueller says. "Even at 90 to 100 bushels and 40 or 60 cents extra, you've still got to find a way to add value. So if people are really interested in soil heath and cover crops and have cattle, if they're growing wheat as a cover crop, why not just manage it a little better and have a cash crop? Then you can have a cover crop mixture with more diversification."
However, there are benefits to wheat that aren't monetary. Livestock are a key component. But Mueller notes even without livestock, there are soil health benefits from adding wheat to the rotation.
"The more intense rainfall events of the year are most commonly in May and June, and normally corn and soybeans aren't very tall at that point," Mueller says. "At that point, wheat is taller, and it can help mitigate erosion, and we know it has a cost associated. You just don't see those effects in the short term."
Chad Christianson, who farms near Hooper, seeded winter wheat for the first time last September. He sees two benefits to including wheat in the rotation: soil health and potentially an increase in crop revenue.
"I grow seed corn, and my thought was I can plant winter wheat after my seed corn is harvested because that comes off fairly early, and then double-crop beans this coming June. I thought I'd try it once on an irrigated field and see if I can get a halfway decent wheat yield and decent bean yield. Then maybe I can get a few more dollars out of the ground," Christianson says. "I got my field planted fairly early, around the 20th to 25th [of September], and I have a beautiful stand right now."
"I'm hoping the wheat residue will double as a mat for the soil and a cover crop to help suppress weeds as well. It might decrease some chemical costs," Christianson adds. "I've been trying cover crops on a couple seed corn fields for the last few of years and would like to expand it. But with current market prices, it's hard to do that. Wheat serves as a cover crop, too, so if I can plant something to keep it growing in the soil longer, it benefits soil heath. And the benefits are twofold, because it's a cover crop I can harvest."
Wheat learning curve
Some in the area have included winter wheat in the rotation for several years. Greg Hoegermeyer, who farms with his dad, Gerald, near Herman, has grown winter wheat since the early 2000s.
He started growing it as a way to provide wheat straw for his farrow-to-finish hog operation. "In the past, when we farrowed hogs on straw, we had to buy wheat from our neighbors," Hoegermeyer says. "We needed bedding, and we also needed a place to haul manure in the summer months."
Hoegermeyer uses about 25 stacks of wheat straw each year; each stack usually weighs over 3 tons.
Wheat also frees him up to apply manure in the summer and seed winter-sensitive cover crops several weeks after wheat harvest.
"Cover crops are great. But in this part of the state, we freeze so much earlier. By the time we get to [corn or soybean] harvest, we might be two weeks from freezing," he says. "Winter wheat gives you an additional 45 to 60 days for the cover crop to grow, which results in more material to graze if you choose to, and more root mass to help build organic matter in the soil."
But there have been some learning curves along the way — like increasing the seeding rate due to planting later after soybean harvest. "We seed heavier because we're seeding later. We generally plant 1.4 to 1.2 million seeds per acre," Hoegermeyer says. "We learned we could seed thicker and get a yield improvement."
In addition, with the increased prevalence of fungal diseases like stripe rust and fusarium head blight, fungicide applications have also become a must for wetter environments.
Nutrient management is another factor. Hoegermeyer applies nitrogen in the form of ammonium nitrate to meet requirements determined by a soil test, and typically applies based on a yield goal of about 100 bushels per acre. It typically takes about 2 pounds of applied N per bushel, but Hoegermeyer notes it's important not to overapply, which could bring excessive growth and lodging.
In 2016, Mueller launched the Winter Wheat Works Initiative as a way to help growers with these decisions. This fall, he started a new support program for winter wheat acres in Dodge and Washington counties as part of the initiative, including scouting farmers' fields.
"Wheat is nothing new to our neighborhood. It's vanished, but it fits a niche we have," Hoegermeyer adds. "Recently, having new fungicides available and local expertise from Nathan Mueller has helped us tremendously in growing a wheat crop."
Subscribe to receive top agriculture news
Be informed daily with these free e-newsletters
You May Also Like
---