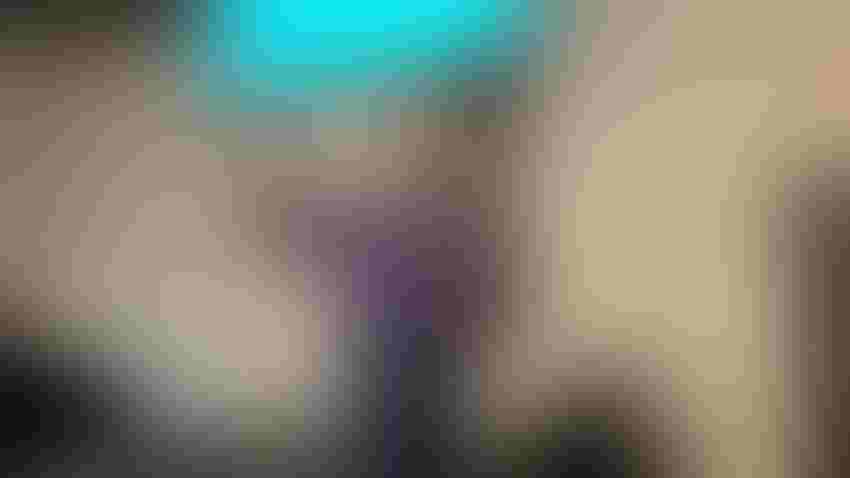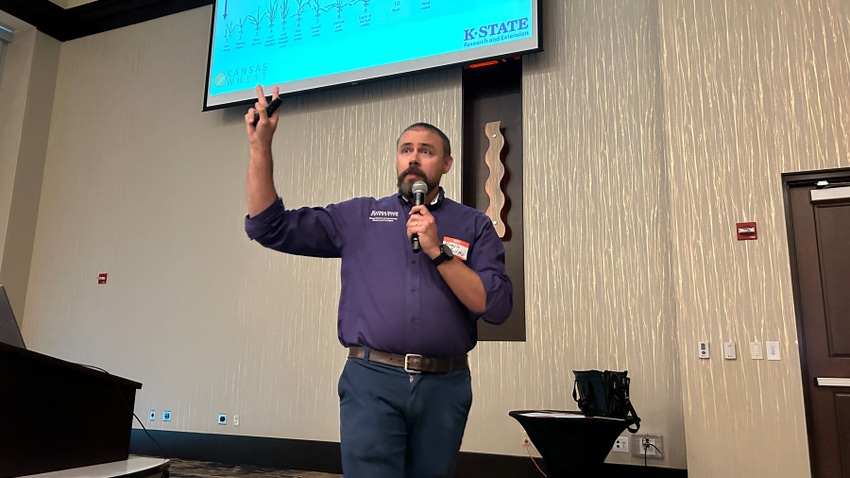 CROP DEVELOPMENT: Romulo Lollato, Kansas State Extension wheat and forage specialist, speaks during the opening session of the Wheat Quality Council's 2023 Winter Wheat Tour on May 15 in Manhattan, Kan. Lollato updated participants on the crop's progress and prepared them for what they will see in fields.
Jennifer M. Latzke
Every year the Wheat Quality Council's Winter Wheat Tour in Kansas draws attendees from throughout the United States and beyond. They represent grain buyers, marketers, millers, bakers and every link of the grain chain.
This year, Aaron Harries, Kansas Wheat Association vice president of research and operations, set the bar low for this year's wheat crop, warning participants that the theme of the May 15-18 tour may very well be abandoned acres.
The most current winter wheat condition report out of the USDA National Agricultural Statistics Service has the Kansas crop at 68% poor to very poor. That's a sobering figure, Harries said. And if the Kansas crop actually hits the USDA May 12 target, that will be the lowest winter wheat crop the state's seen since 1963.
Nationally, USDA's May 12 Crop Production report estimated the winter wheat crop yield, as of May 1, to be 191 million bushels.
Wheat gains attention
Interest in being a part of the #WheatTour23 has been pretty outstanding, according to Dave Green, Wheat Quality Council executive vice president. "The most we've ever registered was 88, and we're right at 106."
The tour is just as much about educating the next generation of agricultural employees as it is about collecting data. Many, he said, are experiencing wheat fields, farming and rural communities for the first time.
"They're smart; they're college-educated; they're ready to go," Green said. "But they've never been in a wheat field. And so, this is an opportunity for companies and other agencies to get people out, a chance to actually walk the fields. See what's involved with yield and production, and ask questions that help them do their jobs better when they get back to their office."
Drought creates crop problems
The first night, tour organizers taught participants how to measure a field and use NASS equations to estimate potential wheat yield. Harries, along with Romulo Lollato, Kansas State Extension wheat and forage specialist, told participants what they may see in the fields.
Lollato walked the participants through the agronomics of the wheat crop. He said this year's wheat crop faced outstanding drought conditions across the two-thirds of the state that grows the majority of wheat, with the southwest and south-central regions bearing most of the pain.
A bit of moisture in September caused some farmers to plant early, taking a risk on late-season disease. That crop emerged in the fall, unlike the traditional October-planted wheat that didn't have enough moisture to emerge. In fact, Lollato said, October-planted wheat didn't emerge until late this spring.
One positive from this drought is the dryness has limited fungal disease pressure. There's not enough moisture to sustain rust. The irony is, as tour participants gathered in Manhattan on May 15, a steady rain was falling over most of the state.
"The rains are welcome to sustain yield potential," Lollato said. But at this point, the crop has developed heads, and farmers are just worried about protecting that potential, and hopefully, they can get a crop to harvest.
Subscribe to receive top agriculture news
Be informed daily with these free e-newsletters
You May Also Like
---