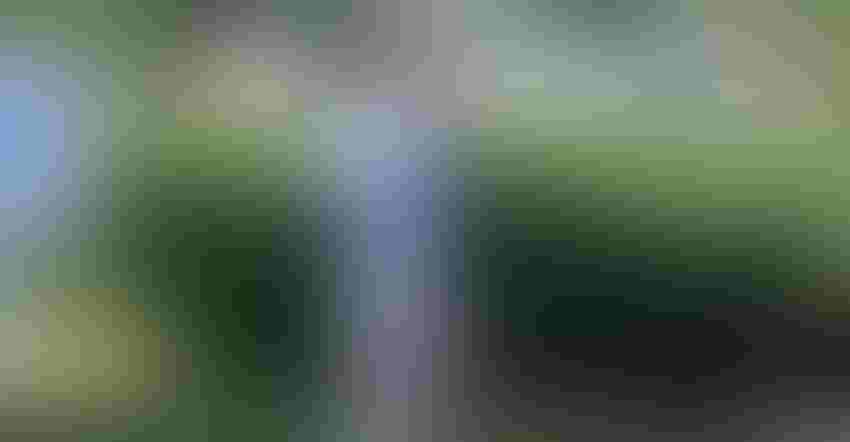 Larry Steckel, a professor in row crop weed management, explained different weeds of concern and management techniques for farmers to take note of in the coming planting season.
Alaina Dismukes
"We had a very interesting year; we always seem to have an interesting year when it comes to weed control, but 2019 was a different year in a few aspects," said Larry Steckel, weed specialist at the University of Tennessee during this year's Cotton Tour Field Day at the University of Tennessee Research and Education Center in Jackson, Tenn.
He points out, for instance, the dynamic between different seed technologies.
"I don't think it's any secret how Tennessee is all in on Xtend crops," he said. "We're 95 percent, maybe more, in Xtend soybeans, and cotton is around 90 percent. Tennessee has been that way for a while now. We were about 60 percent Xtend back in 2017, and it's steadily gone up.
"Unfortunately, weeds do not sit still when it comes to new technology. They start finding the holes in the technology and where the problems lie as far as weed control."
This year, three main weeds of concern are barnyardgrass, goosegrass, and prickly sida, also called teaweed. Steckel said he also got calls about pigweed.
Barnyard grass and goosegrass
"Lack of grass control has been one of the biggest concerns among farmers. I started hearing last fall about folks clogging up combines because of all the grass in the fields.
"We have not had much of these issues since Roundup Ready came into play, but fields are starting to build up with goosegrass and barnyardgrass, and farmers are having to spray several times throughout the season to control it," he said.
Some data from last spring show Roundup products providing 80 to 90 percent control. Steckel emphasizes breaking up the herbicide applications.
"Roundup and dicamba together will not do the trick," he said. "We tried putting Select in the tank with Roundup and dicamba, but, like the data show, it's not improving the grass control. However, straight Roundup or straight Select seems to be working well."
He recommends starting with a good pre-emerge weed control.
"If you have a lot of grass coming up, spray just Roundup or Select, and then come back with dicamba later. Keep in mind that you may experience some antagonism if you apply these herbicides too close together," Steckel said.
"After you use a good pre-emerge, to try to keep the weeds from coming up in the first place, you will have to break up the Xtend system and dicamba application from the Roundup application.
"It's awful hard to do for logistical reasons, but several growers told me in the last two weeks they broke up the application. They just sprayed Roundup in the last three or four weeks, and they said they never knew Roundup worked that well on grass."
Prickly sida control
In cotton, he is still trying to find out exactly what can be done to help spike up the prickly sida control. Envoke and Staple are both options but provide only marginal control. A post-direct application of diuron + MSMA is the most effective option.
"In soybeans, you can add a bit of Python. It's a cheap, easy way to eliminate prickly sida.
Problems with dicamba for pigweeds
Palmer amaranth is another concern.
"In 2019, we needed multiple applications in a lot of fields to get good pigweed control, which wasn't necessarily the case in 2017 and 2018," Steckel said. "I have some concerns about where we're going as far as dicamba tolerance. Soybeans are really the weakest link because we can't use Liberty.
"With the Enlist soybeans, coming back with Liberty after a 2,4-D application works well. I just don't know how many soybeans we are going to have out next year that will have Roundup, Liberty, and dicamba because of the tolerance buildup.
"This is throwing up alarm bells for me, so we're going to do some more testing. Maybe pigweeds aren't resistant to dicamba, but the signs are sure there," he said.
Subscribe to receive top agriculture news
Be informed daily with these free e-newsletters
You May Also Like
---