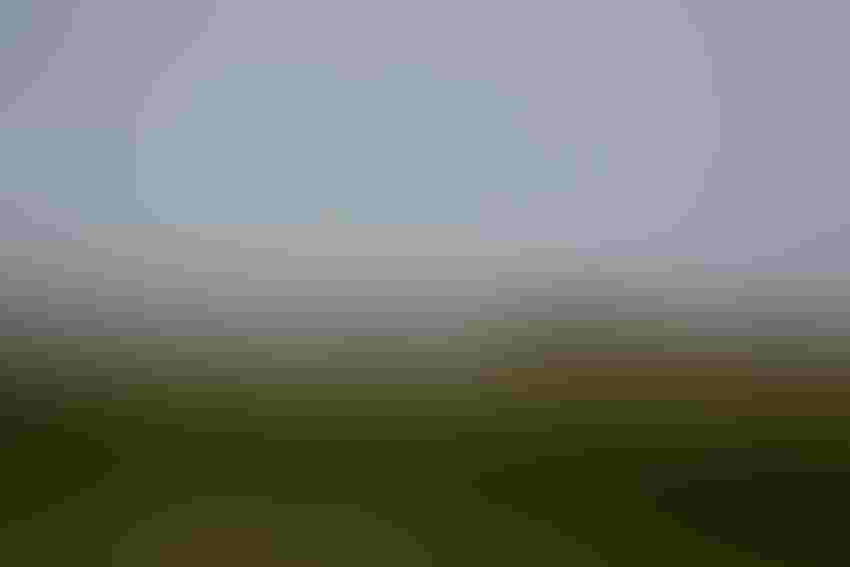 When it comes to water, Nebraska, for the most part, is in no short supply. However, there is a big precipitation gradient and a range of soil types across the state. For those who are allocated in water-limited areas, there's a strong push to irrigate more efficiently, and even in some places where groundwater levels aren't a concern, over-irrigating has caused problems with nitrate leaching.
"Improving or maintaining high irrigation efficiency can have a positive economic and environmental impact by reducing unbeneficial water use as well as the potential for nitrate leaching," says Daran Rudnick, University of Nebraska-Lincoln assistant professor and irrigation/water management specialist. "Furthermore, increasing irrigation efficiency can result in greater crop water productivity – greater grain yield per unit water consumed – which can extend the use of allocations in water-limiting areas.
"Whether it's remote access to easily turn off pivots during rainfall events or the use of soil moisture sensors to improve irrigation scheduling, the adoption of technology has the potential to aid producers in managing and improving the efficiency of their irrigation systems," Rudnick adds.
Top technology
• Soil moisture sensors serve as an eye below ground to measure how much water is in the soil profile. "It's extremely valuable to know how much water is in your soil profile when scheduling irrigation," Rudnick says. "When we know how much water is in the soil profile, we can couple it with information on crop/root development to improve irrigation management."
However, Rudnick says, growers still need to have a good understanding of their acres, especially soil type and water-holding capacity to determine the amount of water available to the crop before water-stress occurs. Certain soil moisture sensors perform differently in different soil types – a sensor that works well for one part of a field may not work as well in a different part.
Rudnick adds the methods used to measure soil moisture are often indirect, meaning something else has to be measured and translated to water content. These indirect methods are susceptible to outside factors, which can cause error. "It is important that growers understand and follow best management practices when installing, maintaining, and collecting data to minimize potential sources of error," he says.
• Telemetry is another popular technology, which allows irrigators to monitor and manage pivots and gather data from their fields remotely. "There are times when irrigation is not necessary and the system can be powered down, for example, in the case of a rain event," Rudnick adds. "It's a big advantage to have remote access on your phone, tablet, or computer to easily turn off the system and conserve water when needed. Especially when you're on allocations, the last thing you want to do is irrigate during or following a heavy rain event."
The capability, when used in conjunction with climate data or soil moisture sensors, to start or stop the irrigation system when needed, helps cut down on labor.
Of course, feasibility is still dependent on the farmer, their location, and equipment. Rudnick adds with labor savings, larger operations with many fields, or producers with fields spaced further apart, can see bigger benefits. "The greater number of fields or spatial extent a producer is covering, the more likely the producer will benefit by remotely managing their irrigation systems," he says.
• Climate data is a valuable tool, especially when growers can combine the information with data collected at their location, like crop type, soil type, or water-holding capacity.
Advanced weather stations like those operated under the High Plains Regional Climate Center collect variables to calculate reference evapotranspiration (ET) – usually from alfalfa or grass. And, in areas not located near a weather station, producers can install an atmometer, or ETgage, to simulate reference ET. "The trick is relating reference ET to your crop type and growth stage, along with other factors, using crop coefficients to obtain an estimate of ET at your location," Rudnick explains.
"Crop water use varies over time as the crop grows and matures, with the greatest water use, and usually crop coefficients, typically occurring at late vegetative/early reproductive growth stages for corn, which coincides with the most critical period where you see a drop in yield due to water stress," he adds. "Accurate on farm estimation of ET can enhance irrigation scheduling and efficiency by allowing producers to match their irrigation amount and timing to replenish crop water use."
• Flow meters are required in certain Natural Resources Districts where irrigators are allocated, and Rudnick adds they have opened some irrigators' eyes to know how much they're actually irrigating.
"It goes back to the ability to check and make sure you're applying what you think you're applying," he says. "That's nice when you make changes to your system. When you put on a new sprinkler package or make changes to your pumping plant, it's nice to make sure you have the depth you think you have. If you under or over-shoot that depth, you might unintentionally stress your crop."
• Yield modeling tools like UNL's SoyWater and Hybrid-Maize simulator are an often-overlooked technology that can provide a look at how water stress could potentially affect crop yield. For example, when using Hybrid-Maize, the user can enter updated planting information, and the tool uses historical data collected at the High Plains Regional Climate Center to calculate low-end and high-end yields. Growers can then adjust management practices like irrigation to see how the yield changes.
"If you stress the crop by not applying enough irrigation, how is that going to affect final yield?" Rudnick says. "You're also able to put in hypothetical irrigation scenarios to evaluate how differences in irrigation management strategies can affect grain yield."
However, Rudnick adds growers need to be proactive when using these tools, make sure they're familiar with the program they're using, and make sure the information they're plugging in is as accurate and detailed as possible.
• Remote sensing offers growers the potential to monitor their field from an aerial view – often in a spectrum like near infrared or thermal. Growers can then use the collected imagery with indexes to calculate water-related information. "With remote sensing, one can estimate ET using procedures such as SEBAL (Surface Energy Balance Algorithm for Land) or METRIC (Mapping Evapotranspiration at high Resolution with Internalized Calibration) as well as spatially assess stress using a crop water stress index (CWSI)," Rudnick says. "It can help identify areas displaying water stress symptoms, which may suggest irrigation is needed."
Of course, with remote sensing, there needs to be a ground truth component – that is, validating the performance of models with what the grower sees at ground level.
• Variable rate irrigation (VRI) is one of the most talked about technologies on the irrigation front. While it isn't always feasible to manage for entire sectors, Rudnick notes variable rate speed control has its place, especially in fields broken up among a few manageable soil types.
"If you have a field broken up among a few soil types and you have one soil type with less of a water-holding capacity compared to the others, sector control via speeding up or slowing down may be a viable option," he says. "A good starting point to evaluate spatial differences in soil type is the USDA NRCS Web Soil Survey."
When it comes to individual sprinkler control, a big question is whether or not it's economical. "A field has to have adequate variability to justify the investment cost, but more importantly, the ability of VRI to conserve water and energy depends on how accurate a producer can characterize a field to account for spatial and temporal differences in crop water demand," Rudnick says. "As management practices continue to develop in conjunction with new technologies, we should expect VRI to improve irrigation efficiency across fields by minimizing areas that would normally get over-irrigated under uniform irrigation management practices."
• Variable frequency drive (VFD) is another technology to consider, especially under VRI. VFDs are intended to control motor speed to meet irrigation system requirements, while operating at optimal efficiency, Rudnick says. "In situations when variable flow and/or pressure exists within a system, adjusting your pump can conserve energy by avoiding over pumping or pressurizing of your irrigation system," Rudnick says. "It is important to evaluate a system to determine if installing a VFD will conserve energy as well as assess any potential drawbacks or issues associated with installing a VFD."
Proper management
While the adoption of irrigation technology is increasing, Rudnick notes these technologies have minimal benefit without proper management. "You can have the best equipment imaginable and still have poor management practices, which can result in poor irrigation efficiency," he says.
Several metrics are used to assess irrigation efficiency – not just water application efficiency. This includes energy, economic, and plant response.
"While not always the case, one can generally assume adopting best management practices to improve one metric of irrigation efficiency, like water application efficiency, will often improve other metrics, like energy, on a similar spatial and temporal scale," Rudnick adds. "Maximizing irrigation efficiency requires consideration of all aspects of a cropping system, including crop, land, water, and nutrient management practices, along with how the cropping system interacts with the soil and climatic conditions."
About the Author(s) Tyler Harris is the editor for Wallaces Farmer. He started at Farm Progress as a field editor, covering Missouri, Kansas and Iowa. Before joining Farm Progress, Tyler got his feet wet covering agriculture and rural issues while attending the University of Iowa, taking any chance he could to get outside the city limits and get on to the farm. This included working for Kalona News, south of Iowa City in the town of Kalona, followed by an internship at Wallaces Farmer in Des Moines after graduation.
Coming from a farm family in southwest Iowa, Tyler is largely interested in how issues impact people at the producer level. True to the reason he started reporting, he loves getting out of town and meeting with producers on the farm, which also gives him a firsthand look at how agriculture and urban interact.
Subscribe to receive top agriculture news
Be informed daily with these free e-newsletters
You May Also Like
---