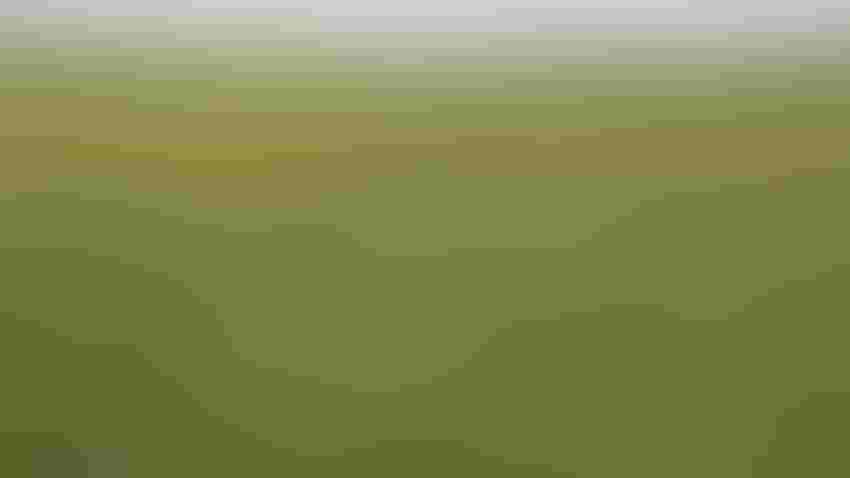 WATERHEMP: Adam Taylor, technical agronomist for Wilbur-Ellis in Michigan, says waterhemp is the biggest problem weed for growers he works with, but other weeds are becoming a problem, too.
Tom J. Bechman
Waterhemp, Palmer amaranth, burcucumber, marestail.
These are among the biggest problem weeds in the region right now. But your fields don't have to succumb to these yield robbers, so long as you have a plan of attack in place.
And right now is the time to start putting one together.
"When you're thinking about your crop, the best time to make any management decision is during or shortly right after you harvest it … because you remember, you're thinking about it, you know which fields and farms didn't perform to what your expectation was. You know which weedy fields there are," says Adam Taylor, technical agronomist with Wilbur-Ellis in St. Joseph County, Mich.
Any weed management plan should focus first on prevention, he says, but also what works for your farm. For example, Taylor says that he recently worked with a no-till grower who plants cover crops but had fields that were weedy. He and the grower talked the issue over and devised a plan of attack.
The plan: Take everything on a farm-by-farm, field-by-field basis. "And saying, OK, this farm needs cleaned up," Taylor says. "So, no cover crop this fall. Instead, we'll use Roundup and 2,4-D to kill the weeds, and sow cover crops on other spots but in places with little weed issues."
Managing this fall
If you're considering tillage to take care of some bad weed issues, fall is the best time to do it, Taylor says.
"Because in spring, the tendency is working ground that's too wet," he says. "Take that out of the equation by getting it done in the fall and get that freezing and thawing action maximized."
A fall burndown can also be effective to help keep the weed seedbank down.
Planting cover crops after harvest can also be an effective tool to control some weeds. Also, think about your crop rotation next spring.
"99.9% of the time, rotated ground is going to perform better in terms of weed control," Taylor says.
Taylor says waterhemp is the biggest problem weed for growers he works with, but other weeds are becoming a problem, too.
Many of the growers have switched to either Enlist E3 soybeans or XtendFlex soybeans, both of which are triple-stacked with tolerance to multiple chemistries — including Roundup (glyphosate), glufosinate, dicamba in the case of Xtend and 2,4-D in the case of Enlist.
Using these triple-stacked beans can help, but resistance is still an issue.
"Different chemistries are needed. We just don't have a lot of new chemistry coming out, on the corn side in particular," Taylor says. "We're trying to do everything we can to layer some of these older chemistries. For instance, on our soybeans, we may try to throw in four or five different modes of action throughout the course of the year."
Waterhemp and Palmer amaranth are problem weeds in parts of Pennsylvania, says Dwight Lingenfelter, Extension weed specialist with Penn State. But other problem weeds are more widespread.
"In several parts of the state, burcucumber is a very problematic weed to conquer even though it is not resistant to any herbicides at this point," he says. "Since it can germinate from various depths and it emerges through most of the growing season, timing herbicide applications can be tricky."
Attack early in spring
Taylor says he is big on preemergence herbicides, followed by an early post with some 2,4-D (Enlist), some Roundup and usually something that has a residual, too.
"You've got to hit stuff with a preemerge," he says. "We can't just rely on going with a one-pass program in season. From an agronomic standpoint, it's not successful. So, start off with a strong foundation, a good preemergence, and then follow through with something to kill it in-season. It's just a matter of putting emphasis on making sure that we're aggressive and trying to get as clean a field as we can, as long as we can, and then clean up with technology in season."
Marestail is still a big problem in Pennsylvania soybeans, Lingenfelter says. Even with various tools available, some growers are still having issues.
"Multiple control tactics need to be used, such as thick cover crops, effective burndowns and residuals near planting, and timely post herbicides," he says.
A 5-step plan
Before you execute your own weed management plan this fall, consider these five steps compiled by experts at Wilbur-Ellis:
1. Till to start clean. An initial tillage pass before planting helps start the season with a clean field. A second, shallower tillage pass can be used to eliminate any remaining small weeds and prepare the seedbed for planting. 
After planting, tillage using a rotary hoe or row cultivator can be used for small weeds.
2. Rotate crops. Plan to rotate crops in a way that will allow you to rotate modes of action year after year. Some crops are better at suppressing weed growth. Discover what those crops are in your region and implement them in your rotation.
3. Use multiple chemistries. Strategically applying various modes of action and different active ingredients is essential to responsible resistance management. 
Group 15 herbicides (acetochlor, dimethenamid, metolachlor and pyroxasulfone) are a valuable tool in the fight against resistance, especially waterhemp. 
4. Consider the effects of drought. Extreme drought the past few years in some areas has added an extra challenge to controlling resistant weeds. Less rain generally means less weed pressure, but it also means that some fields may have been left fallow.
Untouched fields often grow substantial amounts of kochia and Russian thistle, among other weeds, refilling the weed seedbed. This can get bad after a spring rain, which helps the weed seed germinate. 
Although drought can impede weed growth and activity, it can also limit herbicide absorption and movement, which can stunt but not completely control the weed. As a result, they often produce seed, which can help evolve herbicide resistance.
5. Stay ahead of resistance. Be curious when it comes to new options and technologies in weed control. 
Plan crop rotations and modes of action years in advance, as this can reduce costs. Ensure you use a variety of weed control chemistries on the weeds in your fields. 
Subscribe to receive top agriculture news
Be informed daily with these free e-newsletters
You May Also Like
---