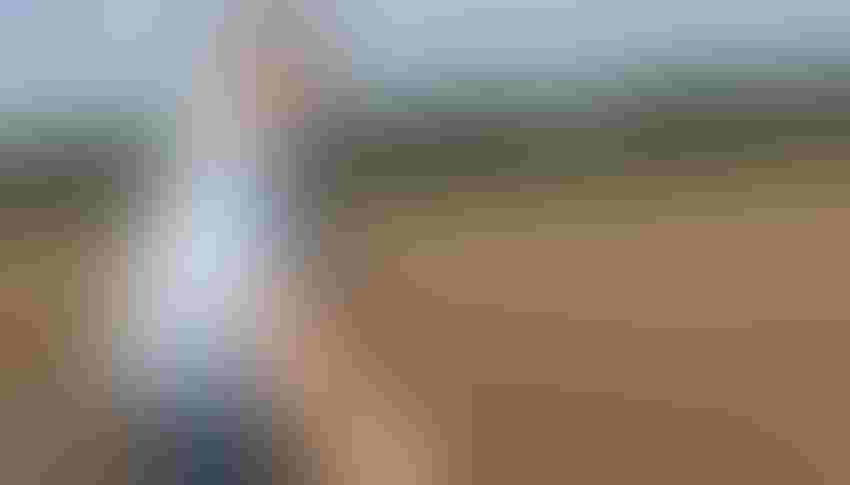 The view from the catwalk atop Eric Maupin's grain bins shows a corn crop nearing harvest.
Larry Stalcup
Eric Maupin is as frustrated as any farmer can be facing low corn and soybean prices and uncertain markets ahead. But there's one area that he no longer loses much sleep over — control of resistant pigweed.
The northwestern Tennessee grower is getting the most out of his auxin herbicide plan. Combined with residual herbicides, his Roundup Ready Xtend Crop System keeps his soybean fields clean and flourishing, even in poor growing conditions much of the Mid-South faced in 2019.
Maupin farms out of Newbern, near Dyersburg. "We're a fourth-generation farm that has been in business since 1937," Maupin says, adding that his 3,000-acre farm has soil types that range from sandy loam to gumbo. "We grow corn, soybeans and wheat and run an Angus-cross cow-calf operation."
All crops are dryland. Part of his ground is in hilly country, with additional production in bottomland along creeks. "The hill ground rotation is typically corn, followed by winter wheat planted after harvest, then soybeans planted the spring following wheat harvest," he says. "Every third year, we try to have a double-crop wheat-beans program.
"On the bottom ground, we have a corn and soybean rotation with no wheat. If the spring is too wet, we sometimes go with beans after beans."
Powerful Pigweed Control
Palmer amaranth or pigweed started showing glyphosate resistance several years ago. Herbicide programs that worked before couldn't contain it. For Maupin that meant extra expense in multiple herbicide applications, cultivating and hoe hands, if necessary.
"We tried Liberty herbicides on corn and beans, along with various tank mixes of residuals," Maupin says. "That program was expensive and was more sensitive to cool, wet weather. We needed better tools for our herbicide toolbox."
That came when EPA approved the use of XtendiMax herbicide with VaporGrip Technology. "I like the technology," Maupin says. "I like the yields I've seen with the new varieties, but my main reason for planting them is the weed control.
"We've had substantial control of Palmer pigweed with XtendiMax herbicide with VaporGrip Technology. It couldn't have come at a better time."
By the time he saw pigweed in the field before, it was too late. "Now, we're able to have a manageable pre- and post-emergence herbicide program that takes care of pigweed and other weeds."
He relies on XtendiMax herbicide with VaporGrip Technology to help make dicamba applications. "XtendiMax herbicide with VaporGrip Technology reduces off-target movement of dicamba by lowering its volatility," Maupin says. "That helps me get better treatment of the crop and helps keep neighbors from worrying about dicamba herbicide drift."
Maupin plants beans in either 15-inch rows or 7.5-inch rows. He went with Asgrow AG46X6 Brand and AG45X8 Brand soybean products in 2019. Wet weather delayed planting until late May and even June, in some cases.
He isn't complaining about the yields. "We shoot for an average yield of about 60 bushels per acre, with a range of 45 to 65 bushels on all ground," he says. "For wheat-beans, the yield averages 35 to 45 bushels. Even though we had a wet spring and early summer, my soybeans have performed well and should yield in those ranges this year."
Don't Count on Mother Nature
Like with soybeans, getting corn planted was a challenge for Maupin. While he prefers planting in late March or through April, rain-after-rain pushed planting into May for some fields.
"I can normally get the hilly fields planted earlier because of sufficient runoff," he says. "But on the creek bottoms, I try to plant by soil condition more than by the calendar. I want a uniform seedbed and try not to plant in the mud. It was more difficult in 2019 due to wet weather. So planting was later than normal for the year."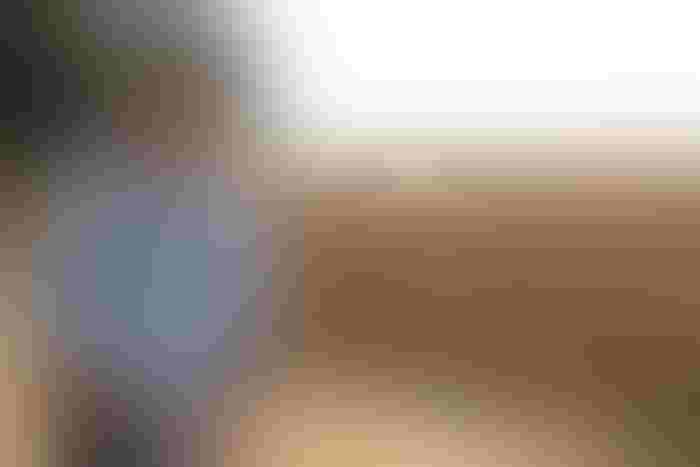 Eric Maupin is expecting average yields or better from his 2019 corn crop.
Maupin plants corn in 30-inch rows. Plant populations are 28,000 to 32,000 per acre, depending on whether they're flex products. "For some products, I try to plant in variable rate application to push the population in the better ground," Maupin said.
He prefers to make a product selection based on field trials by the University of Tennessee Extension Service. "I like to see what's out there, and how different products are performing on my soil types," he says.
For 2019, he planted mainly DeKalb DKC62-05 Brand, DKC64-35 Brand and DKC67-44 Brand. Maturity days ranged from 112 to 117 days. He expects yields to be average or better.
"Even though we planted late, we had ideal growing conditions most of the summer," Maupin says. "We had a uniform stand. Even though we lost some N due to excessive rain in July and August, the corn looked good heading into mid-September."
His yields average about 160 bushels per acre, with some fields topping 200 bushels. "I expect production to be a tick better than that this year," he says.
He prefers products that have a tolerance to various diseases and makes sure they contain Bt technology. "The Bt products are telling the tale this year," he points out. "With late planting and above-average summer rain, insect pressure was higher. Thank goodness Bt technology was out there. We had good earworm and other insect control all season."
Since he farms in a county that also has cotton production, he must maintain a 20 percent refuge, acreage planted in varieties without insect or herbicide tolerance. "Farmers seem to be doing a better job of herbicide management," he says. "That's good because, as farmers, we must be better stewards.
"Auxin technology training is important, as is knowing the limitations of Bt technology. As an industry, we need to own up to any potential problems and stay abreast of them."
Subscribe to receive top agriculture news
Be informed daily with these free e-newsletters
You May Also Like
---