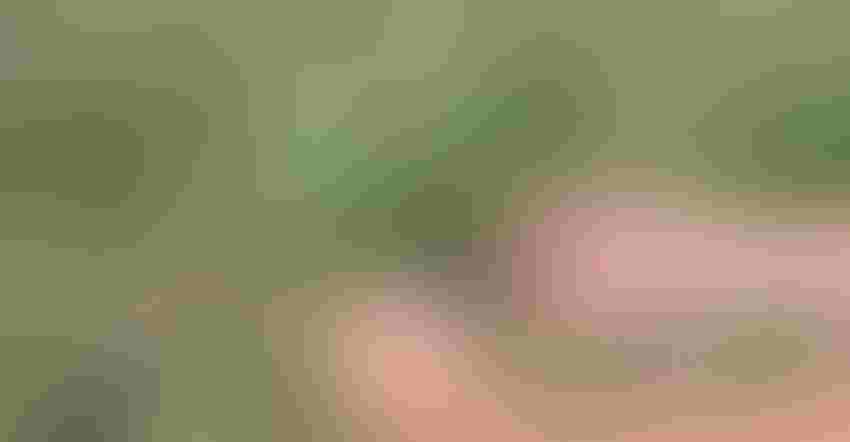 EARLY IMPACT: The smaller plant on the left grew in an isolated patch of weeds that were outcompeting the soybeans before they were controlled.
Tom J. Bechman
One take-home message from 2020 that could make a difference for your soybean management plans in 2021 appeared early in the season. Overall, the Soybean Watch '20 field was in good shape for weed control, even before a postemergence application. However, a few intense patches of weeds sprang up, particularly of giant ragweed.
The operator took them out with a postemergence application, but not before they had time to impact soybeans growing within those random patches. "You could see the difference in soybean plant growth," says Steve Gauck, regional agronomy manager for Beck's, based near Greensburg, Ind.
He pulled a couple of plants to make the point. A soybean plant growing among giant ragweed plants up to a foot tall was noticeably shorter than a soybean plant growing nearby with no weed competition. The weed-free plant was also already producing more and larger leaves.
Fortunately, there were not that many patches in the field. It should look nearly weed-free by harvest, barring any late breakthroughs of weeds. Tall waterhemp has been confirmed in the area, but not yet in this field.
Take-home lesson
"We as an industry need to pay more attention to preventing early-season weed competition," Gauck says. The company he represents, Beck's, sponsors Soybean Watch '20.
Related:Planting soybeans deeper pays dividends
Gauck believes growers in general need to concentrate on tailoring residual herbicides applied at or before planting to work against tough weeds known to be in each field. Since the Crop Watch '20 field contains no-till soybeans drilled into heavy cornstalk residue, residual herbicides were applied with the burndown application.
Giant ragweed can be a difficult weed to control with residual herbicides, Gauck notes. He suggests working with your ag chemical retailer to come up with a program that should address problem weeds.
Controlling as many weeds as possible with residual herbicides applied at or before planting is the first part of the equation, Gauck says. The second part is making a postemergence pass, either as a planned application or to pick up escapes from residual applications, in a timely fashion. That means catching weeds while they're small, Gauck says.
The benefits of applying postemergence herbicides while weeds are small are twofold, he continues. First, the herbicide you apply will likely be more effective on smaller weeds. Maximum weed heights for good control are usually listed on the herbicide label and vary by weed species. For weeds like waterhemp, most postemergence herbicides should be applied over weeds that are 4 inches tall or shorter. That's about the height of a 12-ounce soda can.
If weeds like waterhemp or marestail are already considerably taller than the size specified on the label when you spray, you may knock them back, but not kill them. "We've found weeds in Soybean Watch fields in past years that were burned back, but regrew to some extent," Gauck says. "Some of them were still able to produce some seed."
The second benefit is protecting the crop against early weed competition. Even if you successfully take out weeds later, some damage may already be done. Work by weed scientists many years ago demonstrated that early weed competition can impact yields, Gauck concludes.
About the Author(s)
Subscribe to receive top agriculture news
Be informed daily with these free e-newsletters
You May Also Like
---