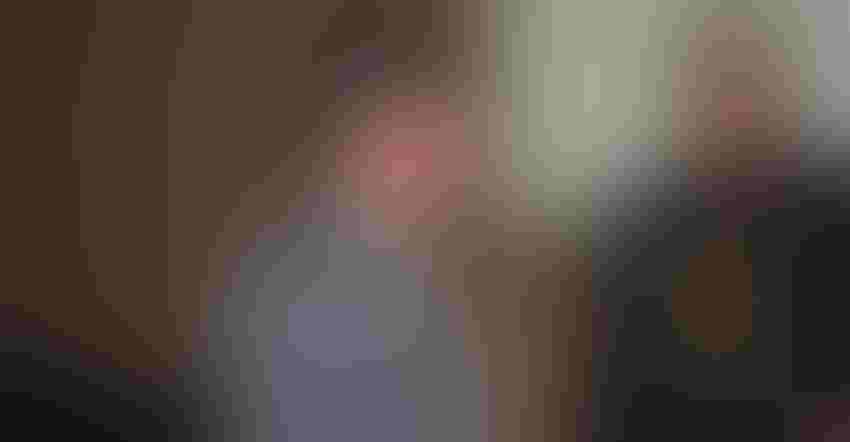 GETTING INFO: Nebraska Extension weed scientist, Stevan Knezevic (left), visits with farmers after a session on dicamba application during a recent Crop Production Clinic in Norfolk.
In Nebraska, about 500,000 acres were planted in 2017 to dicamba tolerant soybeans, and more acres will most likely be planted to these new weed control systems this spring. By the first week of July, however, issues of off-target injury to non-DT soybeans began to be observed across the state.
By the end of the year, Nebraska Extension fielded almost 350 dicamba off-target related injury complaints on more than 50,000 acres of non-DT soybeans, mostly in the eastern half of the state. Nebraska Department of Agriculture received about 90 off-target complaints in 2017. And these numbers pale in comparison to the number of complaints in states like Missouri and Arkansas.
Because the first year of widespread use of dicamba resulted in so many off-target injury complaints, Nebraska Extension weed scientist Stevan Knezevic discussed the topic at recent Crop Production Clinics and pesticide applicator training sessions across the state.
As part of Knezevic's presentation, he talked about how producers cannot look at dicamba in the same way as glyphosate. They are two completely different herbicides with unique properties and challenges. Here are 10 things Knezevic wants producers to remember about dicamba:
1. It's a broadleaf killer. Dicamba is a selective herbicide in the chlorophenoxy family of chemicals that controls or suppresses only broadleaf plants, but will leave grass weeds and plants alone. This is unlike glyphosate that is nonselective and controls plants regardless of the species. Dicamba also has some residual properties that persist in the soil, while glyphosate is a non-residual. While dicamba has been introduced as a vehicle to combat glyphosate-resistant weeds, Knezevic says there are currently 16 weeds in the U.S. resistant to glyphosate, but there are also seven weeds already showing resistance to dicamba, including kochia.
2. It has a Group 4 mode of action. Dicamba is classified in Group 4, or with synthetic auxins for mode of action. It selectively kills broadleaf plants by overwhelming the natural auxin pathways. It translocates in both the xylem and phloem, with symptoms most obvious in new growth. Glyphosate is a Group 9 mode-of-action herbicide, which inhibits amino acid biosynthesis. Once applied, herbicides in this group translocate to new growth in the xylem and phloem, so the plants stop growing quickly, but often take more than 10 days to die.
3. It's a restricted-use pesticide. The U.S. Environmental Protection Agency declared new dicamba products as a restricted-use pesticide for 2018, so they are for use only by certified applicators. New label requirements call for application training, record keeping, wind speed limitations for application between 3 and 10 miles per hour, application timing restrictions, and much more. In addition, applicators must complete dicamba and auxin training to use any of the RUP dicamba products.
4. Use the label. Growers should always follow label instructions strictly when applying pesticides of any kind, but with dicamba, this is as important as ever to avoid the potential for off-target injury not only for non-herbicide resistant soybeans, but also sensitive crops like grapes or tomatoes. Getting the rate exactly right with dicamba is especially important.
5. Do not use ammonium sulfate. While AMS is often utilized as a herbicide additive to increase the efficacy of postemergent herbicides, it should never be used with dicamba because it can drastically increase the volatility of the herbicide by up to 20 times.
6. It's rainfast at four to six hours. Dicamba is considered rainfast, or adequately dried and absorbed by plant tissues so that it will still be effective after rainfall and irrigation at four to six hours. Glyphosate is typically rainfast in an hour. During his presentation, Knezevic reasons that one way to lower volatility issues with dicamba under irrigation might be to irrigate a field with about one-fifth of an inch of precipitation four to six hours after dicamba application. While he admits that he has no data to back up this theory, researchers will most likely test it this summer.
7. Use coarse nozzles. Coarse or ultra-coarse nozzles can help mitigate the volatility and spray drift issues with dicamba products.
8. Apply before the cutoff date. While some states like Missouri are implementing strict calendar cutoff dates, after which dicamba cannot be legally applied, the label states that it cannot be applied to soybeans after R1 growth stage. Know and understand the cutoff date.
9. Consider volatility and vapor. These can be detected up to 96 hours after application. Adding to the volatility issues with using dicamba, researchers found that vapor from the herbicide is the strongest in the first 36 hours; however, it could still be detected up to four days after application. This is the reason why new restrictions on application, new label requirements and more training is being required of applicators of dicamba products.
10. It has high water solubility. Because dicamba is highly soluble in water, it is more likely to leach during extended periods of heavy rainfall, compared to glyphosate, which is water-soluble, but has a high ability to bind to soil particles.
Learn more about dicamba management by contacting Knezevic at [email protected].
Subscribe to receive top agriculture news
Be informed daily with these free e-newsletters
You May Also Like
---